Today's Best Recipe is Coca-Cola BBQ Chicken Casserole.
This BBQ chicken will make your kitchen smell amazing and your mouth water. It requires no barbecue sauce as combining Coca-Cola and Worcestershire sauce with the seasonings creates a flavorful sauce. You'll come back for more when you discover just how easy and delicious this dish is!
The end result is tender chicken simmered in a tangy barbecue sauce from the seasonings and soda fusing with the ease of the slow cooker.
It is an easy dinner recipe, made with simple ingredients and perfect for those busy weeknights.
Serve the chicken as an entree served over rice, or shred the chicken and use it for BBQ chicken sandwiches, sliders, or tacos.
You may also want to check out my Pinterest Casserole board for more great recipes like this Coca Cola BBQ Chicken!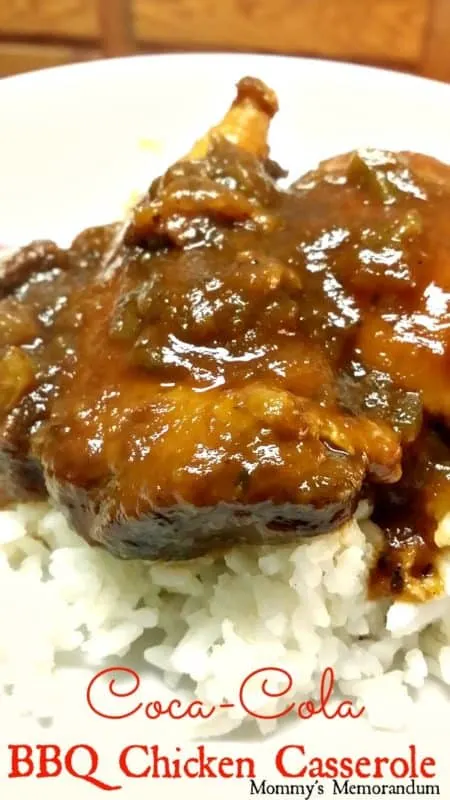 Coca-Cola BBQ Chicken Casserole Recipe Ingredients:
3 pounds chicken breasts
1/3 cup all-purpose flour
2 tsp. salt
1/3 cup oil
1/2 cup onion, finely diced
1/2 cup green bell pepper, finely diced
1 cup ketchup
1 cup Coca-Cola, room temperature
2 Tablespoons Worcestershire sauce
1 Tablespoon salt
1/2 tsp hickory smoked salt
1/2 tsp chili powder
1/8 tsp black pepper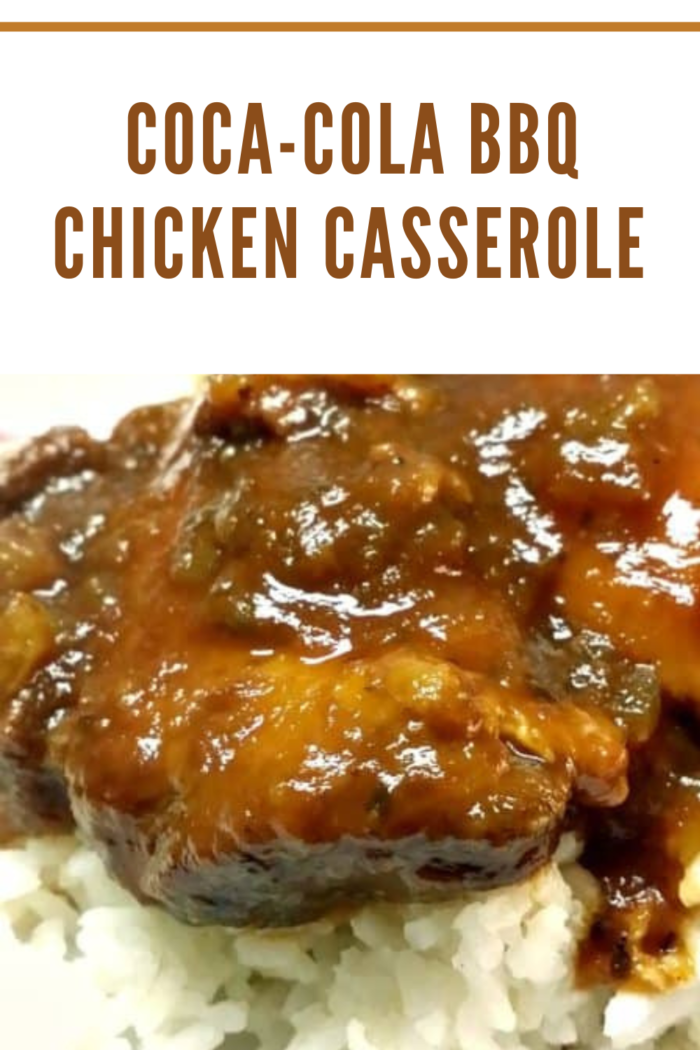 How to Make Coca-Cola BBQ Chicken Casserole:
Rinse chicken breasts; pat dry.
Combine flour and salt.
Coat chicken with flour and salt mixture. I find it easiest to add to a quart-sized Ziploc bag and put the chicken in one piece at a time, seal, and shake. Then repeat.
Brown pieces on all sides in hot oil, then place pieces in a 3-quart casserole.
Combine remaining ingredients, mixing well.
Spoon sauce over chicken, covering all pieces.
Cover the casserole, and bake at 350 degrees F for about 1-1/4 hours, or until chicken is fork tender and at a temperature of at least 165 degrees.
Do I have to Use Coca Cola?
If you prefer to use Diet Coke, it works. Any cola soda will work–though it will alter the flavor slightly.
Storage
IN THE FRIDGE: Refrigerate the barbecue chicken for up to 4 days stored in an airtight container.
IN THE FREEZER: Freeze this slow cooker cola chicken for up to three months in an airtight container or plastic freezer bag.