This will make your kitchen smell amazing and your mouth water. It requires no barbecue sauce as the combination of Coca-Cola and Worcestershire sauce mixed with the seasonings creates a flavorful sauce. You'll come back for more when you discover just how easy and delicious this dish is!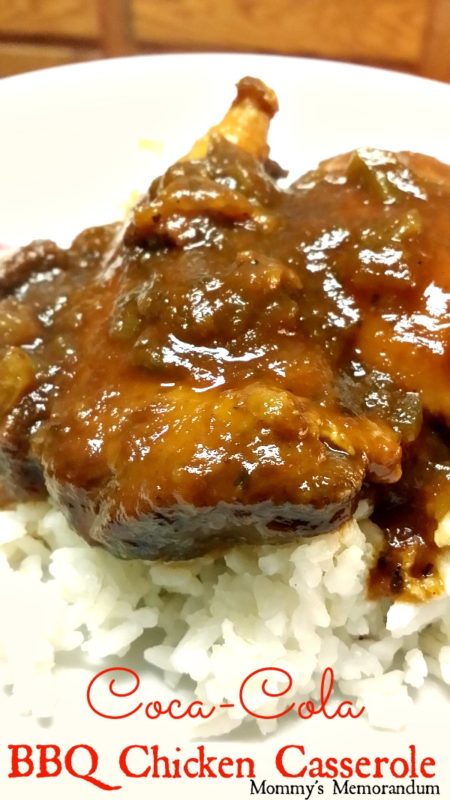 Coca-Cola BBQ Chicken Casserole Recipe Ingredients:
3 pounds chicken breasts
1/3 cup all-purpose flour
2 tsp. salt
1/3 cup oil
1/2 cup onion, finely diced
1/2 cup green bell pepper, finely diced
1 cup ketchup
1 cup Coca-Cola, room temperature
2 Tablespoons Worcestershire sauce
1 Tablespoon salt
1/2 tsp hickory smoked salt
1/2 tsp chili powder
1/8 tsp black pepper
Coca-Cola BBQ Chicken Casserole Recipe Directions:
Rinse chicken breasts; pat dry.
Combine flour and salt.
Coat chicken with flour and salt mixture. I find it easiest to add to a quart sized Ziploc bag and put the chicken in one piece at a time, seal and shake. Then repeat.
Brown pieces on all sides in a hot oil, then place pieces in a 3-quart casserole.
Combine remaining ingredients, mixing well.
Spoon sauce over chicken, covering all pieces.
Cover casserole, bake at 350 degrees F for about 1-1/4 hours, or until chicken is fork tender and at a temperature of at least 165 degrees.