Introducing the Ultimate Chex Muddy Buddy Recipe!
Are you ready to embark on a delectable adventure that combines the perfect balance of sweet and crunchy? Look no further because we have the ultimate Chex Muddy Buddy recipe that will leave your taste buds begging for more! Get ready to indulge in a treat that will satisfy your cravings and ignite a chocolatey explosion of flavor in every bite.
Indulge in Decadent Deliciousness!
Our Chex Muddy Buddy recipe takes the classic snack mix to a whole new level of deliciousness. We start with the beloved combination of Chex cereal, coated in a luscious blend of creamy peanut butter, melted chocolate, and a touch of butter. The result? A mouthwatering masterpiece that will make you the star of any gathering or treat time.
Experience the Perfect Crunch!
Crunchiness is a key component of any great snack, and our Chex Muddy Buddies deliver in spades. With each bite, you'll be greeted by the delightful crunch of Chex cereal, perfectly complemented by the smoothness of the chocolate and peanut butter coating. It's a symphony of textures that will have you reaching for more handfuls, unable to resist the satisfying sound and feel of every bite.
Share the Joy with Family and Friends!
There's no better way to bring people together than with a delightful treat that everyone can enjoy. Whether you're hosting a party, planning a movie night, or simply seeking a special indulgence, our Chex Muddy Buddy recipe is here to make those moments unforgettable. The irresistible combination of flavors will have your loved ones lining up for seconds and asking for the recipe.
Customizable to Fit Your Taste!
Looking to put your own twist on the classic recipe? Our Chex Muddy Buddies are incredibly versatile, allowing you to experiment and add your favorite flavors. From sprinkles and crushed cookies to a hint of cinnamon or a dash of sea salt, the possibilities are endless. Let your creativity run wild and create a snack mix that is uniquely yours.
Easy to Make, Impossible to Resist!
Creating this chocolatey delight is a breeze. With our straightforward recipe, you'll be enjoying the sensational taste of Chex Muddy Buddies in no time. Whether you're a seasoned baker or a kitchen novice, the clear instructions and simple ingredients make it a joy to prepare. It's a foolproof way to impress your friends and family with your culinary skills.
Don't Miss Out on this Irresistible Snack!
Indulge in the delightful combination of crispy Chex cereal, creamy peanut butter, and mouthwatering chocolate. Experience the magic of our Chex Muddy Buddy recipe and elevate your snack game to new heights. It's a treat that will satisfy your sweet tooth and leave you craving for more. Get ready for a flavor adventure you won't forget!
Start creating Chex Muddy Buddies that will have everyone asking for seconds. Don't wait! Unleash your creativity in the kitchen and let the deliciousness begin!

Recipes are funny. We use them, and they get in our rotation, and then, over time, they get forgotten. I started making CHEX Muddy Buddy in the early 1990s for Jake and Zac. I remember it was all the time stored in our pantry. Then, life took off, and I stopped making it. I just found it again in a cookbook I was browsing—my handwritten note with a 5-star rating.
Guess what's back in the recipe rotation?
Chex Muddy Buddy Recipe
Servings: Approximately 18 servings
Prep Time: 10 minutes
Cooking Time: 2 minutes
Ingredients:
9 cups Rice Chex®, Corn Chex®, or Chocolate Chex® cereal (or combination)
1 cup semisweet chocolate chips
1/2 cup peanut butter
1/4 cup butter
1 teaspoon vanilla
2 cups powdered sugar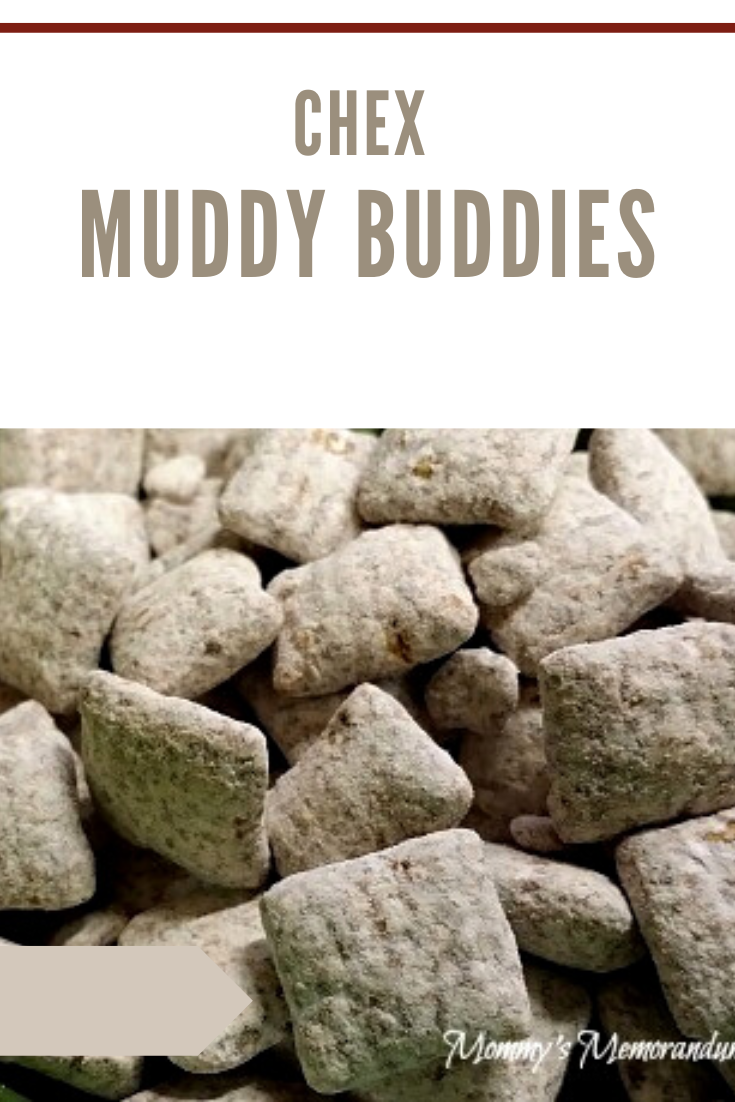 How to Make CHEX Muddy Buddy:
In a large bowl, measure the Chex cereal and set it aside.
In a 1-quart microwavable bowl, combine the chocolate chips, peanut butter, and butter. Leave it uncovered and microwave on High for 1 minute. Stir the mixture and microwave for an additional 30 seconds or until the mixture can be stirred smoothly. Stir in the vanilla.
Pour the chocolate mixture over the cereal in the large bowl, stirring until the cereal is evenly coated. Transfer the coated cereal into a 2-gallon resealable food-storage plastic bag.
Add the powdered sugar to the bag. Seal the bag tightly and shake it vigorously until the cereal is well coated with powdered sugar.
Spread the coated cereal on waxed paper to cool. Allow it to cool completely.
Once cooled, store the Chex Muddy Buddies in an airtight container in the refrigerator.
Enjoy the deliciousness of Chex Muddy Buddies as a delightful treat or share it with your friends and family!
Frequently Asked Questions (FAQs)
Q1: Can I use a different type of cereal for this recipe?
A1: Yes! You can use Rice Chex, Corn Chex, or Chocolate Chex cereal for this recipe. Feel free to use a combination of these cereals to add variety and texture to your Chex Muddy Buddies.
Q2: Can I use a different type of chocolate instead of semisweet chocolate chips?
A2: Absolutely! While the recipe calls for semisweet chocolate chips, you can experiment with different types of chocolate, such as milk chocolate or dark chocolate, based on your personal preference. Just ensure that the chocolate you choose can be melted smoothly.
Q3: Can I substitute almond butter or another nut butter for the peanut butter?
A3: Certainly! If you have a preference for almond butter or any other nut butter, feel free to substitute it for the peanut butter. It may alter the flavor slightly, but it will still create a delicious result.
Q4: Can I make this recipe without using a microwave?
A4: Yes, you can! Instead of using a microwave, you can melt the chocolate chips, peanut butter, and butter in a saucepan over low heat on the stovetop. Stir continuously until the mixture is smooth and well combined.
Q5: How should I store the Chex Muddy Buddies?
A5: To maintain their freshness, store the Chex Muddy Buddies in an airtight container in the refrigerator. This will help keep them crunchy and prevent the chocolate from melting. Enjoy them within a week for the best taste and texture.
Q6: Can I customize this recipe by adding additional ingredients?
A6: Absolutely! The recipe can be customized to suit your preferences. You can add a variety of ingredients such as sprinkles, crushed cookies, or even a sprinkle of cinnamon for an extra flavor boost. Get creative and make it your own!
Q7: Can I make this recipe ahead of time?
A7: Yes, you can make the Chex Muddy Buddies ahead of time. Once they are completely cooled and stored in an airtight container, they can be enjoyed for several days. However, note that they are best when consumed within a week of preparation.
Q8: Can I freeze the Chex Muddy Buddies?
A8: It is not recommended to freeze the Chex Muddy Buddies as freezing may affect their texture and make them less crispy. It's best to enjoy them fresh or store them in the refrigerator for a shorter period of time.
If you have any other questions or concerns, feel free to ask. Happy snacking!
You might also like these Chex Snack Recipes: