Indulge in the delightful flavors of our Cherry Cheesecake Tarts!
Sink your teeth into the perfect combination of flaky puff pastry, creamy cheesecake filling, and luscious cherry pie topping. With our easy-to-follow recipe, you can enjoy these delectable tarts in no time.
Cherry Cheesecake Tarts
Here's what you'll need:
1 package (10 ounces) frozen puff pastry shells
2 packages (3 ounces each) cream cheese, softened
1/4 cup confectioners' sugar
1/2 teaspoon almond extract
1 can (21 ounces) cherry pie filling
Additional confectioners' sugar for dusting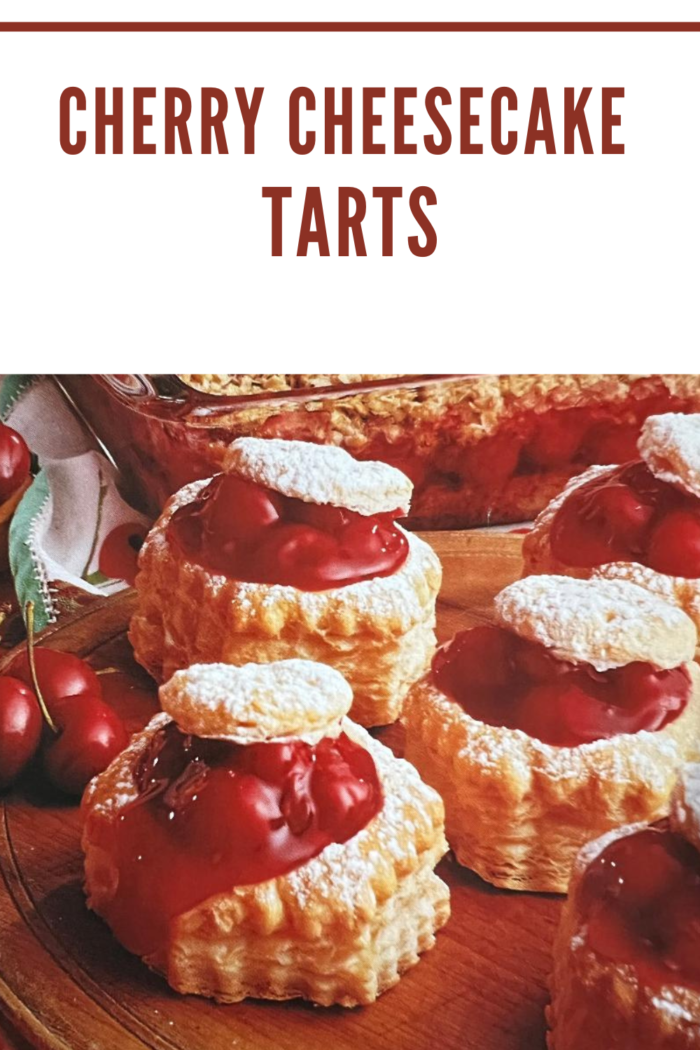 How to Make Cherry Cheesecake Tarts:
Bake the pastry shells according to the package directions, ensuring they turn golden brown and flaky.
In a mixing bowl, combine the softened cream cheese, confectioners' sugar, and almond extract. Beat the mixture until smooth and creamy.
With a fork, carefully remove the circular top of each baked shell and set them aside. Remove any soft layers of pastry inside the shells and discard.
Divide the cheese filling evenly among the shells, placing them on a baking sheet. Return the shells to the oven and bake for an additional 5 minutes.
Allow the tarts to cool. Just before serving, generously fill each shell with the scrumptious cherry pie filling.
Complete the tarts by topping them with the reserved pastry circles. To add an extra touch of sweetness and elegance, dust the tarts with a sprinkling of confectioners' sugar.
With this recipe, you can create a batch of six mouthwatering Cherry Cheesecake Tarts. Serve them at any gathering or enjoy them as a special treat for yourself.
Don't miss out on the opportunity to savor the delightful combination of flaky pastry, creamy cheesecake, and tangy cherries. Make these Cherry Cheesecake Tarts recipe today and experience pure dessert bliss!
FAQs:
Q: Can I use fresh cherries instead of cherry pie filling? A: While the recipe calls for cherry pie filling, you can certainly use fresh cherries if you prefer. Keep in mind that you will need to prepare and cook the cherries to create a filling consistency similar to cherry pie filling.
Q: Can I substitute the almond extract with vanilla extract? A: Yes, you can substitute almond extract with vanilla extract if you prefer a different flavor. The almond extract adds a unique touch to the recipe, but vanilla extract will also work well and provide a classic taste.
Q: How should I store the Cherry Cheesecake Tarts? A: If you have any leftovers, store the tarts in an airtight container in the refrigerator. They should stay fresh for up to 2-3 days. Before serving any leftover tarts, you can lightly dust them with confectioners' sugar for a fresh presentation.
Q: Can I make these tarts in advance? A: Yes, you can prepare the tarts in advance to save time. You can bake the pastry shells, prepare the cheesecake filling, and keep them separate until you're ready to serve. Just assemble the tarts by filling them with the cheesecake mixture and cherry pie filling just before serving.
Q: Can I use a different type of pastry instead of puff pastry? A: Puff pastry works best for this recipe as it provides a light and flaky texture. However, if you prefer a different type of pastry, you can experiment with alternatives such as shortcrust pastry or phyllo dough. Keep in mind that the texture and taste may vary slightly.
Q: Can I use a different fruit topping instead of cherries? A: Absolutely! While the recipe suggests using cherry pie filling, you can experiment with different fruit toppings based on your preference. Blueberries, strawberries, or peaches can be delicious alternatives. Just make sure to adjust the recipe accordingly to match the fruit you choose.
Q: Can I freeze the Cherry Cheesecake Tarts? A: It's not recommended to freeze these tarts once they are assembled, as the texture may change when thawed. However, you can freeze the baked and cooled pastry shells separately, then thaw and fill them with the cheesecake and cherry pie filling when you're ready to serve.