I remember when Care Bears when they came out. I was a babysitter for a trio of girls who loved the stuffed bears. A decade or so later, I raised a daughter who couldn't get enough of the colorful bears. She would exclaim she needed "everyone"!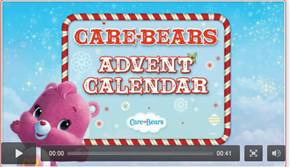 Continuing everyone's love affair with the colorful, creative Care Bears, American Greetings launches an adorable activity for the whole family to enjoy! Care Bears Advent Calendar.
This app is like an actual advent calendar; there's an experience for something new each day.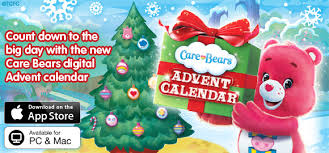 Come along with the Care Bears for a very magical countdown to Christmas in The Care Bears Advent calendar app from American Greetings. Packed with all of the fun sights and sounds of the holiday season, children can start the countdown by 'unlocking' 25 activities like holiday-themed puzzles, videos, coloring pages, and more, returning each day to unlock another activity. Children can design hundreds of snowflakes, create their own white Christmas with the Care-a-Lot Snowflake maker, decorate the Care Bears Christmas tree with special ornaments, and enjoy other wintry fun activities. On Christmas Day, a full-length Care Bears video episode is unlocked.
Available now for iPads for $2.99 on the App Store. A PC and MAC desktop app can be downloaded at https://www.americangreetings.com/care-bears-advent-calendar.