When it comes to budgeting and looking at your monthly spend it's easy to focus only on the higher end costs, like rent or mortgage payment, utility bill fees, grocery costs or car loan payments, but there are often plenty of less dramatic savings opportunities which are easy to overlook as they don't deliver a huge percentage of clawback cash the way bigger expenses do.
Now that may sound like a pain, almost more trouble than it's worth – but believe me when I say that if you have the time, patience, and commitment to make small tweaks that create several small potential budgets saves in the week then yippee. Those cash savings will build a little slower than you'd probably like, but they will grow, and at the end of the day every little count.
Postage stamps (completely new and unused) come up for sale online quite often – generally bought at some point by collectors who now want to move them on as they have quit the hobby, or by businesses who bought ahead and are now closing up and need just to move things out really cheap.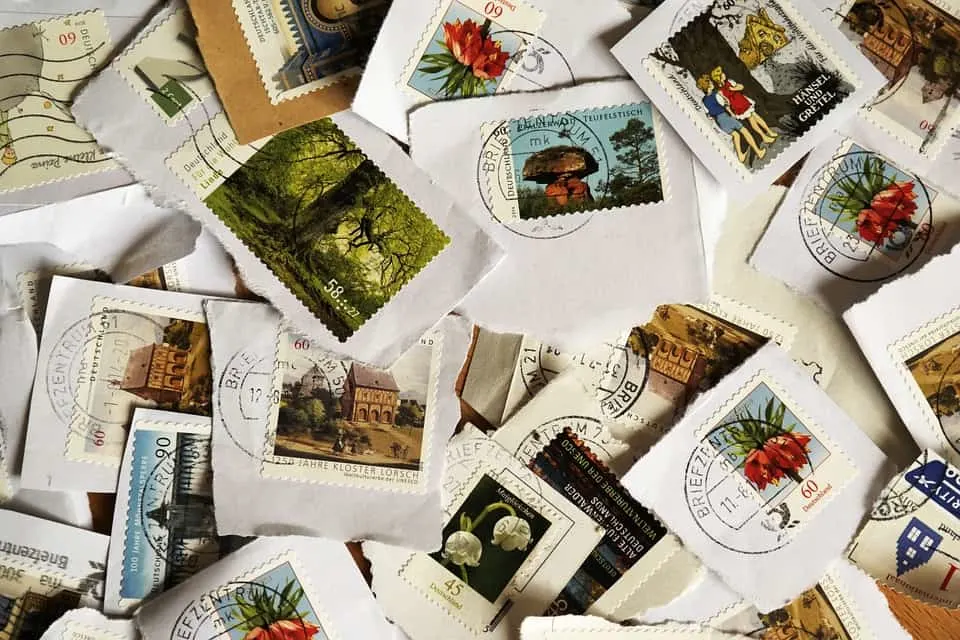 Buying Stamps Online: How Much Money Can You Really Save?
The cost of postage
Unfortunately, like everything else, the cost of postage stamps climbs higher every year. Fair enough it may not be huge increases each time, but over the course of a few months it soon adds up, especially if you use quite a lot of stamps. Of course, with the trend towards social media greetings, congratulations, and commiserations it's fair to say that the way people communicate has changed to some extent – but there are still plenty of people who like to use the mail to send:
birthday cards
birthday party invites (especially for a child's big day or a milestone birthday.)
wedding invitations
congratulations on anything from a new baby to a new house
general party invitations
sympathy cards
seasonal greetings cards say at Christmas, Easter, or on Mothers/Fathers Day
Then there are other uses for stamps such as sending in competition entries, sending postcards from your domestic vacation spot, and of course, all of the mail that businesses send every year to advertise items, send invoices and statements, and the like.
How to save money on stamps
The most drastic way would be to look at reducing the number you need to use, switching to electronic or telephone communication, but that isn't always either practical or desirable. In that case, it's better to do some digging and find out if it is possible to save cash by grabbing an OnlineStamp deal.
Can you save money buying stamps on online auction and selling sites?
Yes, it certainly seems so. Stamps that don't have an exact dollar value printed on them but just say 'first-class rate' instead are where the deals are. If you look on a site like eBay there are lots of discounted stamps, available in smaller quantities – say one sheet with 20 stamps on it), or rolls that can have hundreds on them. Generally, the better discounts come with, the larger quantity purchases, but there are examples online of 100 stamp sheets selling for an 8% discount. (Plus some extra discounts via the reward points you could qualify for if you join eBay's loyalty scheme.)
As with any transaction, (but especially when it is done online), check out the seller carefully before parting with payment. If possible, pay for goods via PayPal or by credit card, as these both provide some protection if something goes wrong with the order, and obviously, check out the feedback a seller has. It's also vital to check the postage fee for your stamps – as ironically that could also easily reduce the savings to be made. Look for accurate and detailed descriptions of the item, and real photographs rather than random images from the Internet.
That's great, but is there a way to save even more cash if I buy stamps online?
If eBay's discount stamp savings are a small change to you, then there are ways to boost that figure even higher – simply sign up for a cashback site that deals with forever stamps through eBay. So long as you follow their link to the auction site, you will qualify for whatever the extra discount happens to be, in the form of cashback. Deals do tend to change daily so this is something you would need to monitor and be prepared to act on at the right time, but there's no reason why you shouldn't be able to get back at least 5% of your spend – and that's on top of the discount on the purchase of the actual stamp.
Amazon is another big player in the discounted stamps market, and pretty much the same considerations apply here as to buying from eBay.
If you have a credit card that rewards you for spending on it – through cashback, air miles, or whatever, then use that for a third bite at the same discounted cherry! [But do remember to pay off the balance completely to avoid interest eating all your profits up.]
Save money on postage stamps by printing your own
This is an especially good option for anyone who, for whatever reason, uses a lot of stamps. There are online outlets which, after having joined and paid the membership fee, allow customers to print off all kinds of stamps and labels for their mail and packages. There are discounts of postage charges which should cover the cost of the joining fee if you are a heavy stamp user, and most come with several side benefits to sweeten the deal further.
So, it is possible to save cash if you choose to buy postage stamps online – but exactly how much you can save is difficult to pinpoint, as it depends on factors such as the volume of mail you need to send and the market price of unused stamps at any one time.