As school faded away to the arrival of Summer, bathtime and good hygiene became more of a challenge. My kiddos know what they're supposed to do: bathe, brush their teeth and wash their face. It's the pre-bed routine.
The last 30-days have been a piece of cake with the teeth brushing thanks to Nickelodeon and their partnership with Colgate and MZBerger & Company. Favorite characters like Dora, iCarly, and Sponge Bob Square Pants are helping Mom out by making bathtime and brushing the chompers fun!
Our mornings and nights have been so much calmer. The Colgate Powered Toothbrush, Dora The Explorer toothbrush, is the perfect size for The Divine Miss M's mouth, and the bristles are gentle on her teeth and gums. It has a "grown-up" feel with the small rotating head, making her teeth brushing more effective as it sweeps away plaque.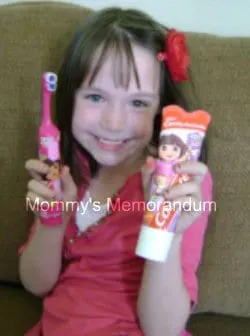 In addition to the brush, the Colgate Dora the Explorer Fluoride Toothpaste: Mild BubbleFruit
, with Dora on the tube, designates the tube as hers. It's safe for kiddos two years and up. I love that it stands up, and there's no middle squeeze that creates a goop of toothpaste glob all over the counter and sink. The Divine Miss M loves the Mild Bubble Fruit Flavor, and I love that it's helping strengthen and protect her new teeth.
We're 30-days in, and thanks to the Colgate-Nickelodeon partnership, the fight is now minimized, and our chompers are sparkling bright!
*I received the Toothbrush and Toothpaste in order to facilitate an honest review. No other compensation was received. The opinions, where expressed, are my own and were in no way influenced by the sponsor. Others' experiences may vary.