Comfort food for me is a pot roast and vegetables. I love the textures and the flavors. With this recipe you'll want to use a full bodied red wine, like Shiraz or Bordeaux to bring out the richest flavor of the gravy in the pot roast. The red wine permeates the meat and adds a robust flavor.
Try varying the vegetables choosing seasonal produce from your local farmer's market. Consider the cooking time and select vegetables that require the same amount of cooking so they all go in the oven at the same time.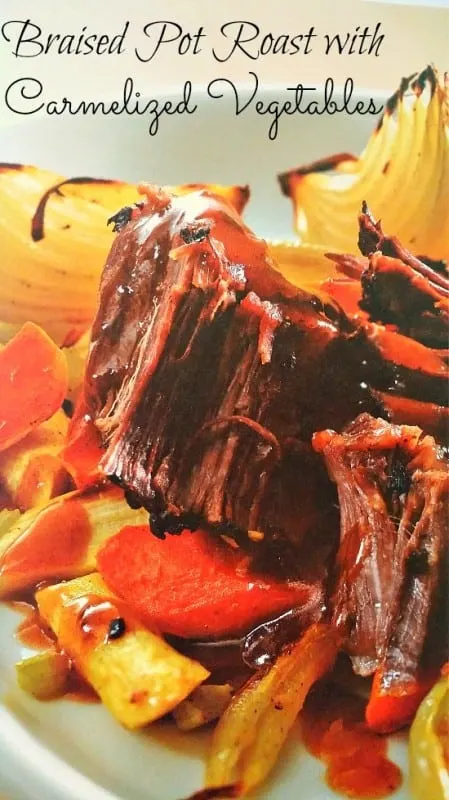 Braised Pot Roast with Caramelized Vegetables
History of the Dish:
Braised Pot Roast with Caramelized Vegetables is a classic comfort food dish that has its roots in traditional slow-cooking methods. The concept of slow-cooking meat with vegetables and flavorful liquids dates back centuries, as it was a practical way to tenderize tougher cuts of meat while infusing them with rich flavors. Over time, variations of this dish have emerged across different cultures, each using local ingredients and seasonings to create unique interpretations.
Alternate Names:
Slow-Cooked Beef Roast with Roasted Vegetables
Wine-Infused Pot Roast with Caramelized Veggies
Traditional Slow-Braised Pot Roast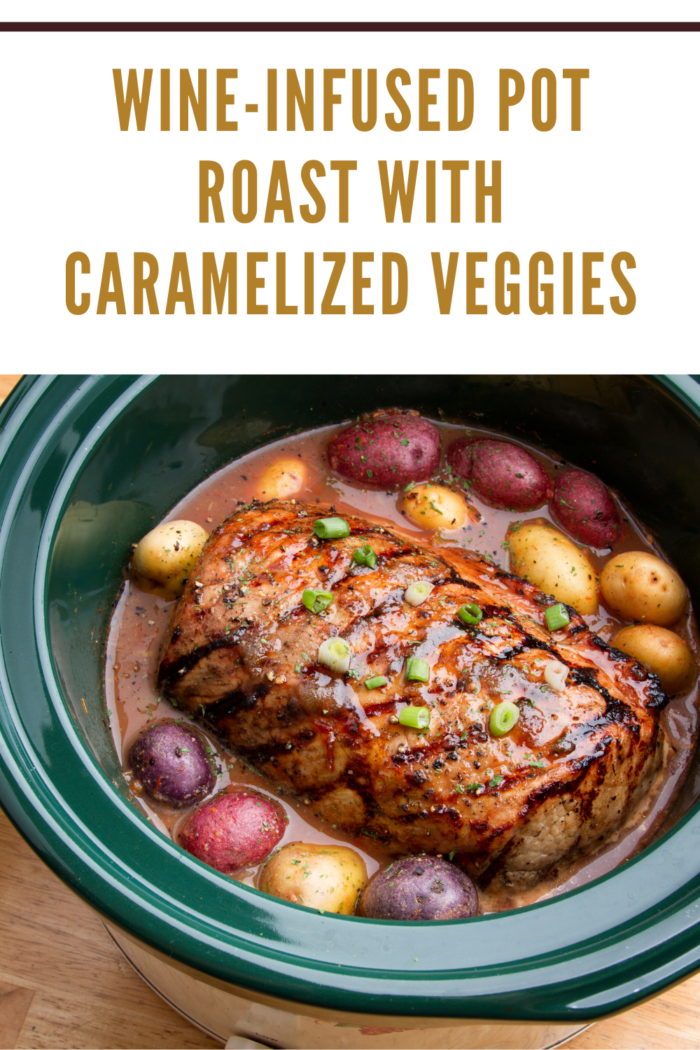 Ingredients:
For the Pot Roast:
3 carrots, chopped into 3 pieces
1/3 cup all-purpose flour
1 tsp salt
1/2 tsp freshly ground black pepper
1 boneless beef cross rib, blade, chuck, or shoulder pot roast (about 1.8 kg)
3 tbsp olive oil
240 ml red wine
240 ml beef broth
2 tbsp tomato paste
1 tsp dried rosemary (or 1 sprig fresh rosemary)
1 bay leaf
8 cloves garlic, smashed
Salt and pepper to taste
For the Caramelized Vegetables:
2 carrots, cut into 1-inch chunks
2 parsnips, cut into 1-inch chunks
2 sweet potatoes, cut into 1-inch chunks
1 celery root, peeled and cut into 1-inch chunks
1 onion, cut into wedges
1 stalk celery, chopped
2 tbsp olive oil
Salt and pepper to taste
For the Gravy:
2 tbsp cold water
Reserved flour mixture from earlier
Expert Tips:
Use a full-bodied red wine like Shiraz or Bordeaux for a robust flavor.
Opt for seasonal vegetables to enhance freshness and flavor.
Brown the roast thoroughly for a rich caramelized crust.
Straining the braising liquid before making gravy ensures a smooth texture.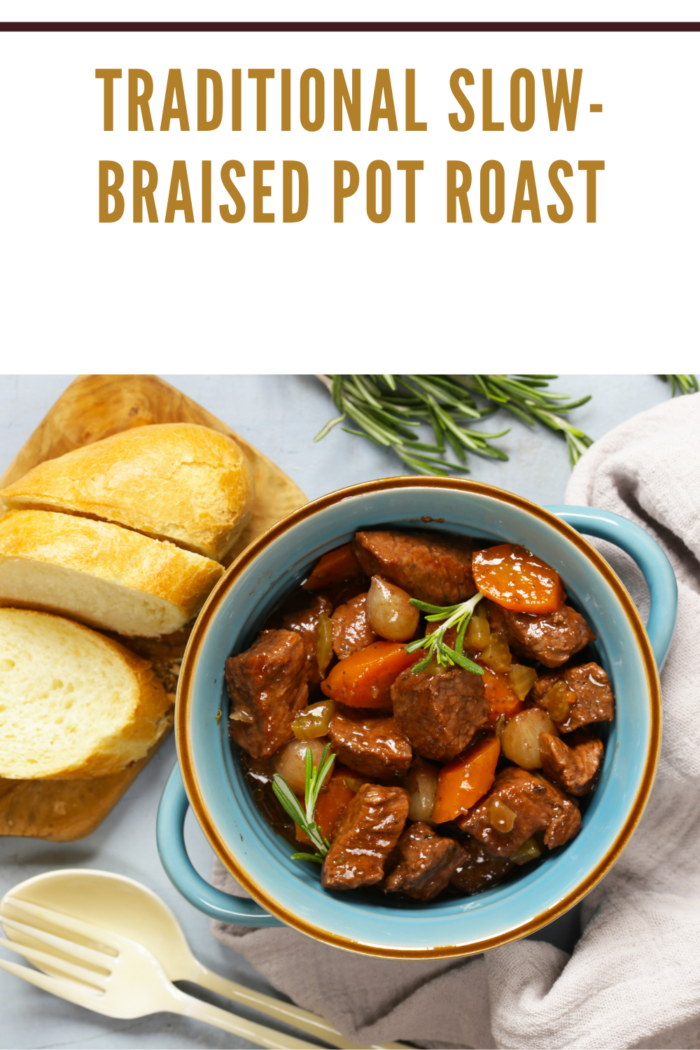 How to Make Braised Pot Roast with Caramelized Vegetables
Prepare the Roast:

Place three carrot pieces in the bottom of the slow cooker.
In a bowl, combine flour, 1 tsp salt, and 1/2 tsp pepper.
Pat the roast dry and coat it with the flour mixture.
Heat 2 tbsp oil in a skillet and brown the roast on all sides.
Transfer the roast to the slow cooker.

Create the Braising Liquid:

Add red wine to the skillet, bring to a boil, and scrape up brown bits.
Stir in beef broth, tomato paste, rosemary, and bay leaf.
Pour the mixture over the roast in the slow cooker.

Slow Cook the Roast:

Cover and cook on low for 8-12 hours or on high for 4-6 hours until fork-tender.

Prepare Caramelized Vegetables:

Preheat the oven to 220°C (425°F) during the last hour of cooking.
On a baking sheet, toss carrot chunks, parsnips, sweet potatoes, celery root, onion, and celery with olive oil, salt, and pepper.
Roast for 40 minutes, turning once, until tender.

Make the Gravy:

Transfer the roast to a cutting board, tent with foil.
Strain braising liquid from the slow cooker into a saucepan and discard solids.
Whisk together reserved flour mixture and cold water to form a paste.
Whisk the paste into the braising liquid and simmer until thickened.

Serve:

Slice the beef and arrange on a platter with roasted vegetables.
Drizzle some gravy over the beef and serve the rest in a gravy boat.
Storage and Leftovers:
Store leftover pot roast and vegetables in an airtight container in the refrigerator for up to 3-4 days. Reheat gently in a covered skillet with a bit of beef broth or gravy to maintain moisture.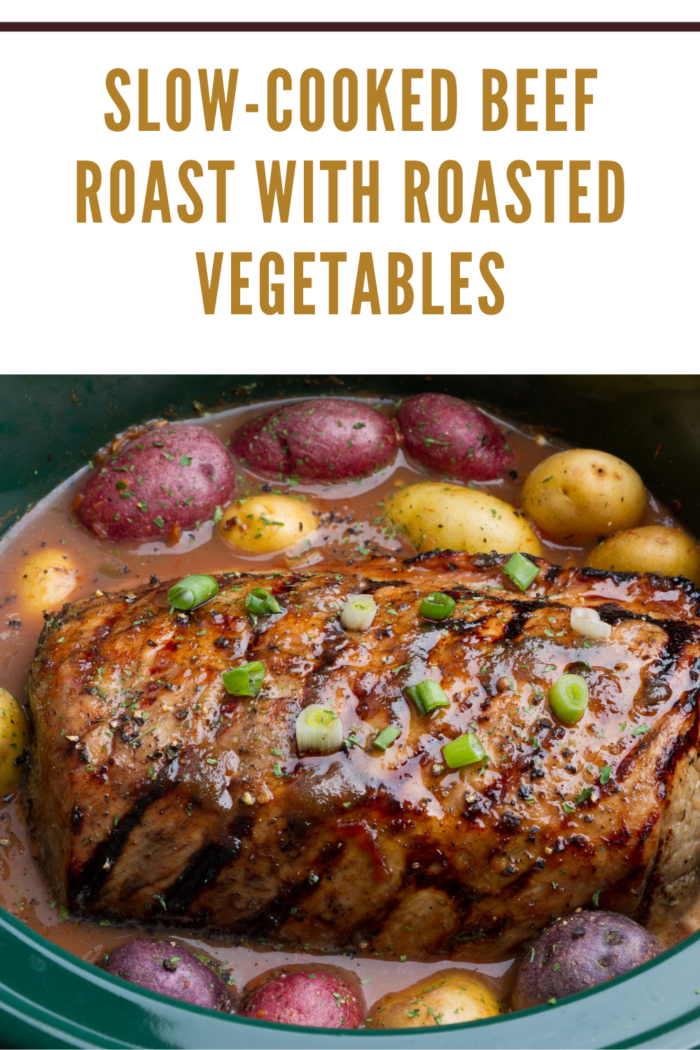 FAQs for Braised Pot Roast with Caramelized Vegetables:
Q: Can I use a different type of meat for this recipe? A: Yes, you can use other cuts of beef like chuck or blade roast. Pork or lamb can also be delicious alternatives.
Q: Can I make this recipe without wine? A: While wine adds depth to the flavor, you can substitute with additional beef broth for a non-alcoholic version.
Q: Can I use fresh herbs instead of dried rosemary? A: Absolutely, use about three times the amount of fresh herbs compared to dried.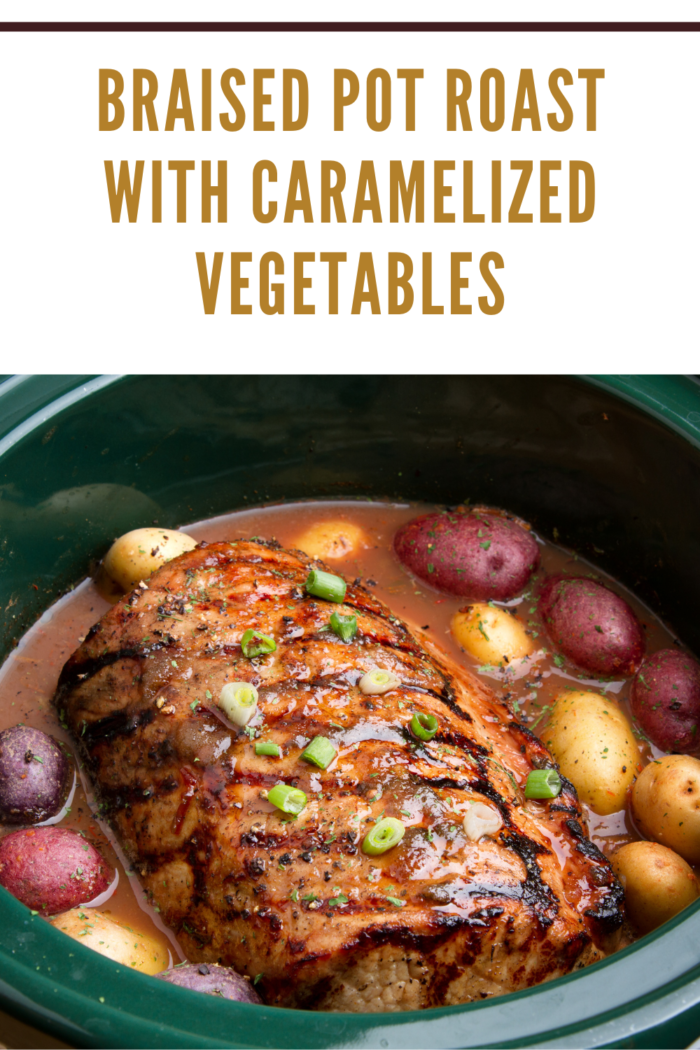 Variations:
Mediterranean Twist: Add olives, sun-dried tomatoes, and oregano to the braising liquid for a Mediterranean flair.
Asian Fusion: Infuse the broth with soy sauce, ginger, and star anise for an Asian-inspired twist.
Vegetarian Option: Substitute the meat with seitan or a variety of mushrooms for a hearty vegetarian version.
Recipe from Easy Everyday Slow Cooker Recipes, page 143