This is the first time in four years that I have not been committed to creating and sewing Halloween Costumes. It was a hard decision, but in the end, I wanted more time to do personal sewing. I'm taking three of my kiddos home mid-November to meet nine cousins for the first time. My thoughts were: no costumes=more sewing time.
So I began to think, create and decided we'd be making Thanksgiving shirts for the cousins. It was going to be sensational!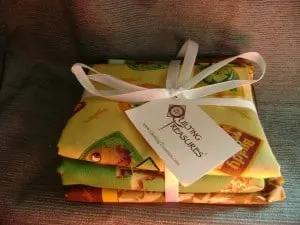 Quilting Treasures Dinosaur Train Fabric
I'm a fabric junkie. I love patrolling the aisles of fabric admiring the colors, textures, and prints. Now I've been introduced to Quilting Treasures, a company that has been around for 200 years with a reputation for quality, service and expertise. Their mission statement is amazing: "create a valued product for you by providing quality fabrics and services that inspire your imagination and craftsmanship!"
When the fabric arrived, Li'l Man was over the roof! It was printed with characters he loves from the PBS hit show, Dinosaur Train! He has a Dinosaur Train themed room and wanted me to make him sheets. I shared that there wasn't enough fabric, but maybe soon we could do that. I reminded him of our cousin project and he tallied the boy and girl cousins and insisted ONLY the boys get the Dinosaur Train fabric.
So we started creating.
Li'l Man helped me create the template for the letters and shapes we would use for the shirts. He helped me coordinate the colors. Here's one, nearly finished: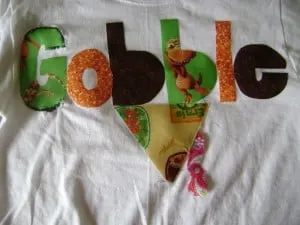 The green fabric with the Dinosaur Train characters blended perfectly with our orange and brown fabric. Li'l Man insisted the yellow fabric with the Dinosaur Train icons be used for the triangle.
This fabric is fantastic to work with, and the fun prints make any project fun. Turns out, time gets away from me, and our sewing has not made it too far. When I find time to sit down, I'll be appliqueing the letters and adding the finishing touches to make it look like the "girls" shirts: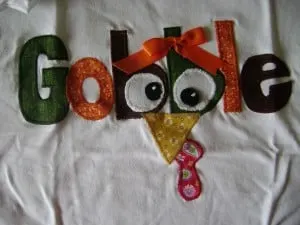 I've promised Li'l man with the leftover fabric; we will make him a pillowcase. The Beauty Queen also followed the easy-peasy instructions to make a pencil case provided by Quilted Treasures. She's ten and new to sewing and had never done a zipper, so she used scraps of fabric we had. It turned out so great that she is making one for Li'l Man for Christmas using the Dinosaur Train fabric.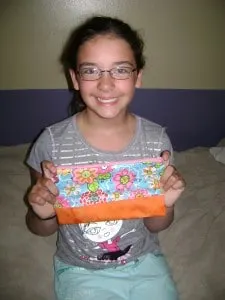 The girls and I will also create a book for Li'l Man with the one-yard of Dinosaur Train Themed Book Panel.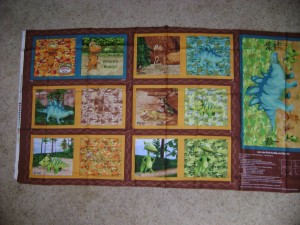 The colors are bright, and there are hidden pictures to find…something Li'l Man loves!
The girls love that it is all self-contained and the instructions are printed on the fabric.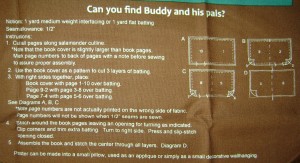 There are so many ideas to be found on the Quilting Treasures Projects page. Discover Dinosaur Train-themed ideas or quilts, create shoe cases, and more.
We are enjoying the quality of the Quilting Treasures fabric and celebrating their project sheets. When it's easy enough for my ten-year-old to understand and have success in making on her own, it's something I love! They haven't complicated projects but ones that will have you enjoying the crafting experience.
Quilting Treasures offers a large selection of fabrics to create projects about you. The quality of the fabric will make your project one that can be enjoyed now and handed down through the generations. I'm loving the time spent crafting with my children and hearing their plans for one another in our Homemade Christmas exchange. It's a bond that stretches beyond the imagination.
The Dinosaur Train Fabric from Quilting Treasures is for $12 a yard and will spark your creativity and give added flair to a gift to someone special.
Disclosure of Material Connection: I received one or more of the products or services mentioned above for free in the hope that I would mention it on my blog. Regardless, I only recommend products or services I use personally and believe will be good for my readers. I am disclosing this in accordance with the Federal Trade Commission's 16 CFR, Part 255: "Guides Concerning the Use of Endorsements and Testimonials in Advertising.".