98 years, one month, two days.
A lifetime.
A life well lived.
He was almost a Canadian, but Rachel's letter home with the good news of her pregnancy prompted a trip for her daddy, Joseph Brigham Meeks, to bring her back to the United States.
On 2, February 1919 in Punxsutawney, Pennsylvania; Phil, the groundhog, stuck his head out of his hole and found his shadow predicting another six weeks of winter. 1,889.8 miles West, in Salt Lake City, Utah a red-headed baby boy also greeted the world, William Edgar Grundy. He would be the only child of Rachel Meeks and her husband, Clayborn Alphonzo Grundy.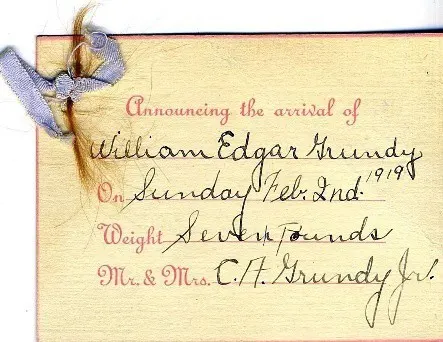 He would only be Billy Grundy for nine years though.
On January 10, 1930. Billy's beautiful mom Rachel died from cancer. Six days later his aunt Vi passed away.
His daddy, Clayborne Alphonso Grundy, came down from Canada after he heard of Rachel's death.
Here's where life got a little wild.
Billy Grundy had an aunt, Melva Fail (Aunt Mel), who lost a son, Ross, to a horse-riding accident around this time. Ross and Billy were approximately the same age. In her grieving, Aunt Mel took in Billy.
Wild West custody battles were very different from the lawyers and judges of today's custody wars. Billy's Aunt Mel and his Granddaddy waged a custody battle with his dad that went on for years. Aunt Mel would send young Billy off on the train to a new town, where he'd make up a new name and sell newspapers on the corners for a nickel. He was a fugitive from the law, he dropped the surname Grundy and took on his maternal grandfather's name, Meeks.
From here on out, the world would know him as William Edgar Meeks.
Speaking of fugitives, Billy came from a long line of tough frontier folk, not all of them on the correct side of the law.
Take Billy's Uncle, Henry Wilbur Meeks, "Bub," was one of the lesser known members of the Wild Bunch gang, a gang of outlaws led by Butch Cassidy. Their friendship began in Circleville, Utah when Butch "borrowed" a horse from Bub.
The Robin Hood spirit of the gang wouldn't let him keep the horse, so he sent it back, with a note that said the horse was the best he had ever ridden. Be it horses or cattle, bank robbery or holding up a train, Bub was an active member of the Wild Bunch Gang until his arrest in 1900.
With relatives like Bub, is it any surprise that Bill had his share of adventures?
Fourth of July is big in little towns, Huntington was no different. Joseph Brigham Meeks, Billy's Grandfather, and one-time Emery County Commissioner told Billy and his friend from the service to wake everyone up. As they both had experience with dynamite… Billy and his friend placed dynamite around the town's square and lit it at dawn. It woke up the town and blew out the schoolhouse windows.
Bill Meeks was a Gleek. He had an amazing voice!
After Pearl Harbor, Billy joined the Army and went to Europe aboard the Queen Mary.
He marched across Europe during World War II.
For a short time, he was under General MacArthur.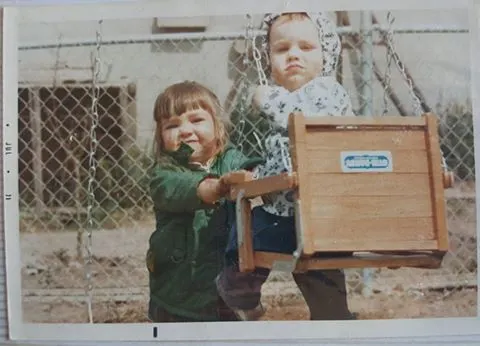 Billy Meeks was our grandfather. A giant of a man in stature and character.
We saw him cry three times.
The first, we were in college. Coming home after a history class, announcing to Grandpa we had watched a movie about World War II and when the camera turned, there he was, our Grandpa, with an emaciated human being in his arms. He was there helping liberate Bergen-Belsen.
That was all it took.
Grandpa stood up and said, "I haven't thought about that in years, and I don't want to talk about it now." He left the room, but not before a tear fell to his cheek.
The second time, Grandma had passed away.
The third time?
On October 7, 2007, thanks to an oversight on the military's part, we were fortunate enough to attend my grandfather's award ceremony. It was casual.
When the awards were pinned, I asked my grandpa, "Were you drafted?"
In his firm voice, he said,
"Drafted? Hell NO! I VOLUNTEERED. We all did."
It must have triggered some memories buried deep inside because he then shared that he remembered marching across France.
One morning, on the border of France and Germany, as they packed their packs in exhaustion, preparing to invade Germany, the General said, "It's over. We're going home."
It was those five words that brought my grandfather to tears. I'm sure they had the same impact on him in that camp the first time he heard them. Through his tears, Grandpa repeated,
"It was over."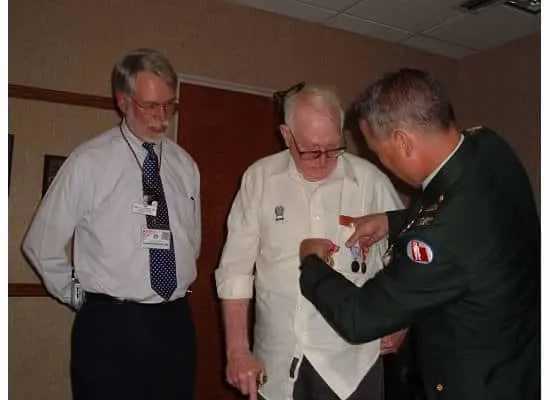 He ice-mined in Alaska. It's one of our favorite stories growing up. As the hoses blasted the ice, two prehistoric beasts, almost perfectly preserved emerged. Our grandfather was in the presence of Wooly Mammoths! As he told the story, we got to time travel, holding the portion of wooly mammoth ivory tusk and a molar from that day.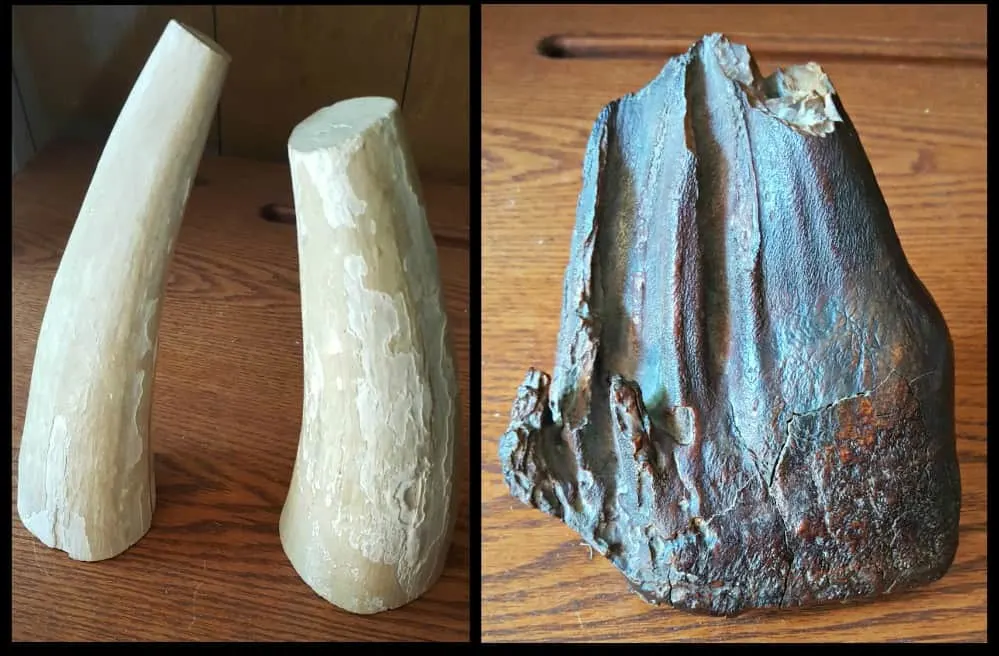 Grandma and Grandpa had three children, Dennis, Joseph, and Patricia.
They lived on a farm in Huntington, Utah. Grandpa worked at Sunnyside Mine. It was a dangerous job. While mining for Zinc there were two cave-ins that Grandpa survived. He was a stubborn man and walked out of the mine with two broken feet in the first one.
The second cave-in broke his back.
And then there's the story, which became a breakfast favorite (which by the way always involved bacon). Their three children were small. As the story goes, Grandma told Grandpa he was to quit his job. Grandpa argued and thought his wife was nuts, telling him to quit his good job. He resisted, but Grandma told him he either quit or she and the children were leaving. That's when he gave his three-day notice. He worked those three days, and on the fourth, Dennis went into town to buy a newspaper. When he returned he as white as a ghost. There had been a mining accident that had claimed the lives of those in Grandpa's unit.
Grandpa was a man with a sense of humor, and he seemed fearless. Some thirty years ago, his sister-in-law lived the next street over. She had an alarm system that notified Grandpa when it went off and the local police. On one occasion the alarm called Grandpa. He walked over to his sister-in-law's, and during his search of the property, a police officer pulled a gun on him and told him to "freeze." Grandpa, somewhere in his seventies, looked at the young officer and told him,
"Put that gun away before I take it away from you."
We spent our last night in the home of our grandparents. It's a home they've owned since we were born. A red brick modern marvel of the 1960s with intercom and light controls that you can press and turn on a light anywhere in the house.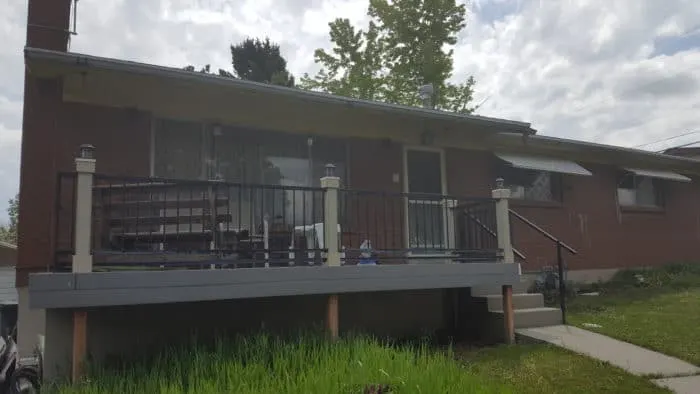 Pulling up to the house transports to our childhood. As soon as the car transitioned to "Park," the doors flew open, and we ran across the front yard, down the driveway, through the gate and to the back of the yard. Here, Grandma and Grandpa would be on their knees in the dirt of their garden, nurturing their vegetables and picking raspberries.
Looking in the mirror putting on my
eye cream
, hoping to minimize the puff, I'm flooded with memories. Grandpa always had an animal beside him. They loved him.
I twirl up my lipstick and remember the Days of '47 Parade. Grandpa drove a Consolidated Freight Truck. He surprised us by telling us we were going to be IN the parade. We wore grandma's brightest red lipstick and waved to the crowd as Grandpa drove his truck through the parade route.
Downstairs a woodburning stove sits. I remember the day they got it. Grandpa would sit in his recliner, eating salted peanuts, watching Hawaii 5-o or Gunsmoke on the big Zenith television. It was in December the stove arrived, around Christmas. We won't forget, because we stayed up all night making pancakes on their new stove, like Laura Ingalls. We wanted to surprise Grandma and Grandpa with breakfast. Instead, we had to clean up the mess and didn't get to see Santa Claus.
At 68, he let me know he was made of steel. I challenged him to arm wrestling. I watched as he rolled up his sleeves, pulled up his khaki slacks and dropped to his knees. His pale elbow rested on the glass coffee table. He gripped my hand, there was a countdown and it was over in seconds.
We also hiked to Mount Timpanogas when he was 68. I was 17. He out-hiked me and wanted to know what was taking me so long.
One of our favorite memories is the time Hogle Zoo was hosting the Komodo Dragon exhibit. We asked Grandpa if he wanted to go with us to see the Komodo Dragons and he replied,
"Hell no. I don't believe in that Fairy Tale bullshit."
Billy Meeks passed away, March 4, 2017. He rests next to Grandma and their son Dennis.
It was a life well lived.
A lifetime.
98 years, one month, two days.