I love Nicholas Sparks. So much, that last month, we went on a family weekend getaway to Wilmington and Oak Island to tour where Safe Haven was filmed. The opening scenes for Nicholas Sparks' new movie, THE CHOICE, which is based on the 2007 Sparks' novel of the same name, was filmed in Wilmington at the Dockside Restaurant.
Just released is this all-new TRAILER of THE CHOICE, the new romantic drama starring Teresa Palmer and Benjamin Walker, based on the acclaimed novel by New York Time's bestselling author Nicholas Sparks.
The Choice Synopsis:
Southern gentleman and bachelor, Travis Shaw's (Walker) life is quickly turned upside down when he crosses paths with new next-door neighbor Gabby (Palmer). When their flirtations turn into true feelings, they face obstacles and must decide whether to let things be or to follow their hearts. THE CHOICE is a story that will make you believe again in the power of love.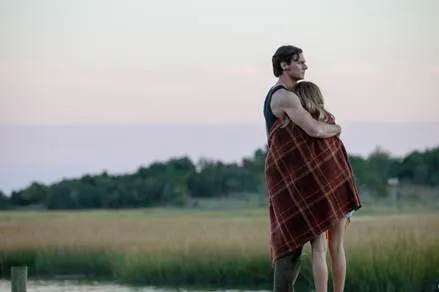 Let love conquer all when THE CHOICE opens in a theater near you on FEBRUARY 5, 2016!
THE CHOICE
In Theaters February 5, 2016
IN A WORLD FULL OF UNCERTAINTY AND DIFFICULT DECISIONS…
#CHOOSELOVE
When feisty medical student Gabby Holland moves in next door to perennial ladies' man Travis Shaw, it sends them both on a romantic journey neither ever dreamed possible. Travis has always believed a serious relationship with a woman would cramp his easygoing lifestyle while Gabby is all set to settle down her long-term boyfriend-until an irresistible attraction between the unlikely couple upends both of their well-planned lives. After a whirlwind courtship, Gabby and Travis wed and build a family together, making every decision hand-in-hand until one of them is forced to make the most important choice of their life alone. A poignant and life-affirming celebration of love, marriage, and family that explores the most heart-wrenching question of all: how far would you go to keep the hope of love alive?
Lionsgate presents a Nicholas Sparks / Safran Company / POW! production.
Cast: Benjamin Walker, Teresa Palmer, Maggie Grace, Alexandra Daddario, Tom Welling, Brett Rice, and Tom Wilkinson
Directed by: Ross Katz
Produced By: Nicholas Sparks, Peter Safran, Theresa Park
Release Date: February 5, 2016