Wondering what to do with that indoor grill that bears the name of a high-profile sports celebrity? It can be put to use to take advantage of its ability to cook twice as fast as the uncovered hibachi-style indoor grill. It's the ideal appliance for healthful cooking, with the non-stick surface requiring little additional fat prior to grilling and the ridged grill surfaces that slant downward, causing the fat to drop into the drip tray.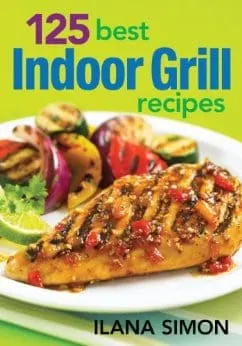 Ilana Simon's new book, 125 Best Indoor Grill Recipes, makes that indoor grill useful for far more than just grilling steaks. This book makes the indoor grill the perfect mealtime solution for incredibly appealing and easy-to-prepare food.
Enjoy year-round grilling from the comfort of your kitchen with no fuss, no mess, and no fat–just delicious grilled food.
No need to be a barbecue authority to put this book and its recipes to the test. You don't even need barbecue experience! Once you discover how easy it is to grill indoors, you'll become hooked on the creations you can make, from fabulous fish and moist boneless skinless chicken breasts to flavorful steaks and burgers. Rain or shine, there are mealtime options that are ready when you are!
It's quick and almost effortless. Simon offers information for the perfect indoor grilling pantry–everything from main ingredients to tools as well as a chart of recommended internal cooking temperatures and approximate grilling times.
Tempt those taste buds, expand your grilling horizons, and explore the wonderful variety of recipes found inside the covers of 125 Best Indoor Grill Recipes like:
Shrimp Satay, page 29
Asian Steak Noodle Salad, page 36
Grilled Cheese and Asparagus Rolls, page 52
Caesar Burgers, page 71
Mexican Steak, page 103
Chicken Nuggets, page 112
Sausage and Vegetable Herbed Pasta Sauce, page 129
Maple-Glazed Pork Chops, page 159
Grilled Bananas, page 177
This is a fun cookbook that keeps you grilling and enjoying the tastes of summer all year long!
About the Author
Ilana Simon is a food writer, editor and author of 125 Best Fondue Recipes and 125 Best Ground Meat Recipes. She lives in Winnipeg, Manitoba.