The kitchen is the core of our lives. These ten easy and quick kitchen renovation ideas will help make the most of your space and make it a gathering space everyone enjoys.
The kitchen is unarguably the most important and the busiest section of the house. Breakfast, lunch, dinner and snacking – every meal is prepared in the kitchen. Starting from early morning to late evenings, if one part of the house never rests, it is our kitchen. In fact, as per a survey, we spend almost 12% of our lives in that space alone!
For more than one reason, it is important to construct the kitchen so that your work becomes easy and convenient. But, how can you do so now that your kitchen is already there? Here's presenting a list of 10 super easy quick kitchen renovation ideas to help you get all that 'MasterChef' feels: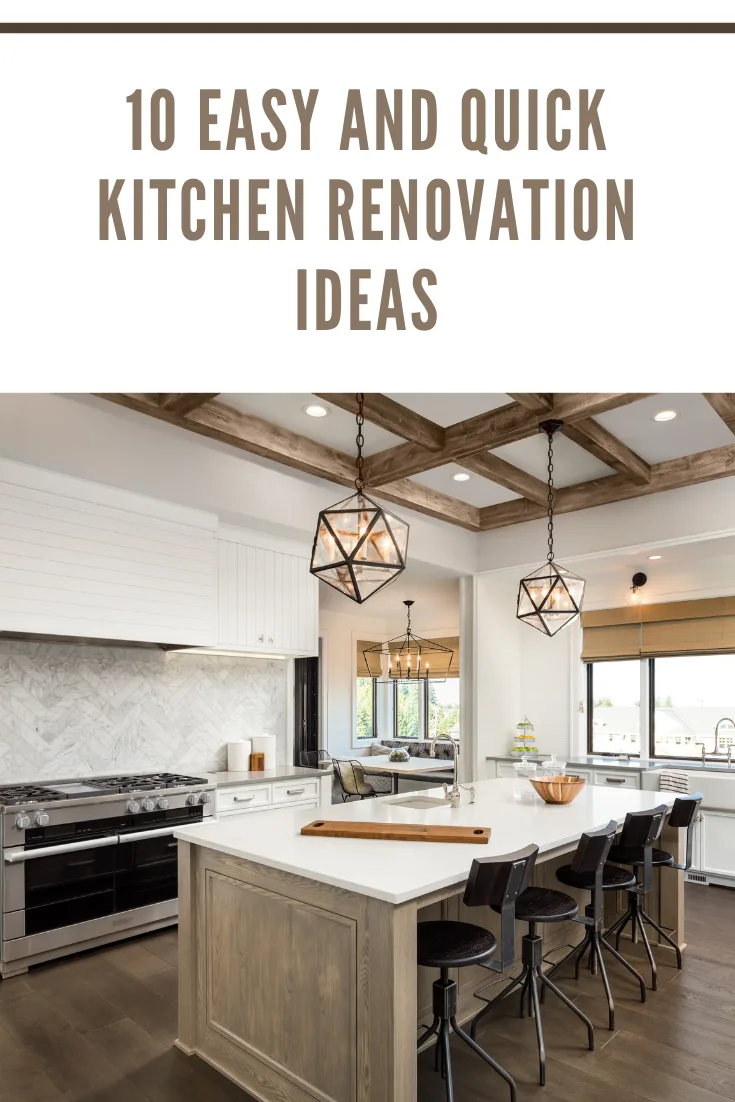 1. Widen your walkaways
If there is anything, you need your kitchen to be – that's spacious. Tip number one on our list is to widen the walkaways. Make sure your kitchen has enough room for people to work in it.
In the holiday season, when the whole family is here, and there's a special family recipe being cooked, you need your kitchen to be spacious enough to allow multiple people to work in it freely. Therefore, push all your furniture towards the wall and widen the main walkaway.
2. The microwave cabinet
A microwave is an essential part of any kitchen because it is versatile cookware. From baking to simply heating the food, a microwave does it all.
So, treat it just as special.
Check the height of your microwave cabinet properly before finally getting a new one.
Make sure to leave some space for that warm heat to release.
3. Keep the corners clear.
We do not really understand, but our kitchen corners need to be arranged with utmost care. Messier the corners, heavier the work.
So, remove all the mess, clean the corners, and keep clean.
You can also put some indoor plants in certain corners for aesthetics.
4. The countertop
The most important part of our kitchen is that the countertop needs to be very well organized.
Whether it's holding the vessels or chopping the vegetables, it's our countertop that helps us in doing it all.
Keep it all clear and vacant.
Maybe add in a few slabs to ease your overall work.
5. Spice up the arrangements
A kitchen should look anything but monotonous.
Hence, renovate it to look pleasing to anyone who walks in to show off their culinary skills.
Add in more indoor plants, play around with the tiles, and make it look as well-furnished as possible.
6. Easy reach
Now that you have finally found the motivation to get up and remodel your kitchen do not forget to do it in a way that makes everything 'child-friendly'.
Except for the stove and sharp knives, your kid needs access to everything in the kitchen – from cutleries to snacks.
Hence, take every step keeping your little one in mind.
7. Plugging
Mixers, blenders, microwave, juicer – all that electronics, but not enough plugging!
We know most kitchens around the globe suffer from this problem.
And now that you are going to refurbish your kitchen, make sure to introduce enough plugging.
8. The kitchen cabinets
Is there anything your kitchen cabinet does not store, from groceries to utensils?
Plus, you have to make room for spices and many little things needed in the kitchen daily.
In a nutshell, no amount of cabinets is ever enough.
So, go on – add a few more to your kitchen.
9. The kitchen washbasin
Let's not forget this super essential part of the kitchen.
The washbasin is super important, and there is no need to explain why.
From washing big and small vessels to cleaning the veggies, the washbasin must be spacious enough to take care of it all.
Therefore, make sure you widen the sink base.
10. The colors
Last but never least, colors play a very important role in making a kitchen look pleasant and spacious.
It is always suggested to go for lighter shades when coloring the kitchen.
It makes the space look warm and makes it appear larger.
Over to you…
Kitchen renovation is necessary, but it is not child's play.
Since you are dealing with such a crucial part of the house, you need to take care of everything in detail.
Here, we listed the ten easy and quick kitchen renovation ideas.
Implement the tips from this article and refurbish your kitchen the smart way.
---
Resources: