This queso dips is delicious, easy and works well as a dip or as a sauce over enchiladas, tamales or your favorite Mexican dish.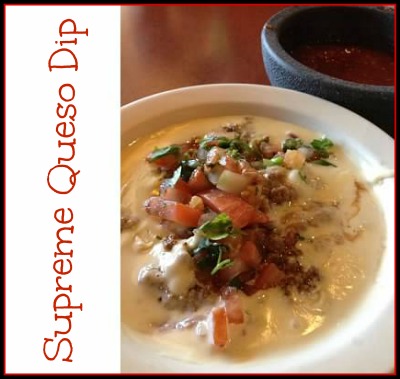 Ingredients:
1 1/4 (1.25) lb block White American Cheese , cut into 1-inch cubes
1/4 cup diced green chiles
2 pickled jalapenos, chopped
1 ounce pickled jalapeno juice
2/3 cup whole milk
1/2 cup cold water
1 tsp. garlic powder
pinch of cumin (optional)
Topping:
1 lb. ground beef
1 pkg. taco seasoning
2/3 cup water
1 tomato, diced
Fresh cilantro, chopped
Topping:
Brown ground beef in a medium pan over medium heat.
Drain grease.
Add taco seasoning package and 2/3 cup water and stir into ground beef mixture.
Stir constantly until meat is well coated and sauce is thick.
Dip:
Toss all ingredients into a large microwave-safe bowl. Microwave on high for 5 minutes, stopping to stir after every minute. Don't let the watery consistency fool you, it will all come together as the cheese melts.
Place topping on top of queso and add diced tomatoes and cilantro.
Serve immediately as a dip with tortilla chips or as a sauce over your favorite Mexican dish.
*Reheat Instructions: Store any leftover cheese dip in the fridge. Reheat in the microwave, stirring every 30 seconds until creamy and hot.

Julee is the writer behind the blog, Mommy's Memorandum. She vents her emotions through flour and butter. While she realizes there are the tried and true endorphin-inducers like exercise, being thankful and eating healthy, she prefers to live in the fast lane: real butter, a new recipe with a gazillion calories and laughing until she sobs…and of course blogging. She's perky, quirky, dorky. A Utah native and NC transplant with an appetitie to taste the world, meet its desserts!