I received YumEarth products in exchange for this post. All opinions are my own.
Whether you're looking to fill Easter baskets or just a healthier treat, my family loves YumEarth and their nice selection of Gummy Bears, Gummy Fruit Snacks, Sour Beans, and especially their Lollipops! As a mom, I love that all YumEarth's product line is made with real fruit juice, all-natural ingredients–none of that high fructose corn syrup. There are no artificial flavors, colors, no gluten, no dairy, and no nuts. PLUS! Each serving provides 100 percent of the daily Vitamin C and is just under 70 calories!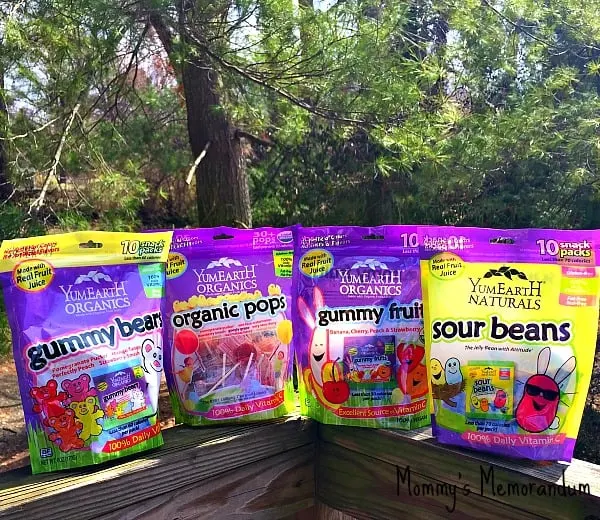 This is YumEarth, a fun company.
Not only are they doing great things with snack time, but my kiddos also love the fun packaging for holidays.
Inside the package are individually wrapped portions.
They make fun treats to share in the classroom, tucking in plastic Easter Eggs, and just eating after school!
There's no shortage of flavors.
I love pomegranate.
Miss M is a Mango maniac, and Li'l Man loves the classic strawberry.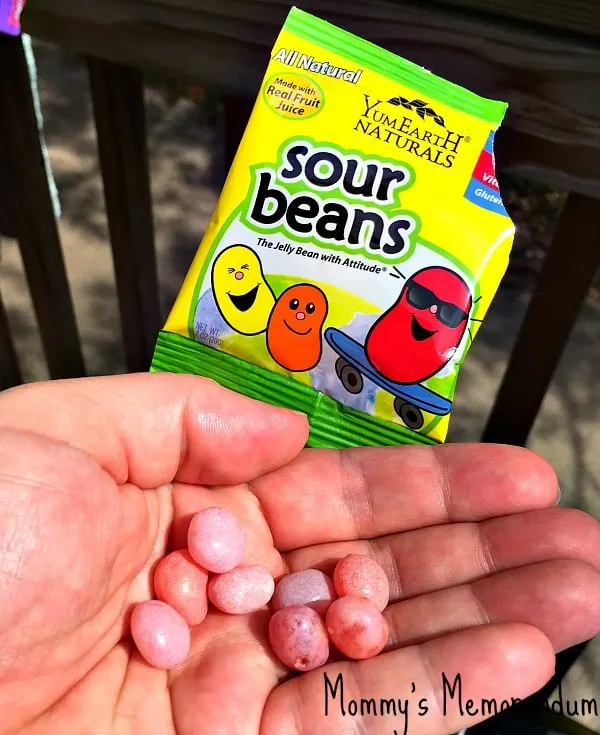 YumEarth offers Sour Beans, which seems to be the all-time favorite at my house.
They disappear fast!
They are shaped like jelly beans and have an incredibly fruity scent.
They are made with organic fruit juice and have no artificial coloring!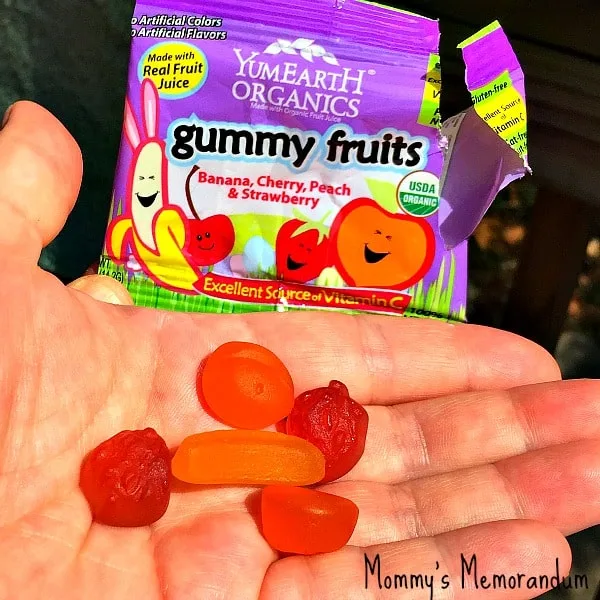 The YumEarth Gummy Fruits are delicious.
My kiddos take a packet every day to school.
They are the only fruit snacks my kiddos eat one at a time.
They love to savor the flavors…banana might just be my favorite!
Those who love Gummy Bears will delight in YumEarth's.
They are tasty little creatures. Each Easter Pack comes with ten snack packs.
The all-time favorite at my house, however, is the YumEarth Lollipops.
These are so tasty!
We even have neighbor kiddos knock on the door asking if they can have one of our lollipops.
I'm not kidding. They are my favorite lollipop on the planet.
With so many choices, there's no surprise that YumEarth is the number one organic candy company in the United States today, with distribution in over 40 countries as well.
The company's roots go back to 2005 and are still run by two dads that want to stay away from yucky chemicals being ingested by their children.
YumEarth makes me feel good about letting my kiddos love candy.
It's a brand that offers the perfect alternative to dyes and sugar without sacrificing taste.
YumEarth Candy is perfect as a basket stuffer, or even by itself.
If you're a last-minute shopper, don't worry you can pick up YumEarth Organics Lollipops, Gummy Bears, Gummy Worms, and YumEarth Naturals Sour Beans in over 7,000 Walgreens, Target, Meijer, Whole Foods, and on Amazon.
Visit the Yum Earth Site and discover candy and treats all over again, as they were meant to taste!