Robotic pool cleaners are easy to use, have built-in programs, do not require additional parts, and can improve water circulation by cleaning the pool.
You bought a house, and you also built a large swimming pool in your backyard, which you plan to use for relaxation and maybe enjoy some free time with your family or friends.
But, as time passed, you realized that cleaning your entire pool with bare hands is very tiresome, and it might not be worth the fun, not to mention that it is also very time-consuming.
You decide on hiring pool cleaning services or laborers who can help you clean the entire pool, but that is also expensive, and the cost rises with the size of the pool.
But you have already spent quite a lot of money on the pool, so you cannot remove it either.
So what should you do now?
Well, a great solution to all your problems is using a robotic cleaner for your swimming pool.
They clean away not only your swimming pool with ease but also all your worries.
Here are a few reasons why choosing a robotic pool cleaner will save you time and money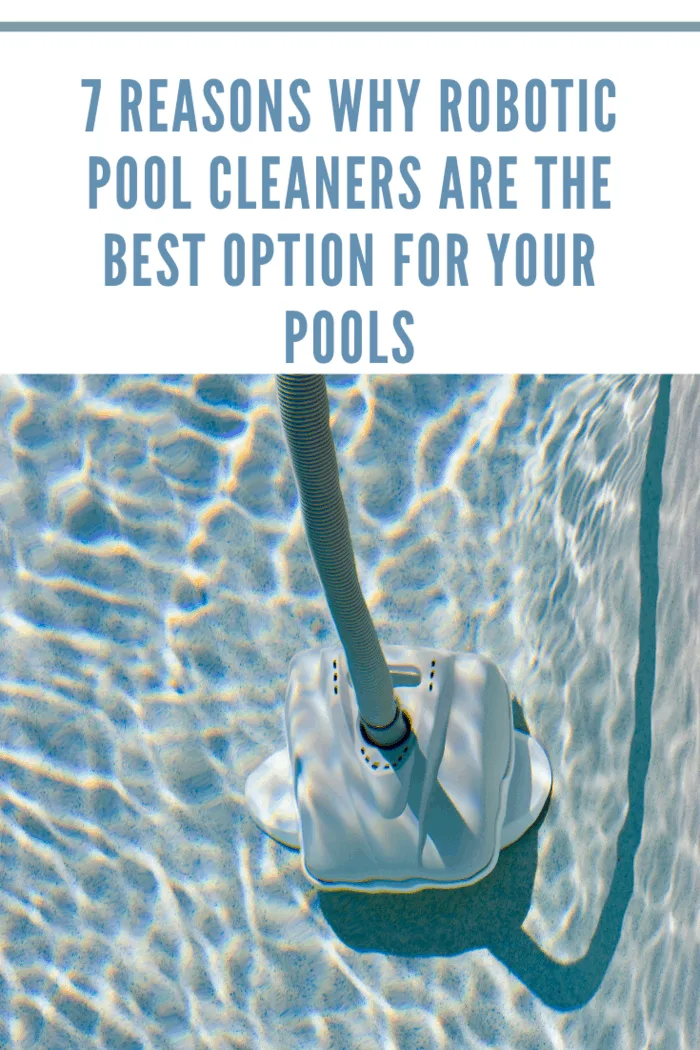 1. They Use Simple Mechanics
The robotic pool cleaners, unlike other technical tools, are much easier to use and can be used by almost anyone, even if you are not tech-savvy.
The bots have an in-built cleaning system, filtering components, and multiple cleaning programs that can do all the hard work for you.
All you have to do is put the cleaner in your pool and switch it on, and watch the magic happening right before your eyes.
What took hours for you to clean will now only take a few minutes.
2. Deep Cleaning Technology
When you are cleaning a large pool, there are possibilities of missing a few spots here and there.
But it is not the case with robotic cleaners.
These cleaners will sweep your entire pool, both the floor and the wall.
Cleaners like these are also equipped with clever, clean technology that allows navigating its cleaning path.
It will know which parts need to be cleaned and which parts have already been covered.
With pre-programmed advanced filters, it can even clean the harmful microbes that can not be seen with the naked eye. (NCBI)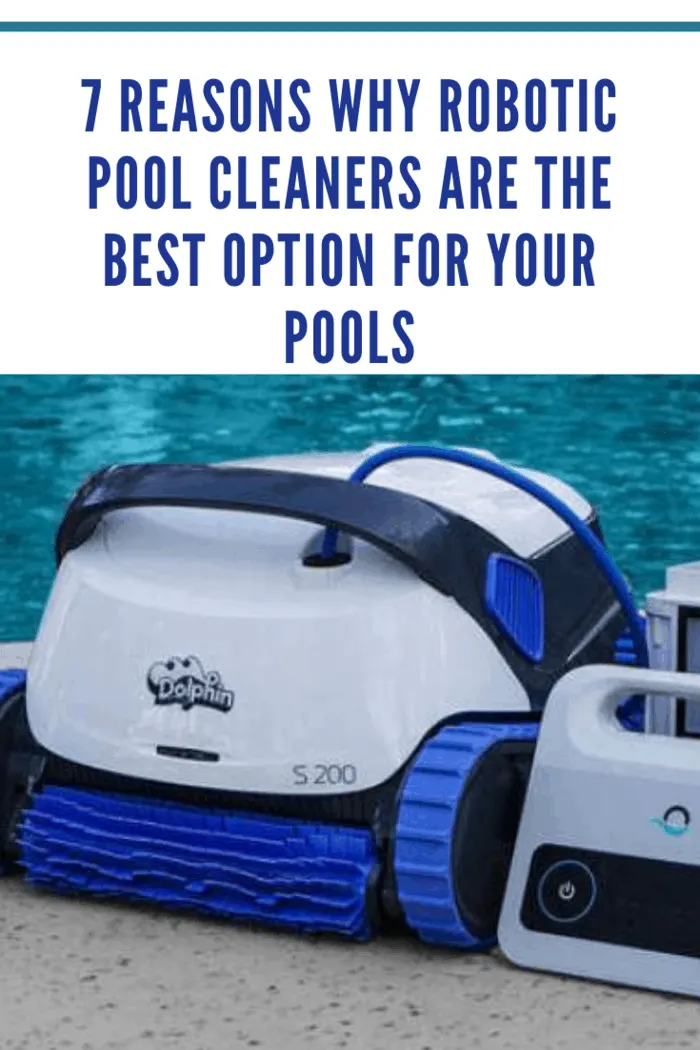 3. No More Surface Cleaning
When you have to clean your pool, you are not only needed to clean the pool but also the surface so that no debris from the surface falls into your pool and makes it dirty once again.
With robotic cleaners, you do not need to worry about that at all.
Remember that we mentioned before how these cleaners come with multiple programming, you can also program these cleaners to clean the surface along with the pool, so you do not have to go through the hassle of cleaning the surface.
4. Improves Water Circulation
As you put your cleaner in the pool, it not only cleans the pool but also improves water quality.
By moving the water around, the entire water of the pool is circulated, keeping all the antibacterial chemicals in the pool evenly distributed and also keeping the pH level of the water stable. (Research Gate)
As the chemical is evenly distributed all around the pool, there is very little scope for algae and bacteria to grow back in your pool once again, preventing you from frequently using chemicals.
Adding too many chemicals can also be harmful.
5. You Will Not Need To Monitor
As we have mentioned, these cleaners are fully automated, can function independently, and follow different steps automatically depending on the programs installed in them.
You do not need to call pool cleaning services, which will cost you a lot of money monthly.
Neither will you need to check on the machine every 5 minutes.
However, some pool cleaners can be expensive, but it will be just a one-time investment and last for a very long time.
If you are looking for something a little less expensive, you can also try a pressure-side cleaner.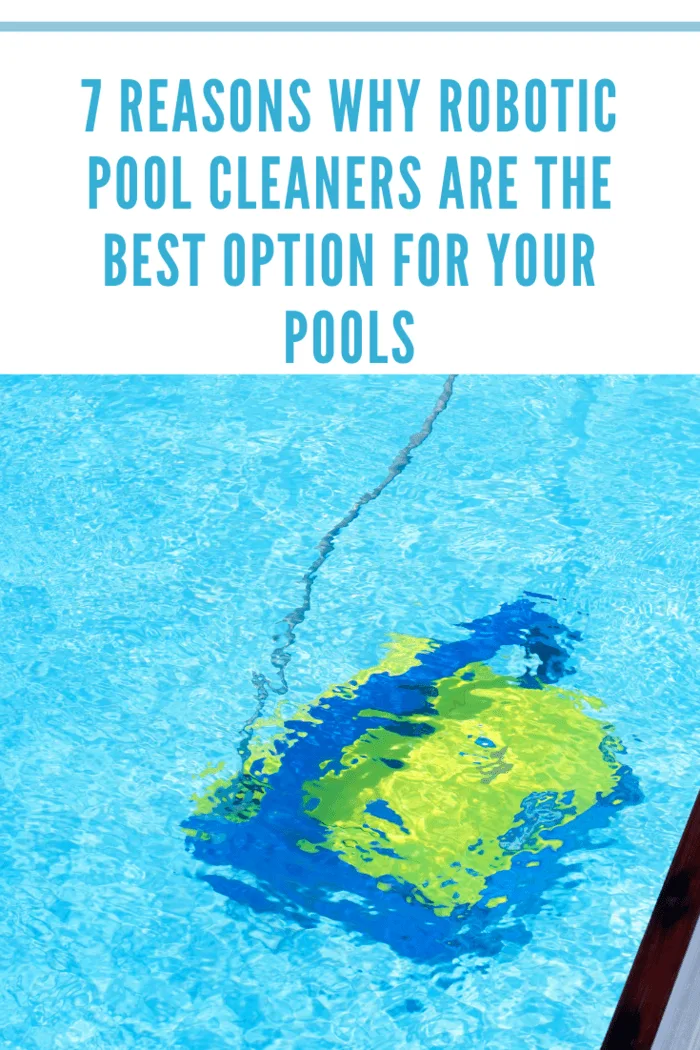 6. Highly Durable Construction
So we just said it is a one-time investment, but how? It must need some maintenance.
Well, not at all.
It does not require any added parts, you do not need to change the filters constantly, and the bots do not require additional pumps to clean up water.
Compared to many other cleaning systems, it is extremely eco-friendly, saving up to 82% of the electricity cost of other automatic cleaners.
As these pool cleaners are self-operating, they work independently and do not require adjusting every time you use them to clean the pool.
So, you save a lot of valuable time that can be spent doing something else.
7. No Need For Additional Equipment
All you need to do to upgrade your robotic cleaner is to install various programs, install cleaning methods, schedule the cleaning time, and so much more.
It is the type of equipment that can be installed just once, so there is no problem if you forget about upgrades.
Some cleaners also come with clever technology that uses infrared waves to measure the length and width of your pool and has built-in programs to clean efficiently.
If you have the right pool filter and add a robotic cleaner to the pool, you will not need to worry about getting it dirty again.
Take Away
Pools are a great addition to your house that can be used to remove the boredom of life and enjoy some free quality time.
But you won't be able to enjoy it if it is dirty.
If you spend some time in a pool that is not clean or has many microbes, you might get rashes.
The best way to clean your pool would be to buy a robotic pool cleaner that can help you clean your pool without any hassle.