Before buying either bassinet or crib, you must have a basic understanding of them. A bassinet is a basket-like structure with four supporting legs. Whereas, cribs are similar to the bassinet, but with longer sides and the gap between ground is also low.
Now you want to buy either of them, so which fits perfectly in your budget and will also provide protection to your baby, remains a question. So, here are some distinctions between them that will bring you a conclusion to this thought.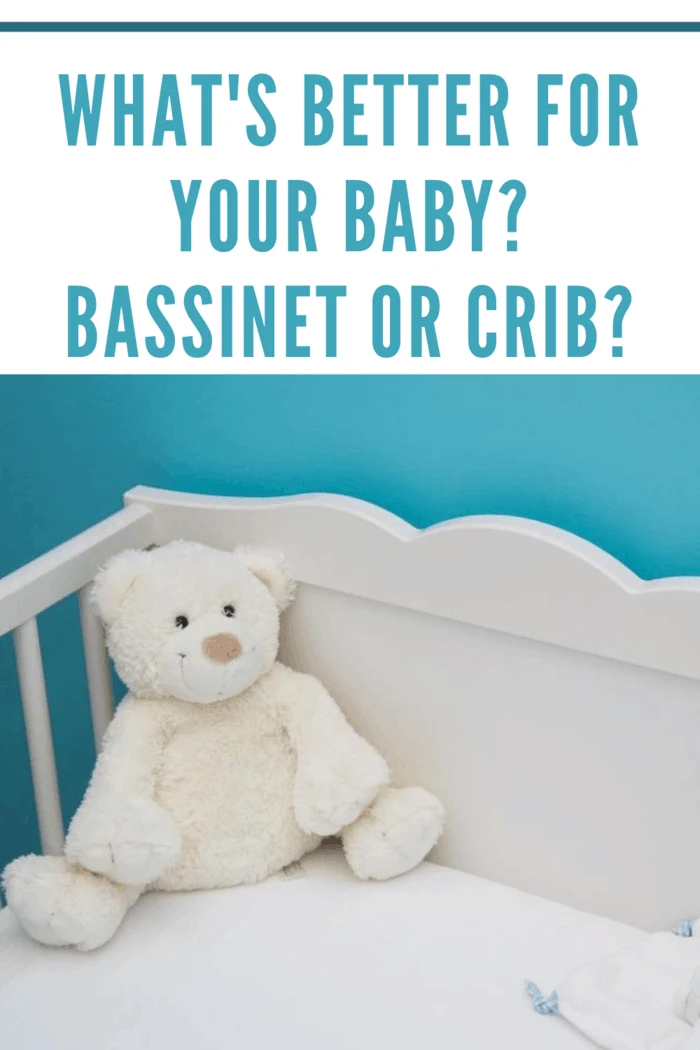 The Difference
Bassinets are sold into the market with a stationary frame and stand, with wheeled or rocking base, or a swinging stationary base.
These bassinets come with stationery items that are detachable and can be attached to another surface.
For example, bassinets can be attached with various up-to-date playpens or play yards or even in strollers for easy accommodation.
See more about bassinets that are presently sold.
Cribs are generally foldable but not detachable; they also have mostly wooden hard sides with no mesh or nets and legs that can be removed.
It also has a common shape like a circular, hexagonal, and rectangular shape.
There are two types of cribs, i.e. full-size cribs and non-full size cribs.
The full-size cribs are of an interior dimension of 28 ± 5/8 inches in width and 52 3/8 ± 5/8 inches in length whereas the non-full sized cribs are 55 inches or smaller.
The safest option?
Cribs get the upper hand in the safety and protection of the infant.
The longer side rails of the cribs enclose the baby completely diminishing any risk of escaping for falling.
Cribs are also made with long-lasting and sustainable materials that will last for years.
Because of the tough materials used, cribs can withstand heavy pressure and also the pushing force from the baby.
However, bassinets will give proper convenience for mothers who are suffering pain due to labor, as they don't have to bend much in bassinets.
Which one to choose?
If you are still confused about what to buy, then the following three factors might help you in solving your dilemma:
Space:
Cribs are of larger sizes and can't be easily carried; they are bulky and consume a larger space in your room.
Bassinets are compact as they are small in size and can fit in smaller rooms.
Size:
As bassinets are smaller in size, and it would be inconvenient for a baby if they grow up.
Whereas cribs are generally of larger sizes give in more space to the baby to move freely.
Expense:
The initial cost of the bassinets is low compared to cribs.
But naturally, most of the bassinets don't survive more than two months, and cribs can survive more because of tough materials.
Using old cribs and bassinets?
It is mostly advisable to avoid used cribs and bassinets as they might not be much stable.
Outdated equipment or previously repaired or broken cribs and bassinets will be harmful to your kid.
As damaged or broken bars can let the baby fall or might even injure a part.
However, apart from firmness check if the edges are not much sharp, and with no lead-based paint, if you want to utilize a used product.
What studies have been found?
Studies found out cribs possess less amount of risk when compared to bassinets.
Bassinets are not considered as a perfect option as there were several deaths of infants reported because of SIDS and mechanical failures.
The weak material of bassinets also possesses risk.
Thus, be careful and maintain all safety guidelines to safeguard your child.
Conclusion:
Well, hope this article you have come to know about the upsides and downsides of both bassinet or crib and which one should be perfect to buy.
However, whatever you choose, you must follow the safety guidelines.