The reviewer has been compensated in the form of a Best Buy Gift Card and/or received the product/service at a reduced price or for free.
Last year, Li'l Man was part of his school Robotics Team. It was an incredible journey where he learned so much about robots, programming and being part of a team. They had so much fun and their journey ended at the First LegoLeague Robotics State Finals.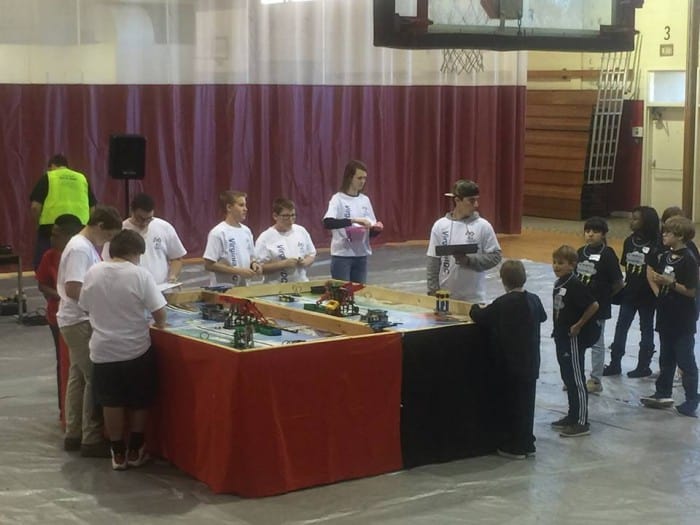 We just completed Summer Robotics Camp and now we're continuing STEM-based play with Hexbug's Vex Robotics Arm.
As a mom, I so appreciate a company that offers creative play for my children at all stages. We have been big fans of Hexbug for years. I love that the VEX Robotics-Robotic Arm allows first-hand experience and influences how my child learns, builds, grows and explores the world.
My oldest will tell you when he was young, being a "geek" wasn't cool, but now children are embracing science. They're exploring tech products, gadgets and learning apps.
For Li'l Man, STEM and STEM-based play products allow him to explore how robots work. He has learned about kinds of robots and the VEX Robotics-Robotic Arm allows him to see first-hand how assembly line robots work. He is amazed at how complex these machines are.
To further fuel his curiosity building a robot and programming one of his own is something he really enjoys. It's challenging! At school for the Robotics Team they gained some knowledge, at Robotics Camp they stepped up the game by building a robot and having to program from the beginning. He has wanted to attempt it on his own at home.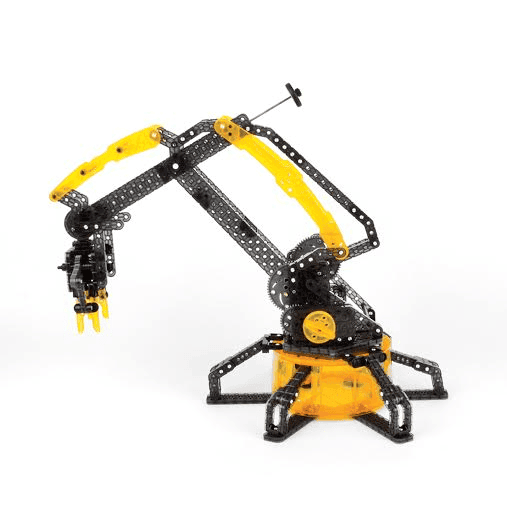 Exclusively from HEXBUG® comes the VEX® Robotics-Robotic Arm – a completely functional construction kit inspired by real industrial robot arms.
This unique Robotic Arm is hand powered and can pick up and relocate items using four degrees of freedom and an articulated grabber hand.
The whole crane can rotate 360 degrees, allowing this miniature robot to do the complex actions of its real life counterpart.
Robotics enthusiasts, like Li'l Man, will have fun building this STEM-based kit that pays special attention to important scientific principles including gear reductions and power transfer through the robotic arm's intricate gearing techniques.
HEXBUG® hopes to inspire future generations of engineers and designers by allowing them to explore this exciting field through the fun of hands-on creative play.
The VEX Robotics Robotic Arm (PN 406-4202; MSRP $49.99) is compliant with CPSIA standards. Batteries not required. Ages: 8 years and up.
VEX® Robotics Robotic Arm is 2016 Educational Toy of the Year! Available at Toys "R" Us, Mastermind Toys and Indigo.
The one thing I absolutely love about this STEM based toy is that it is challenging. It isn't something Li'l Man has been able to conquer in a matter of hours. It is taking him some time. We're in this a week or so, a little here, a little there. He builds for a while and then leaves it to play outside, and returns to it.
Admittedly, when he opened the box he was overwhelmed. This kit has a lot of pieces! It was a great realization that robotics takes a lot of parts (of all sizes) and that every piece is crucial for it to work.
It is teaching him trial and error.
The Vex Robotics Robotic Arm from Hexbug is hands-on. It is teaching him a lot about robotics, but also, he is learning some important life skills like patience.
From Li'l Man's early childhood, I have told him "life isn't about finishing first, it's about the journey." He comes home with notes from his teacher that he "needs to slow down". The VEX Robotics-Robotic Arm is helping him fine-tune his thinking. To think beyond this one piece and see the whole picture and how it needs to come together.
In the end, the reward will be great. He will have constructed from nothing, a fully-functional robotic arm. It will work and pick up objects, rotate 360 degrees. He will have brought to life a miniature robot that is able to perform complex actions, like its real-life counterpart.
Does you child love science? Is he/she curious and interested in STEM principles? If so, you definitely need to check out the Vex Robotics Robotic Arm from Hexbug. It is fun and engaging and pays special attention to gear reductions and power transfer through inticricate gearing techniques.
To learn more about the Vex Robotics Robotic Arm from Best Buy, click here!