Revamp Your Space for Modern Chic
Modern homes are all about that sleek, open, and effortlessly stylish vibe. It's like a symphony of sophistication and elegance, and guess what? You don't need deep pockets to get there. If you're yearning to give your home a contemporary facelift, we've got some wallet-friendly tricks up our sleeves. Here's how you can elevate your living space to ooze modern charm.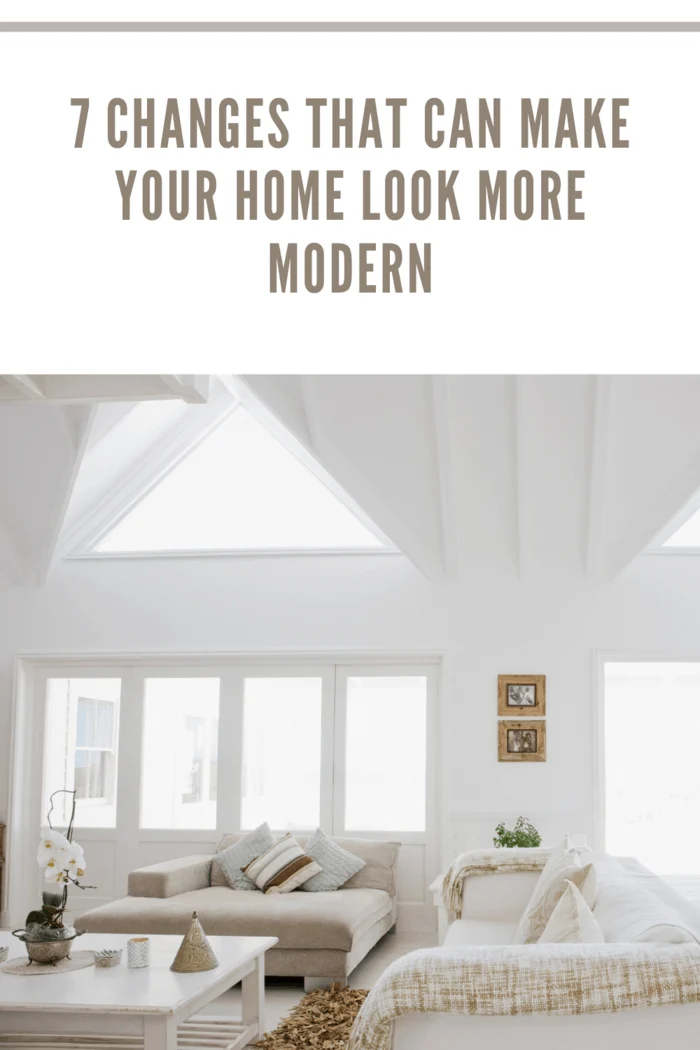 Updates to Make Your Home Look Modern
1. New stairs
A new staircase or balustrade system is one of the best updates that can make your home look newer and more sophisticated. Swap your conventional stairs for a floating staircase or maybe even steel stairs. Since the stairs are likely the first thing you see when you go through the front door, updating them can make your entryway look and feel more modern.
2. Repaint
Homify states Neutral earth tones can make a room look bigger and more contemporary. If you have wallpaper installed or a garish-looking paint job, it might be time to repaint your walls with colors that are more toned down, such as white, gray, light green, or beige. If you want to use more than one color, limit your palette to only two or three, depending on the size of the room and the design you want to achieve.
3. Open up your floor plan
Modern home designs almost always have an open floor plan that connects the kitchen, dining room, and living room all in one ample space. Aside from letting natural light pass through easily, an open floor plan makes the home look more spacious than it really is, which is essential if you have limited space.
However, if tearing down the walls that separate these rooms is not feasible, you can remove bulky furniture that makes the rooms feel cramped. Alternatively, you can paint them in a color similar to the walls so that they 'blend in' with the background.
4. Update your lighting
Even the smallest changes in lighting can make a world of difference in your home. Dimly lit rooms look small, dark, unwelcoming, and even old. In contrast, a well-lit room appears warmer, airy, and cozy.
Install more light fixtures on the ceiling to provide more illumination to the room, especially in the kitchen and living areas. If your light fixtures are outdated, replace them with modern options that look more stylish and provide more illumination. And to supplement your ceiling lights, place a few table lamps and floor lamps in strategic places to make the room feel cozier.
5. Replace cabinet and drawer handles
Even if your kitchen cabinets and drawers look nice, outdated handles or pulls can make them look decades older. If this is the case for you, My Move suggests you replace your handles and pulls with more modern options that match your kitchen's design and theme. In most designs, stainless steel handles and pulls are usually the best choices for a more modern appearance.
6. Get rid of outdated design elements
An effective and cost-free way to make your house look more modern is to get rid of the things that make it look old. For example, if the wallpaper in the study makes it look like a page fresh out of an'80s interior design magazine, then it's high time to get rid of it. The same goes for other design elements that might be making your house look older, such as outdated furniture, knick-knacks from twenty years ago, old appliances, and retro pieces that are not entirely endearing.
Not only are you making your house look newer, but getting rid of old stuff also helps you make more space.
7. Replace bathroom tiles
The tiles in your bathroom primarily affect how it looks overall. So if your bathroom tiles are old and worn, it can make the entire room feel older than it really is. To avoid this, replace your bathroom tiles with trendy modern tiles, such as those made from marble or granite.
While you're updating the tiles in your bathroom, it's also a good idea to give the walls a fresh coat of paint or maybe even replace the fixtures with new ones if you have the budget. If not, replacing the tiles alone can make your bathroom look brand new.
Living in a house that looks perpetually outdated is not only frustrating. It can sometimes be embarrassing when you have guests. However, you don't have to spend a lot of money to bring your house to the most recent decade. With these home updates, you can turn your house into a stylish space that can put interior design magazines to shame.