Having an elderly loved one can be emotionally challenging. This is especially true if your loved one lives in a nursing home or similar long-term care facility. If your family member has a cognitive problem such as dementia, there's always the fear they can't alert you if they are being mistreated or something is happening that shouldn't be.
Now that we're still dealing with COVID-19, these fears can be even more significant.
Visits with people in care facilities are minimal and have been for much of 2020, so you may not feel like you can monitor the treatment your loved one is receiving.
If you are concerned or would like to spot the red flags better that something isn't right, a good starting point is understanding the different types of elder abuse.
Each type of elder abuse can have its own signs and possible symptoms, and the following are things to know.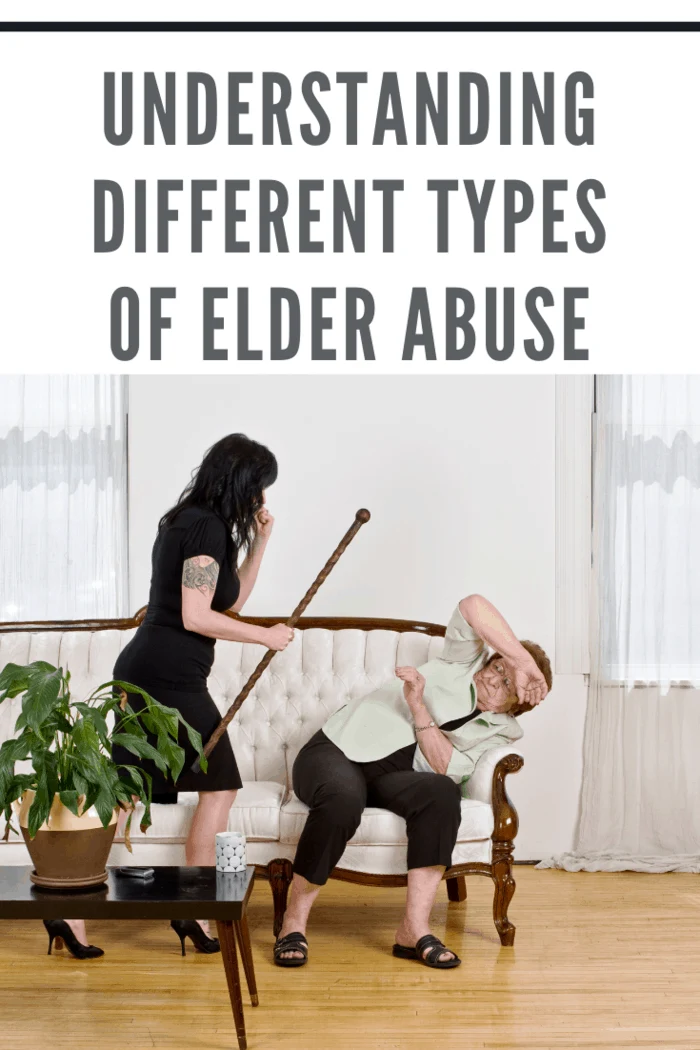 Physical Abuse
According to Elder Find Law, physical elder abuse is perhaps what most people think of first, but it's certainly not the only type of abuse that can occur.
Physical abuse, whether inflicted on an older adult or anyone else, is the use of force in such a way that inflicts pain or injury on someone.
Examples of physical abuse include:
• Hitting someone with or without an object
• Pushing
• Shoving
• Slapping
• Shaking
• Kicking
• Burning
• Pinching
Other examples of physical abuse include the inappropriate use of drugs, such as sedatives, force-feeding, or physical punishment.
According to NCEA, Some of the signs of physical abuse can include the following:
• Black eyes, bruises
• Welts
• Bone fractures
• Open wounds or cuts
• Punctures
• Internal injuries
• Sprains
• Broken glasses
• Signs of being restrained
• Lab findings of over or underuse of prescription medicines
• Sudden changes in behavior
Physical abuse doesn't have to be severe to be considered abuse. For example, if you notice that your elderly relative has some bruising on their wrist, it could be from someone grabbing it too tightly. That can in many circumstances, fall into the category of abuse. The reason it would be considered abuse is that the tight grip was likely occurring as a way to control the person.
Neglect
Neglect is a type of abuse in and of itself, and in instances of long-term care facilities, it may be more common than overt physical abuse.
Neglect means that someone meant to be a caretaker isn't fulfilling any portion of their obligations or duties. This can vary widely. For example, it might mean that an elderly person doesn't have the proper supplies provided to them or that they have ongoing and untreated health problems.
This is neglectful abuse if someone is living in conditions that aren't clean, for example, with soiled bedding.
Neglect can relate to food, water, shelter, medicine, comfort, hygiene, and personal safety.
Neglect differs from abandonment, which is another type of elder abuse. Abandonment refers to the desertion of someone a person is meant to be caring for.
Neglectful abuse can be passive or active. Active means that someone charged with being a caregiver intentionally withholds care. Passive neglect might mean a caregiver cannot provide the proper care for reasons such as not having the appropriate resources.
Emotional and Psychological Abuse
Emotional abuse can be challenging to spot but incredibly harmful to elderly people or anyone.
Emotional and psychological abuse is anything causing emotional harm or pain.
Types of emotional abuse include humiliation, insults, threats, or infantilizing elderly people.
Most emotional and psychological abuse is verbal. NCBI explains, There are non-verbal forms of psychological abuse, such as ignoring someone or giving them the "silent treatment."
Signs of psychological abuse, particularly in elderly people, include:
• Seeming withdrawn
• Depression
• Appearing scared
• Acting out or trying to hurt others
• Not making eye contact
• Changes in eating or sleeping routines
• Isolation
• Low self-esteem
• Changes in mood or mood swings
Financial Abuse
Financial abuse occurs when someone improperly uses an elderly person's money or assets. This could mean cashing checks without permission, forging someone's signature, or convincing an elderly person to sign certain documents.
Financial abuse can also include the wrongful use of the power of attorney or guardianship.
According to ABA, Signs of financial abuse include:
• Sudden banking changes, such as large sums of money being taken out of accounts
• Additions of signatures on bank cards
• Changes in financial documents
• Disappearance of assets or possessions
• Unpaid bills
• Services being provided that aren't necessary
Sexual Abuse
Elderly people can be victims of sexual abuse.
Sexual abuse often occurs in patients with cognitive disorders such as Alzheimer's who can't consent to sexual acts.
What Can You Do If You Suspect Abuse?
Elder abuse most often tends to occur in long-term care facilities, but the reality is that the perpetrator can be anyone. The abuser could be an in-home caregiver, a friend, or a family member.
If you believe that your loved one is suffering from elder abuse, you should try to speak with them about it first. It's not uncommon for someone who is being abused not to want to speak about it, but at least attempt a conversation.
Always take these accusations seriously, and anytime your loved one tells you something is going on, take the time to look into it.
If your loved one may be suffering abuse from a caregiver or in their care facility, you should contact management immediately. Too often, the family will make the mistake of not taking red flags seriously, and the abuse can worsen.
You should try to remain in contact with your loved one as much as possible. It isn't easy because of COVID right now, but you can try to regularly Zoom or FaceTime. If your loved one has a caregiver or team of caregivers, they should be willing to help facilitate virtual calls.
Finally, there are resources that you can turn to for help in situations of possible elder abuse, including an Adult Protective Services office or the police (NAPSA). For Financial Abuse, you can contact the Department of Justice's National Elder Fraud Hotline at 833-372-8311.