It's almost never fun to visit the doctor's office — the only thing that makes this activity less fun is having to do it in the company of a child or as a child. Going to the doctor can be super stressful, especially for a little one who might not fully understand the nature (let alone necessity) of the visit and might very well be actively dreading whatever unknown invasive pokes and prods are about to be coming their way. Thankfully, as a parent there is a lot you can do to lower your little one's stress levels when you visit the doctor's office, and take your kids' minds off the procedure that's to come. What's more is that most of these require little effort at all.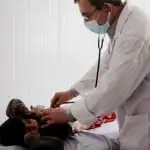 1) Promise a Post-Visit Lollypop
Most practitioners offer kids some kind of treat after their visits, and this can sometimes be incentive enough to motivate your little rugrat to patiently sit through whatever the doctor's got in store, solely on the promise of that sweet, sweet treat that will come afterwards. If your pediatrician doesn't go with the age-old treat method, then it's easy to pick up the slack. Simply grab your child's favorite (healthy) treat or snack and have it ready for them when the visits over. Never forget to say, "Now that wasn't so bad, was it?"
2) Bring Activities
One of the problems with the waiting room — whether the child is dreading a doctor's visit or not — is that there's nothing much to do. A kid can only get so much entertainment out of old magazines, so if you can provide your little one a way to avoid letting boredom set in, then you can be avoiding a serious headache.
3) Stay Super Healthy
What better way to keep your kids calm when they visit the doctor than by reducing their need to visit in the first place? If your kids are nice and healthy (it's as simple as a good diet and plenty of exercise), then not only will doctor's visits be less dreaded, but they'll need to happen a lot more infrequently.
4) Schedule a Fun Event After the Doctor's Visit
Promise your kids they're going to see their favorite movie afterwards, or take them to their favorite place. Giving your kids something on which they can fixate past their doctor's appointment will help shift their concentration from the situation at hand to the one that's coming next. One that they're looking forward to.
5) Feed Them First
There's nothing more squirrely than an underfed kid, so if you make sure your children have eaten a decent meal before they head to their hang-out session in the doctor's waiting room, you'll have a much easier time keeping track of everyone. You don't have to be a masters degree nurse practitioner to keep a good eye on your kids in the doctor's waiting room — you just need to know the right tricks.