Are you looking for a hearty and delicious meal that is easy to make and perfect for any occasion? Look no further than American Goulash!
Our American Goulash is a classic one-pot dish that is sure to satisfy even the pickiest of eaters. Made with ground beef, tender elbow macaroni, and a savory blend of tomatoes, onions, and seasonings, this dish is full of flavor and comfort.
It's easy to prepare and can be customized to suit your tastes. Add in your favorite vegetables or spices to make it your own, or keep it simple and stick with the classic recipe.
Serve it as a main dish or a side, and watch as your family and friends come back for seconds (and maybe even thirds!). Our American Goulash is the perfect choice for busy weeknights, potlucks, or any occasion where you need to feed a crowd.
So why wait? Try our American Goulash today and discover why it's been a generation favorite.
What is American Goulash?
American Goulash is a popular one-pot dish in the United States that typically consists of ground beef, elbow macaroni, diced tomatoes, tomato sauce, onions, and a variety of seasonings such as garlic, paprika, and bay leaves. Sometimes, other vegetables such as bell peppers or celery, are added as well. The ingredients are simmered together in a large pot or Dutch oven until the pasta is cooked and the flavors have melded together.
American Goulash is often considered a comfort food and is a popular dish in households across the country. It is easy to make and can be customized to individual preferences by adding or omitting ingredients. It is also a versatile dish that can be served as a main course or as a side dish to complement other dishes.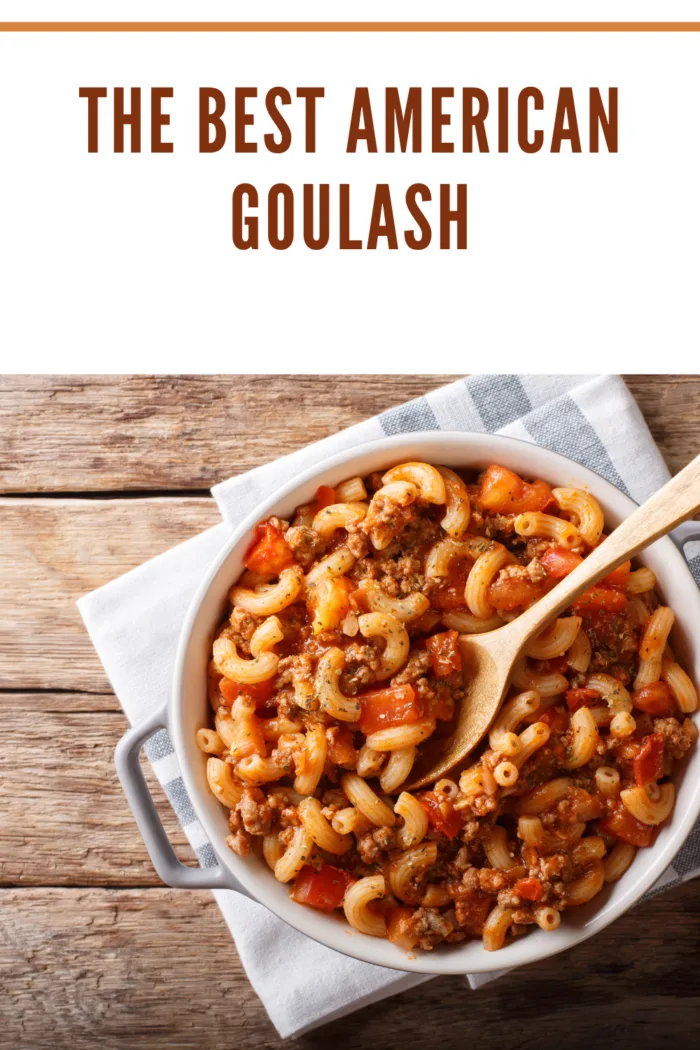 The Origin of American Goulash
The exact origin of American Goulash is unclear, but it is believed to have been created in the United States by Hungarian immigrants. The dish is similar in some ways to Hungarian Goulash, which is a traditional stew made with beef, paprika, and other spices.
American Goulash, however, typically includes ground beef, elbow macaroni, and a tomato-based sauce, which are not typical ingredients in traditional Hungarian Goulash. It's possible that Hungarian immigrants adapted their traditional recipes to include ingredients that were more readily available in the United States.
Today, American Goulash is a popular comfort food in the United States and is enjoyed by many people across the country. The recipe has been passed down through generations of families and is often customized to individual tastes and preferences.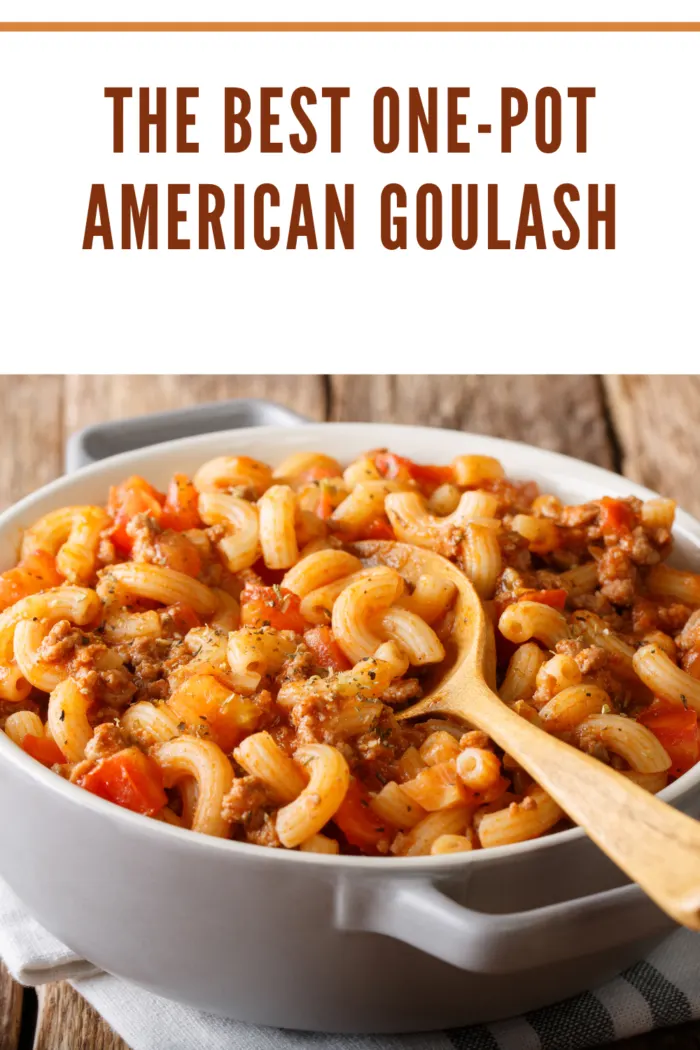 The Best One-Pot American Goulash
Here is a recipe for making the best one-pot American Goulash:
Ingredients:
1 pound ground beef
1 onion, diced
3 cloves garlic, minced
1 green bell pepper, diced
2 cups elbow macaroni, uncooked
1 can diced tomatoes (14.5 oz)
1 can tomato sauce (15 oz)
3 cups beef broth
1 teaspoon dried basil
1 teaspoon dried oregano
1/2 teaspoon paprika
Salt and pepper, to taste
Shredded cheddar cheese, for garnish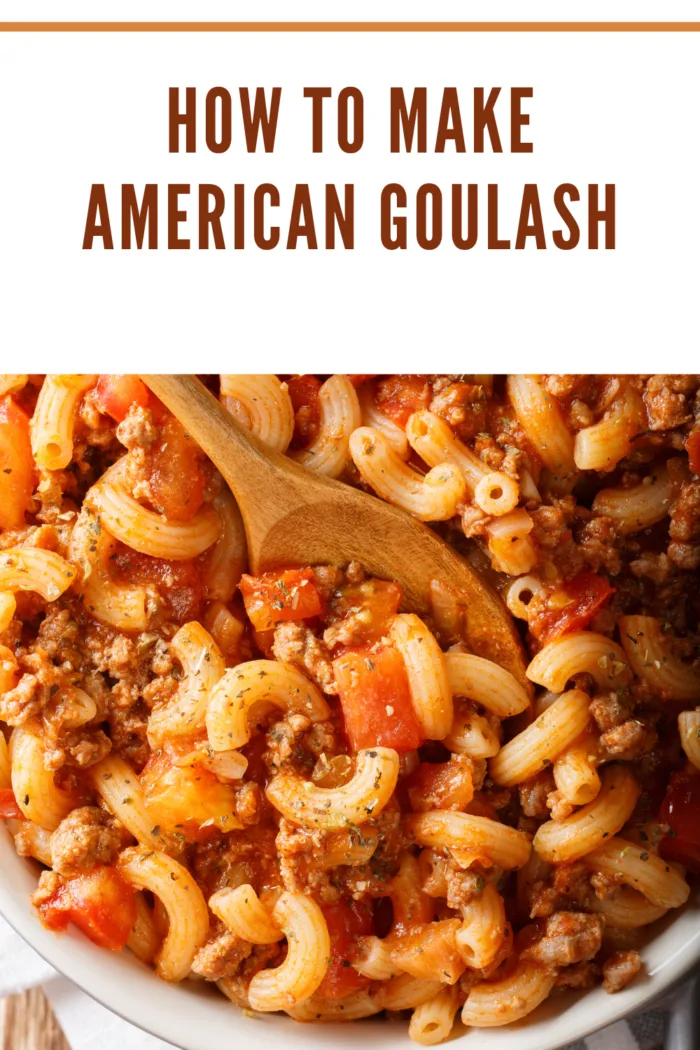 How to Make One-Pot American Goulash
In a large pot or Dutch oven, brown the ground beef over medium-high heat until fully cooked. Drain the excess fat and set the beef aside in a separate bowl.
In the same pot, sauté the onion, garlic, and bell pepper until they are tender and fragrant.
Add the beef back to the pot, along with the uncooked elbow macaroni, diced tomatoes, tomato sauce, beef broth, basil, oregano, paprika, salt, and pepper. Stir to combine.
Bring the mixture to a boil, then reduce the heat to low and cover the pot with a lid. Allow the goulash to simmer for 20-25 minutes or until the pasta is tender and the sauce has thickened.
Remove the pot from the heat and let it rest for a few minutes. Garnish with shredded cheddar cheese before serving.
And there you have it, the best one-pot American Goulash! Enjoy!