This fried pickles recipe takes the pickle to a whole new level. It creates a plate of delicious goodness.
Fried Pickles are versatile and can be served as an appetizer, finger food, or a fun side dish at your next party, or just snack on them!
There's something about a crunchy batter wrapped around the tartness of a pickle.
It seems every food has, at one time or another, been fried.
Pickles are deliciously fried and offer an incredible flavor and texture combination.
For best results, use dry pickles–let the pickle rest on a paper towel before dipping in the batter.
Now you can make your favorite appetizers without going to your favorite restaurants.
It's fair food at home and a taste of the southern United States you'll love.
Whether you use pickle slices or pickle spears this fried pickle recipe is a tasty choice!
Check out our Pinterest Appetizer Board for more great recipes like these fried pickles.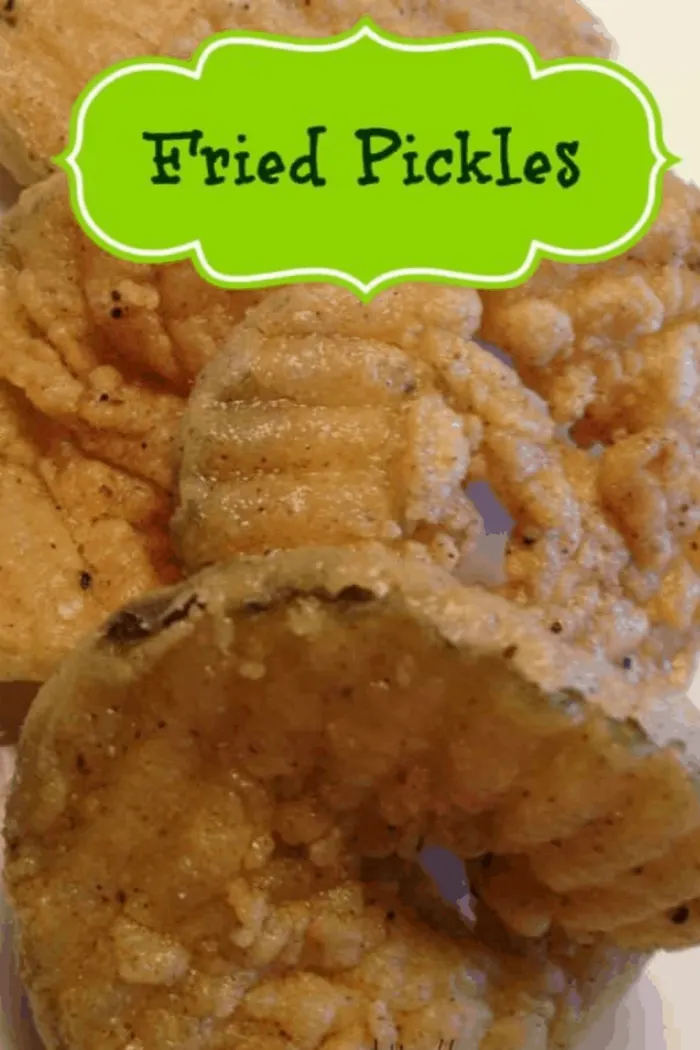 Fried Pickles Recipe Ingredients:
Shortening
1/2 cup all-purpose flour
1 3/4 teaspoon Cajun seasoning
1/2 teaspoon Italian seasoning
1/4 teaspoon cayenne pepper
Kosher salt
2 cups sliced dill pickles, drained–I LOVE Vlasic Garlic Pickles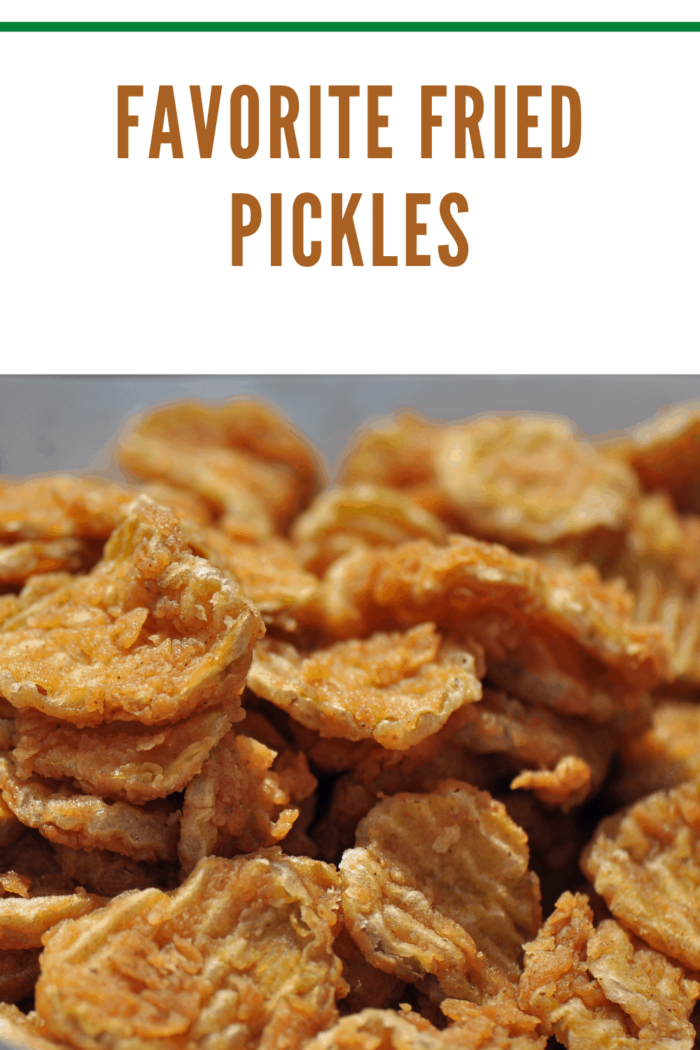 How to Make Fried Pickles:
Fry the pickles:
Heat 1 inch of shortening in a large pot over medium-high heat oil until a deep-fry thermometer registers 375 degrees F. How much oil depends on the size of your frying pan.
In a small mixing bowl, combine the flour, Cajun seasoning, Italian seasoning, cayenne pepper, 1/2 teaspoon salt.
In a large bowl Whisk 1/2 cup water into the dry ingredients until smooth.
Spread the pickles on paper towels and pat dry.
Add half of the dill pickle slices to the batter and toss to coat. (small batches work best).
Remove pickle slices from the batter using a slotted spoon, letting the excess batter drip off, and adding pickles to the hot oil one at a time.
Deep Fry pickles until golden brown, and have a crispy texture, 1 to 2 minutes (whole dill pickles or pickle spears will take slightly longer); remove coated pickles with a slotted spoon and drain on paper towels.
Return the oil to 375 degrees F and repeat with the remaining pickles and batter.
Serve immediately.
If you like Dipping, you'll love this Sauce.
It takes about 10 minutes to make and makes about 3/4 of a cup.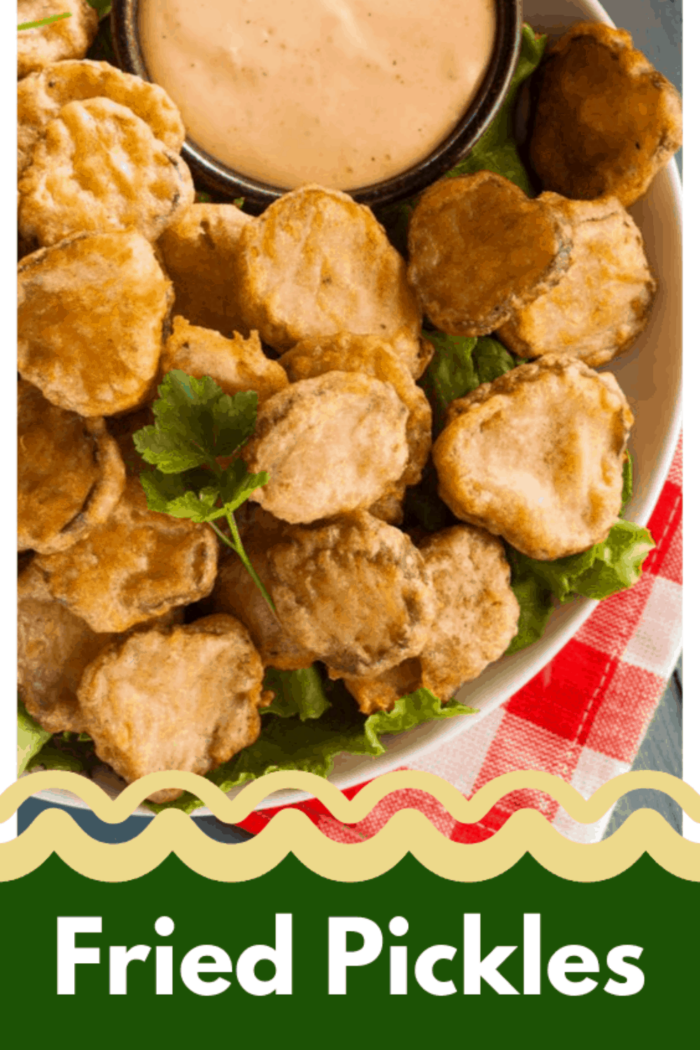 INGREDIENTS
1/2 cup mayonnaise
2 tablespoons ketchup
2 tablespoon hot sauce
1 teaspoon Worcestershire sauce
1/2 teaspoon garlic powder
1/4 teaspoon black pepper
How to Make Fried Pickles Dipping Sauce
Mix all ingredients in a shallow bowl until smooth.
Dip pickle slices into the dip and enjoy!
Cover and store refrigerated in an airtight container until ready to serve.
Tips for Fried Pickles:
Dried pickles are the key here (step 4 in the recipe directions is the important step to success). This enables the batter to coat them and will help in reducing grease splatter.
Adust the spice kick. Follow the directions above if you like them with a hint of spice. Want less spice? Omit or reduce the hot sauce. Want more kick? Increase the amount of hot sauce. You can also experiment with Sriracha sauce, other sauces or chili powder.
Use a candy thermometer to monitor your oil temperature for perfectly fried pickles. Keeping it at a steady 375 degrees will produce perfect pickles.
A mesh spoon or strainer will minimize the mess and be your best kitchen sidekick for this recipe.
Serious Eats has a great article about wok deep frying. Review it before starting this recipe for some excellent tips to give you success.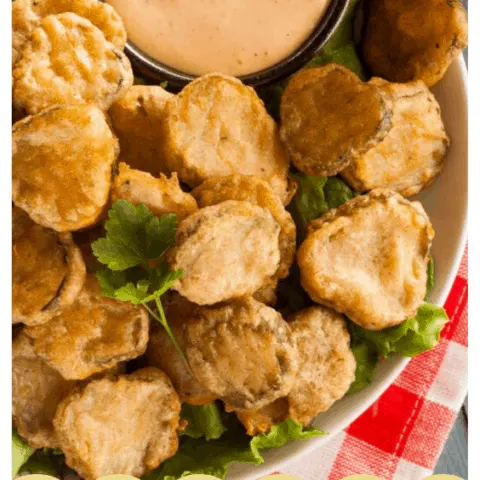 Fried Pickles Recipe
Fried pickles are a favorite. This recipe delivers a crisp, crunch casing on your favorite dill! For a tasty side dish, try these Fried Pickles.
Ingredients
Crisco
½ cup all-purpose flour
1¾teaspoons Cajun seasoning
½ teaspoon Italian seasoning
¼ teaspoon cayenne pepper
Kosher salt
2 cups sliced dill pickles, drained
Instructions
Fry the pickles: Heat 1 inch Crisco in a pot over medium-high heat until a deep-fry thermometer registers 375 degrees F.
Combine the flour, Cajun seasoning, Italian seasoning, cayenne pepper, ½ teaspoon salt.
Whisk into dry mixture, ½ cup water in a large bowl until smooth.
Spread the pickles on paper towels and pat dry.
Add half of the pickles to the batter and toss to coat. Remove from the batter using a slotted spoon, letting the excess drip off, and add to the oil one at a time.
Fry until golden brown, 1 to 2 minutes; remove with a slotted spoon and drain on paper towels.
Return the oil to 375 degrees F and repeat with the remaining pickles and batter.
Serve immediately
Nutrition Information:
Yield:

8
Serving Size:

1
Amount Per Serving:
Calories:

35
Total Fat:

0g
Saturated Fat:

0g
Trans Fat:

0g
Unsaturated Fat:

0g
Cholesterol:

0mg
Sodium:

783mg
Carbohydrates:

7g
Fiber:

1g
Sugar:

0g
Protein:

1g
Nutritional information may not be accurate