We share the top 7 ways to ensure the safety of people in public places in this article to keep you healthy no matter the season.
Months after the chaos that the outbreak of the ongoing global coronavirus pandemic led to, life is getting back on track. We have already experienced employment deprivation, loss of loved ones, and a serious health crisis affecting millions. But now, it is time to walk up to a better tomorrow. Educational institutions are perhaps the last ones on the list to enter the unlock phase after businesses, shops, and government departments opened up first. These institutions are perhaps the most sensitive and vulnerable places that could inherently breed the virus and infect more people. So, a greater emphasis on cleanliness, hygiene, and health safety is vital to make the locations risk-free.
While the govt issues several guidelines itself in place now, the management of these institutes is also taking stringent actions. The need to restrict movement, follow safety protocols, and encourage prescribed measures in order to inhibit the spread of the virus remains an integral part. Along with these, educational and navigation signs have their role to play. In fact, they are inevitable to build a safe ecosystem.
Libraries are no less than a workplace. In libraries – similar to employees in offices – people gather to study. The government has tried its best to ensure safety from COVID-19 by disinfecting public places (EPA), but we need to take responsibility for our own safety and take care of ourselves as well. You know the safety rules, but during the pandemic time, it is a must to revise them once again in order to be on the safer side. The top 7 ways to ensure the safety of people in public places are listed below: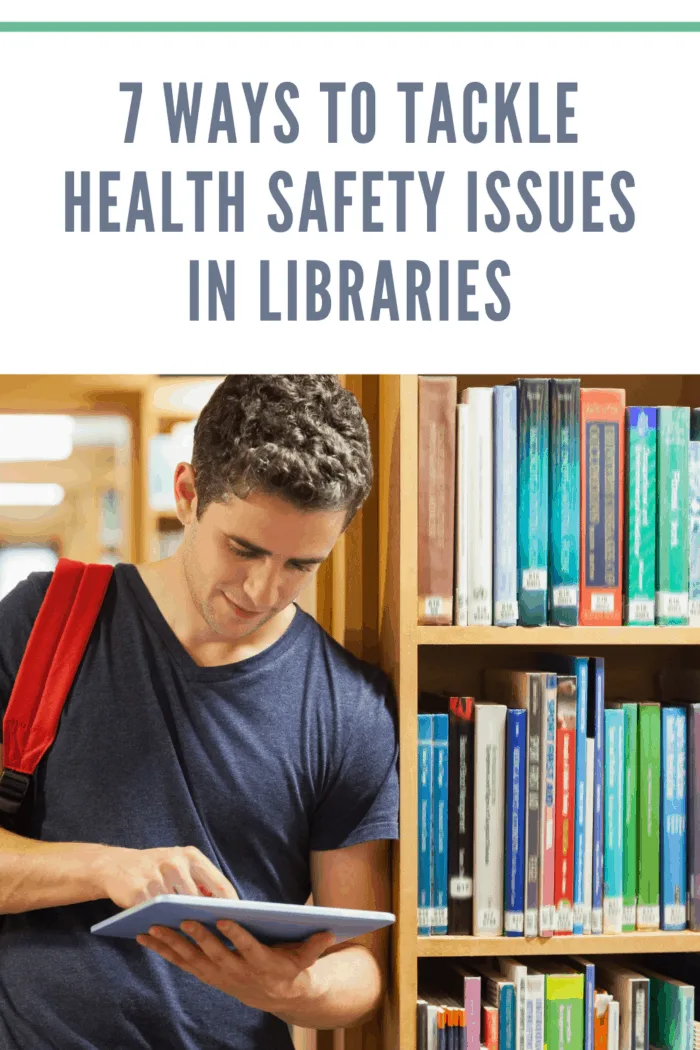 7 Ways to Tackle Health Safety Issues in Libraries
Seating Arrangement
In the library, during the pandemic period, making a thoughtful seating arrangement is of utmost importance.
We need to maintain distance in order to prevent any chance of transmission of the virus.
We can opt for two different kinds of seating arrangements: it should either be alternate seats, or the distance between two consecutive chairs should be increased.
A library with enough space can follow them later.
Proper Sanitization
Following proper sanitization measures is mandatory in order to ensure health safety in libraries.
You need to keep an eye on your hand movement. Make sure that your hand does not go near your face at any cost.
This will minimize the risk of transmission of the virus. In libraries, along with sanitizing your hands, you need to sanitize your books as well.
The book that you get from the library might have been touched by many others.
So, it is necessary to sanitize books, and then sanitize hands.
Wear A Mask
This is a basic guideline to be followed anywhere during the time of a pandemic.
But, in libraries, people from different localities gather so it is important to maintain a social distance from them.
No doubt, the world is going through the unlock phases but the coronavirus is still here.
So, we need to be cautious.
Always have your mask on whenever you are outside your house.
It is necessary to stay hydrated these days.
So, keep your own bottle of water with yourselves and consume water at regular intervals.
Trained Staff
The library authorities should make sure that the staff is trained well enough to guide people to follow safety guidelines in libraries.
They should be strict enough to compel people to religiously follow the prescribed measures.
Staff should remind visitors to be attentive to the guidelines and follow them wholeheartedly.
Proper Sitting Posture
Apart from the pandemic safety guidelines, let us also focus on regular necessary safety.
Many learners sometimes develop a back problem due to long hours of continuous sitting.
It is important for them to get a break from studies for 10 minutes.
In this interval, learners can stretch their bodies and regain their concentration.
Occupational Health Safety
Occupational health safety is quite necessary for the comfort of learners. What does occupational health safety mean? – It is "the promotion and the maintenance of the highest degree of physical, psychological, and social wellbeing of workers in all occupations." Here, we can change the term "workers" to "learners".
It happens mainly due to standing or sitting for too long.
Promote Awareness
Awareness is the key to tackle the health issues of workers.
Though people are mostly educated, yet it is necessary to take account of their actions and correct them as mandated by the health organizations.
We need to be careful and strictly follow guidelines even during the unlock phases.
The 7 best ways to tackle health safety issues in libraries we discussed above would definitely provide a starting point to march toward a better world.