Although handling or managing one's finances is one of the critical life skills any individual should possess, Financial Literacy, a very significant topic or subject, is still not taught in schools. Often, teachers do not feel qualified to teach students, mostly the young, about saving money or being financially literate. Many school districts still question if a financial course or subject actually helps students be more financially capable.
Considering that many schools or universities are not yet prepared to officially make financial literacy one of the subjects to be taught in school, it is best to educate the family first about finances. After all, parents should be the essential fount of financial information. And the best first step to achieve a financially worry-free future is to acquaint yourself with the different savings accounts that would suit you.
To help you more about finances, take note of these five best savings accounts your family needs.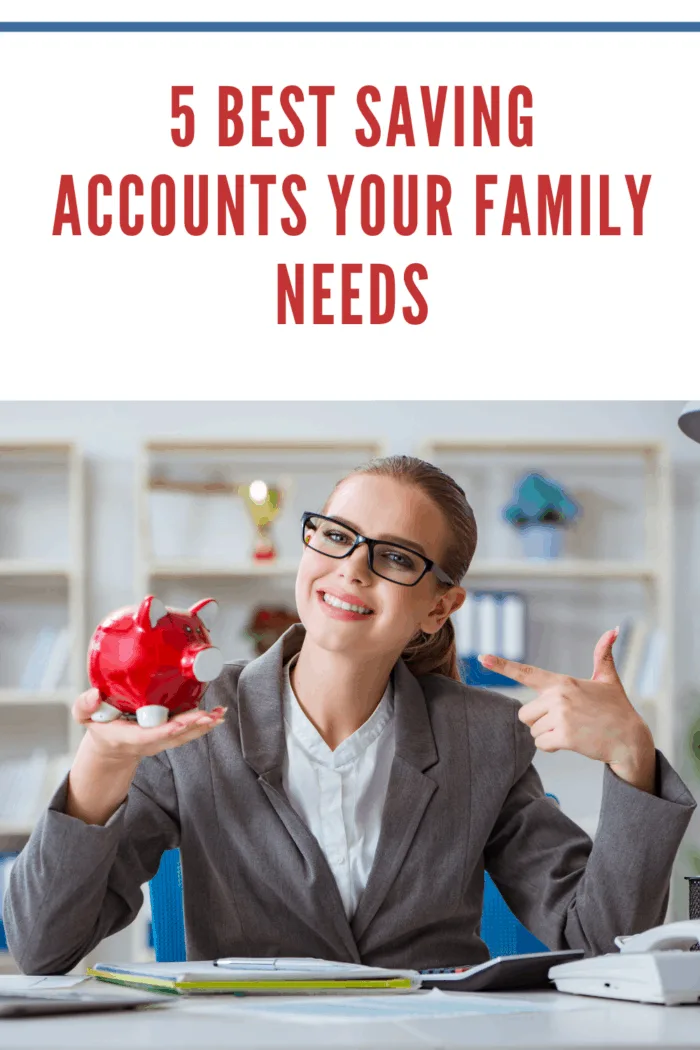 High-yield Savings Account
Higher Interest Rates are not always something to be afraid of, especially for the savers.
Higher Interest Rates make savers happy.
They serve as a reward for those individuals who are waiting to spend their money in the future instead of spending it away all at once.
And Higher Interest Rates are what High-Yield Savings Account offers.
A High-Yield Savings Account is a savings account that offers a higher APY or annual percentage yield than the usual savings account, which helps savers hasten their financial goals.
Since this type of savings account is online, it will be easier for you to manage your funds and has fewer restrictions.
To know more about this type of savings account, Crediful can provide you with all the necessary information.
Certificate of Deposit
A safe investment is what we always consider in reaching our financial goals.
This safety is one of the advantages Certificate of Deposit offers.
A certificate of Deposit is a note issued or product offered by a bank with a fixed interest rate and maturity date.
In this kind of savings account, even if the market changes, the bank cannot, later on, reduce your earnings.
However, if the interest rates increase or rise during the term, the saver still earns a fixed return.
The saver cannot access his funds in the certificate of deposit until the maturity date comes.
Banks may charge an early withdrawal penalty once the saver withdraws his money before the maturity date.
This type of savings account suits those individuals who have all the patience and discipline not to touch their money until the maturity date to spend it for its original purpose in due time.
Money Market Accounts
If you have already mastered the ways of resisting the temptation of easily spending your money, Money Market Accounts suit you best.
Money Market Accounts is a savings account that has checking features and allows you to access your funds with an ATM or debit card.
Although this kind of savings account comes with several restrictions, it pays a higher interest rate than regular savings accounts.
To open a Money Market Account, you are required to deposit a higher minimum deposit.
There is nothing to worry about if you can afford the minimum deposit because insurance protects it.
Since this type of savings account allows access with an ATM or debit card, it might be too easy to spend your funds.
Be that as it may, Money Market Accounts are very helpful during emergency cases.
When you have already learned to break bad spending habits, this savings account will serve its most important purpose: to provide funds during emergency cases, says Forbes.
Specialty Savings Account
A few months more, and we are off to start a great new year, and the best first thing to do is set financial goals to make it even more incredible.
Maybe you are planning to purchase a house, or your eldest is about to enter college, or you want to treat your family to a grand vacation.
Whatever your financial goal for the coming new year, Specialty Savings Accounts will help you hit your goals.
Specialty Savings Account is the type of account that allows you to save up money for a specific purpose, including downpayment for a new house, college tuition fee, grand vacation for your family, a lavish wedding, or for your retirement.
This savings account is designed for short-term financial goals, more of savings account for fun or leisure.
Basic Savings Account
Saving money is essential, no matter how basic or how extraordinary your way of saving is.
As soon as you start saving your money, you are on your way to financial freedom.
For newbies, Basic Savings Account is an excellent start to adopt the financial habit of saving.
Basic Savings Account, also known as Regular Savings Account, allows you to earn interest on your money but at lower rates than other savings accounts.
This type of account also requires you to deposit a low minimum deposit, which is suitable for those new at saving money.
Takeaway
We all want to set ourselves on the right financial path and reach that financial freedom for ourselves and our family.
We want to protect our family in case of a financial emergency and also to reduce our financial stress shares helpguide.org.
Whether you avail just one or all of these five types of savings accounts suggested for your family, consider yourself financially literate and free!