Introducing the revolutionary Superman Web3 Movie Experience, an immersive journey into the beloved 1978 classic film. Unlock a whole new level of engagement and ownership as you dive into the world of Superman like never before. Get ready to witness the power of Web3 technology in the world of cinema.
Warner Bros. Home Entertainment and Eluvio, a pioneer in content blockchain technology, have announced the upcoming release of the latest addition to the WB Movieverse: the highly anticipated Superman Web3 Movie Experience. Fans can get a sneak peek of the experience at https://web3.wb.com, with the official release for purchase scheduled for June 9.
Following the success of the groundbreaking Web3 entertainment offering, The Lord of the Rings: The Fellowship of the Ring (Extended Edition) Web3 Movie Experience, the release of Superman Web3 Movie Experience aims to captivate audiences in a unique and immersive way. This multimedia NFT allows fans to own and engage with the iconic 1978 Richard Donner film like never before.
With dynamic menu options inspired by the film's iconic locations, Superman Web3 Movie Experience owners can enjoy the movie in 4K UHD on various devices, including desktops, mobile phones, tablets, and TVs. They can also access special features, explore image galleries and artist renderings by renowned DC artists, discover digital Easter eggs, and even sell their experience in a community marketplace.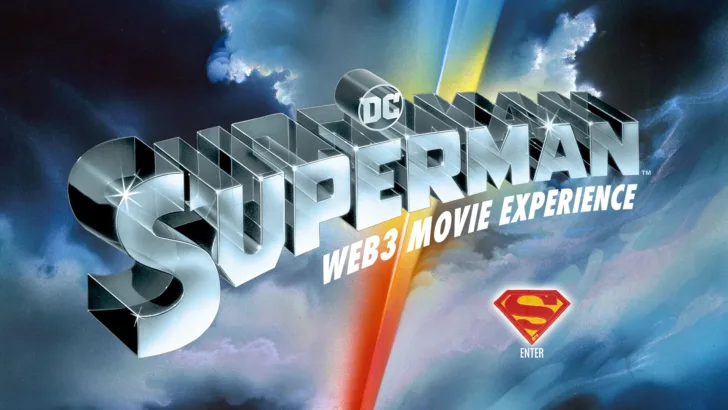 SUPERMAN WEB3 MOVIE EXPERIENCE
Iconic DC Super Hero Film Being Released as a Multimedia Living Movie Experience from Warner Bros. Home Entertainment and Eluvio
Includes 4K UHD Feature Film and Special Features, Interactive Themed Navigation, Explorable Image Galleries, Discoverable Digital Easter Eggs, and more!
The Superman Web3 Movie Experience will be available in standard and premium editions. The standard edition, priced at $30, offers an interactive location-based navigation menu, the theatrical version of Superman: The Movie, previously released special features, and an image gallery showcasing stills and behind-the-scenes content.
For enthusiasts looking for an enhanced experience, the premium edition, priced at $100 for a limited 24-hour period, features three different variations for separate purchases: Truth, Justice, and Hope. Each variation showcases an illustration of Christopher Reeve's Superman by one of three talented DC artists: Ivan Reiss, Ben Oliver, or Bill Sienkiewicz. In addition to an interactive and explorable location-based navigation menu, the premium edition includes three feature film versions—Superman: The Movie Theatrical Version, Superman: The Movie Expanded Director's Cut, and Superman: The Movie Extended TV Edition. It also includes previously released special features and image galleries, highlighting costumes, details from the Warner Bros. Archive, and behind-the-scenes content.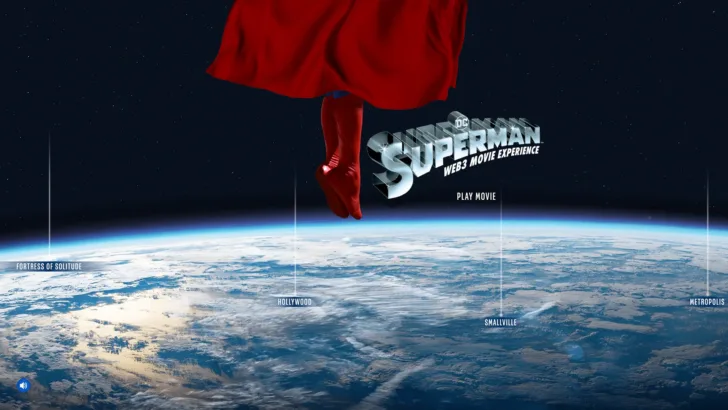 Added Bonus:
As an added bonus, the Superman Web3 Movie Experience includes a free voucher code for a DC3 Super Power Pack: Series Superman from the DC NFT Marketplace. Each pack contains three randomly selected Superman comics with varying rarities, ranging from Common to Legendary. These packs are time-gated, open edition drops, limited to one per account, with new themed packs launching regularly.
Early access to all Superman Web3 Movie Experience editions will be granted to DC Bat Cowl NFTs holders, DC3 holders, and The Lord of the Rings Web3 Movie Experience holders on June 8.
Michelle Munson, CEO and co-founder of Eluvio, expressed excitement about releasing Superman: The Movie as an exclusive Web3 film and immersive digital collectible for the first time. She emphasized how the Eluvio-powered WB Movieverse allows consumers to easily watch, collect, and sell their film Web3 Movie Experiences on the blockchain, offering a novel digital sell-through experience for 4K films and premium video assets, backed by secure blockchain access and ownership on the Eluvio Content Fabric.
The Superman Web3 Movie Experience will be available to the public on June 9, exclusively at https://web3.wb.com, and can be purchased using credit cards or cryptocurrency. To participate, fans can create a secure and user-friendly media wallet that serves as a digital vault, enabling streaming and content purchases via credit cards or crypto wallets.
Iconic 1978 Richard Donner Superman
The year was 1978 when director Richard Donner unleashed a cinematic masterpiece that would forever change the landscape of superhero movies. "Superman," starring the charismatic Christopher Reeve in the titular role, soared to unimaginable heights and captured the hearts of audiences worldwide.
Donner's "Superman" brought the iconic DC Comics character to life in a way that had never been seen before. The film followed the legendary story of Clark Kent, a mild-mannered reporter from the Daily Planet who, unbeknownst to the world, was the last survivor of the planet Krypton. With his extraordinary powers, he became the symbol of hope and justice known as Superman.
Reeve's portrayal of the Man of Steel was nothing short of remarkable. He embodied the dual identity of Clark Kent and Superman with depth and nuance, capturing both the vulnerability and strength of the character. His on-screen presence captivated audiences, believing a man could truly fly.
The visual effects of "Superman" were groundbreaking for its time, showcasing the hero's superhuman abilities with a seamless blend of practical effects and innovative technology. From his soaring flights across the cityscape to his feats of strength and heroism, the film captured the imagination of viewers, young and old.
The unforgettable score by composer John Williams became synonymous with Superman, evoking a sense of awe and inspiration. It perfectly complemented the epic storytelling, elevating the film to legendary status.
Decades later, the 1978 Richard Donner Superman film continues to be hailed as a timeless classic, setting the standard for superhero movies to come. Its impact on popular culture cannot be overstated, paving the way for a new era of comic book adaptations on the silver screen.
Now, with the groundbreaking Superman Web3 Movie Experience, fans have the opportunity to delve even deeper into the world of Superman. Through the power of blockchain technology, this multimedia NFT offers an immersive and interactive journey into the film. Explore iconic locations, unlock special features, and relive the magic of this cinematic gem in stunning 4K UHD.
Join us as we pay homage to the iconic Richard Donner Superman film, celebrating its enduring legacy and inviting fans to experience Superman like never before. Get ready to don your cape and soar into a new dimension of superhero storytelling with the Superman Web3 Movie Experience.
About Warner Bros. Home Entertainment
Warner Bros. Home Entertainment (WBHE) distributes the award-winning movies, television, animation, and digital content produced by Warner Bros. Discovery to the homes and screens of millions through physical Blu-ray Disc™ and DVD retail sales and digital transactions on major streaming, video-on-demand cable, satellite, digital, and mobile channels. WBHE is part of Warner Bros. Discovery Content Sales, one of the world's largest distributors of entertainment programming.
About Eluvio, Inc.
Eluvio (https://eluv.io) is the content blockchain for the creator economy. The Eluvio Content Fabric is a utility blockchain network for owner-controlled storage, distribution, and monetization of large-scale digital content. It provides live and file-based content publishing, transcoding, packaging, sequencing, dynamic and static distribution, and derivative NFTs minting for all content experiences. Examples of companies and creators whose content blockchain initiatives have been powered by Eluvio include FOX Entertainment, Globo, MGM Studios, Microsoft, SONY Pictures, Telstra, Warner Bros. Home Entertainment, WWE, The Masked Singer, Dolly Parton, Black Eyed Peas, Rita Ora, independent filmmakers, and many others. Eluvio is led by Emmy Award-winning technologists Michelle Munson and Serban Simu, founders and inventors of Aspera, a pioneer in digital video transport technology, and a core team of innovators. Based in Berkeley, California, Eluvio has received numerous industry awards including the prestigious Engineering Excellence Award by the Hollywood Professional Association, and has been recognized with 11 US patents. Follow Eluvio at @EluvioInc or on LinkedIn at https://www.linkedin.com/company/eluv-io.