Remember when grandma said 'beauty starts from within', and forced you to pile up veggies on your plate promising radiant skin and bountiful locks? Turns out, she knew what she was talking about. Your diet is integral, rather indispensable, for the quality of your skin, hair, nails, and overall health as a woman. No matter what expensive face mask you put on or how committed you are with your nocturnal skincare regimen, if you are not eating right, skincare will always be an uphill battle.
Often, when something is not right within your body, your skin and hair act up as indicators to fix the issue. That sudden acne flare-up or increasing hair fall could actually be your body asking you to meet its nutritional needs for smooth functioning. A wholesome and balanced diet with foods rich in vitamins, minerals, dietary fiber, fatty acids, amino acids, antioxidants, and probiotics is the key to maintaining good health within- which your skin and hair would reflect.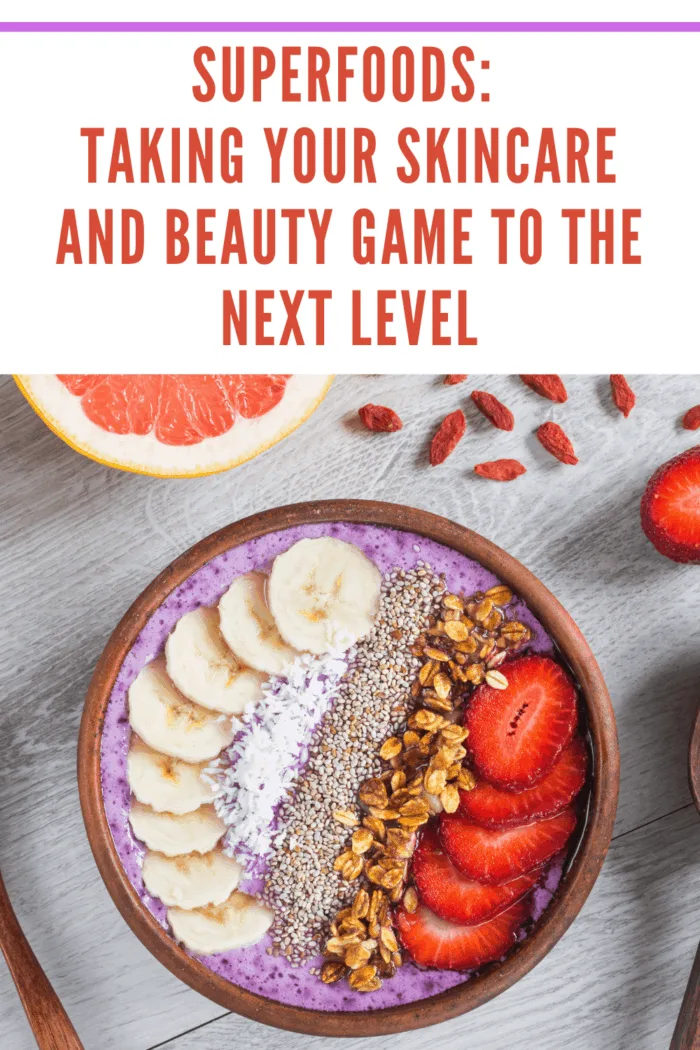 What are Superfoods?
It is virtually impossible to effectively meet all your body's nutritional needs- unless you consider superfoods. Typically, most food products are rich in specific and limited nutrients, and you would have to consume a large variety to actually meet all your macro and micronutrient requirements. Here is when superfoods come in.
To put it simply, 'superfoods' are any 'nutrition-dense food'. Typically, plant-based, these supercharged foods are consumed for their wide-spectrum health benefits. While the concept of superfoods has been very much in vogue the past couple of years, it is by no means a new discovery. In fact, for centuries, certain fruits, vegetables, seeds, roots, herbs, algae, and so on, have been recognized for their almost miraculous health benefits and have found space in ancient or indigenous medicine. While some of these ingredients recognized for their potential over generations have made it into our pantries as staples, some others have had their 'superfood' status conformed quite recently by modern research.
Why Should You Consume Superfoods?
Superfoods offer an extensive range of benefits. Though not quite as much of a 'magic remedy' as some would you have you believe, they are extremely potent in their efficacy. The nutrition-dense nature of superfoods ensures it contributes towards the repair, maintenance, and improvement of both your physical and mental functions, thus protecting you from a variety of diseases and debilitations.
As a woman, especially, the amount of stress your body and mind go through while balancing every facet of life is colossal. Environmental stressors, juggling your career and personal life, poor diet, lack of sleep, exhaustion, adrenal fatigue, hormonal imbalances all negatively affect the health and appearance of your skin, hair, and reproductive health. These factors can be combated by giving your body the arsenal of nutrition it requires. Superfoods are perfect to deliver the jolt of nutrition your body needs to get through the day, maintain your reproductive health, and of course, improving the condition of your skin and hair. Superfoods, therefore, become an integral tool to enhance your skincare and beauty regimen as a woman, working its way from inside out.
Benefits of Superfoods on Beauty and Feminine Health
While the benefits of superfoods are practically limitless, stretching from preventing cancer to controlling neural degeneration, here are some specific benefits that are pertinent to women:
1. Nutrition Density and Low-Calorie Count
The foremost characteristic feature of superfoods is its phenomenal nutrient density. Every superfood is packed with a wide selection of nutrients, ranging from vitamins and minerals to antioxidants and amino acids, therefore offering a broad range of benefits.
If you are conscious about your weight and think twice before eating a wholesome meal fearing weight gain, you might be missing out on a lot of nutrients. This will invariably show on the appearance of your skin and hair. You may find yourself getting acne or dry patches on your skin. Your skin may be losing its radiance and elasticity, leading to dullness, wrinkles, and an overall sallow appearance. You may experience hair fall and overall poor hair and scalp health. Your nails may grow brittle. You might notice your menstrual cycle getting irregular. These are all signs of nutrient deficiency, and superfoods offer a potent solution. And the best part? Superfoods are usually very low in calories, so you need not worry about those extra pounds when piling up your plate with these.
2. Antioxidant Properties
As a woman, you must have seen a majority of your skincare products boast of antioxidant benefits. Ever wondered what it exactly? Antioxidants are naturally occurring substances that can slow down, prevent, or even reverse free-radical damage to your body. Free radicals are extremely toxic by-products that our body naturally creates during the process of energy production. Free radical damage can cause or aggravate various diseases in the human body and has been linked to cancer, immuno-degeneration, arthritis, neural conditions like Parkinson's Syndrome, heart conditions, etc. Antioxidants can not only neutralize the effects of free radicals, but also protect your body from smoke, pollution, oxidative stress, and aging. Superfoods are brimming with this all-powerful ingredient that makes them an indispensable addition to your diet. Reducing the signs of aging due to oxidative stress and the effects of pollution or environmental stressors on your appearance as well as internal health, an antioxidant-rich diet will save you the hassle of an extensive skincare ritual and actually show better results.
3. Controlling Stress and Anxiety
The food we eat can have a lot of impact on our emotional response. The nutrients you put in your body determine your ability to regulate stress, anxiety, fatigue, etc. As a modern woman navigating through the 21st century, and especially these unprecedented turbulent times, you definitely have a lot of stress and anxiety on your plate. Superfoods are typically rich in a lot of nutrients like antioxidants, phytonutrients, folates, probiotics, vitamins, etc. which can help curb anxiety, stress and depression, and improve your mood and emotional response.
4. Regulates Diabetes and High BP
Superfoods rich in resveratrol, flavonoids, and vitamin C are particularly effective in keeping diabetes or high blood pressure in check. Supplements like Berberine help regulate your blood sugar levels and keep symptoms of diabetes in check.
5. Prevents Urinary Tract Infections
As a woman, UTIs can be a frequent debilitation. They are very uncomfortable and painful, but almost part and parcel of being a woman. Apart from maintaining hygiene and keeping yourself hydrated, incorporating superfoods rich in antioxidants like polyphenol, probiotics, and sulfur compounds like Allicin, can significantly reduce your chances of contracting a UTI and also help mitigate the symptoms.
6. Abating Menopausal Symptoms
Menopause is as certain a part and parcel of womanhood, as is puberty. The onset of menopause can be quite uncomfortable and is often paired with dry skin, hair loss, turbulent moods, and so on. Superfoods can come in handy to reduce the discomfort of menopausal symptoms. Hot flashes and rampant mood swings, other common menopausal symptoms, can be abated by consuming superfoods rich on resveratrol.
Osteoporosis, or bone degeneration, is a common disorder seen more in mature women who have attained menopause in comparison to their male counterparts. Isoflavone-rich superfoods can increase the mineral density of your bones and reduce the severity of the condition.
7. Anti-Inflammatory and Detox Properties
Antioxidants like catechinI'm and flavonoids are potent for their anti-inflammatory properties, whereas probiotics are great for optimizing gut health. When these two benefits of superfoods come together, it helps your body detox from within and maintains the clarity of your skin.
5 Superfoods Every Woman Should Consume
1. Goji Berries
Goji berries help balance hormones and nourish the skin, due to its nutrient-rich and antioxidant nature. The result? Radiant skin that defies aging. An added benefit of goji berries is that they help maintain that 20/20 vision and give your eyes a brighter appearance.
2. Reishi Mushroom
These antioxidant mushrooms also detox your blood and liver to give you healthy, glowing, youthful, blemish-free skin. Reishi mushrooms help control stress- thus reducing hair fall and acne flare-ups.
3. Aloe Vera
Aloe Vera is a powerhouse of nutrients. While we all know about the many benefits of topical application, consuming the juice detoxifies and deeply hydrates your body, improving skin texture and elasticity, as well as digestion.
4. Avocado
This nutrient-dense superfood is also high in healthy fats, thus contributing to radiant and youthfully elastic skin and healthy bouncy hair.
5. Kale
Rich in a multitude of vitamins, phytonutrients, and antioxidants, Kale can deeply detoxify your body. The result is radiant, clear, poreless, and age-defying skin. It also does a number on dark circles.
Superfood Supplements: Get Your Daily Fuel of Superfoods
Given the modern woman's hectic and on-the-go lifestyle, balanced super-food rich meals may be the last thing on your mind. Even though it is relatively to just put it all into a blender and make yourself a smoothie, the hassle of keeping your refrigerator stocked with fruits and veggies, and chopping them up, can still be a major task. The modern solution to this modern problem is a superfood powder. You can simply scoop some into water or milk to make yourself a smoothie, or go the fancier route by blending them into yogurts and omelets and you have the benefits of a few dozen superfoods with the negligible hassle. Beauty need not always be a hassle, and maintaining your health should never be a compromise. With superfoods and superfood supplements, you can level up your beauty game and be at the pinnacle of your health.