Using the right safety gear, helps your child stay safe during sports.
Staying active is a big part of being a kid.
For many, that means participation in group sports like soccer, little league, and other youth sporting activities that build confidence and teach children the value of teamwork.
While kid's sports have a lot of great benefits, they are also notorious for causing ankle sprains, broken bones, black eyes, scraped knees, and a long list of other injuries that come with the rough nature of team sports.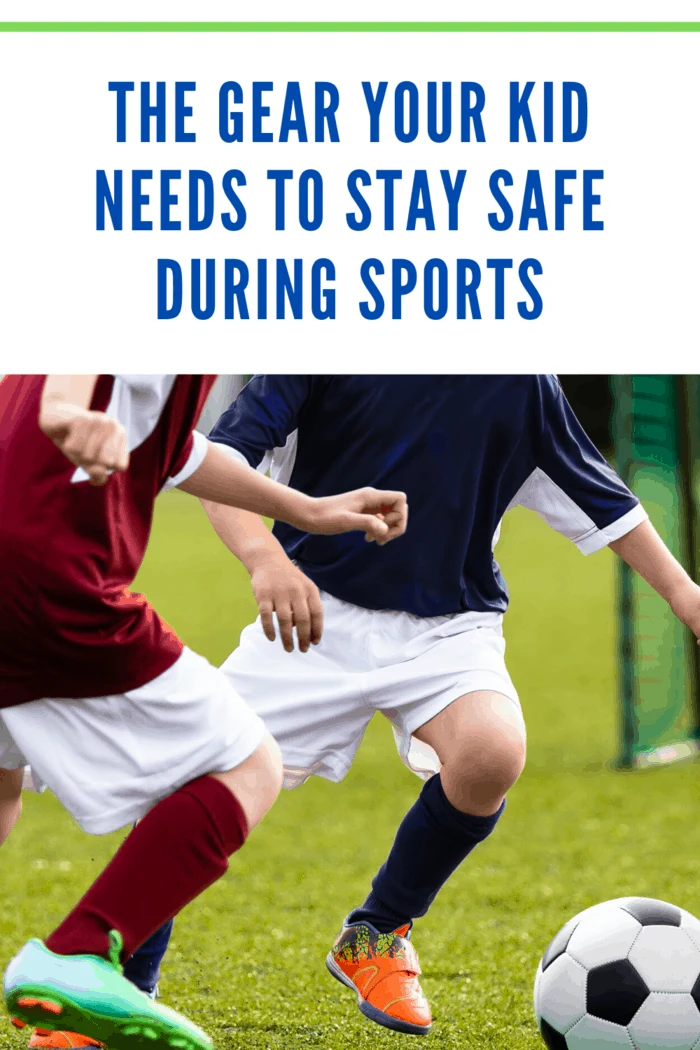 Compression Socks
A little known secret by most parents is that compression socks are a great tool in preventing injury during kid's sports.
For sports that require a lot of running, many trust kinesio taping to strengthen ankles and keep muscles aligned to prevent injury.
However, these bandages can be hard to apply without medical knowledge and can actually weaken the tendons and muscles in the ankle over time.
Kid's compression socks can mimic ankle taping patterns, but don't weaken the ankle with prolonged wear.
In fact, compression socks strengthen the muscles in the ankle with frequent use.
Additionally, kid's sports socks help increase blood flow throughout the leg to reduce fatigue and allow better performance on the field.
Footwear
Like any sport, having the right footwear is critical in protecting the safety of your child's feet, ankles, and legs.
In addition to lowering the risk of injury, sending your child out in the right shoes will also ensure their feet are optimally cushioned to reduce the risk of adult foot problems in the future.
An added bonus is that they also improve performance, making it easier for the body to move the way it needs to for its given sport.
So if your child is a rising soccer star at their school, get them soccer shoes or cleats, and the same goes for whatever other sport they may be playing.
Helmets
For kid's playing sports or even just out riding bikes with friends, helmets are necessary to guard against head trauma and skull fractures.
Wearing a helmet can cut the risk of head injuries in half if your child falls off their bike or is hit while playing softball.
In some cases, severe bumps to the head can cause traumatic brain injuries and affect how the body functions, so taking preventative measures to keep your kid safe is crucial.
Mouthguards
Contact sports like basketball, football, soccer may be the first things that come to mind when you see mention of mouthguards, but kids participating in non-contact sports like gymnastics, biking, or skateboarding can also benefit from wearing a mouthguard.
No one wants to deal with a chipped tooth, fractured jaw, or injury to their lip or cheek; thankfully wearing a mouthguard significantly reduces the risk of these types of injuries.
Popping in a mouthguard is easy, and can help save your child from a trip to the dentist.
Sports Goggles
Sports-related eye injuries are one of the leading causes of blindness and eye-trouble in school-aged children.
Sports like basketball which are very contact-heavy, present risks like getting elbowed or kneed in the eye in addition to being struck by the ball itself.
Baseball and hockey are also some of the leading causes of eye injuries in children and require these extra eye-care precautions.
It's important to note that children who usually wear contact lenses or glasses or more prone to sports-related eye injuries because frames are easily broken.
Shin Guards
Shin guards are essential for kids playing sports like baseball, soccer, hockey, and football to name a few.
As the name suggests, shin guards protect the soft tissues and bones from trauma and breaks during an intense game.
They also provide shock absorption to further reduce the risk of injuries.
Many recommend wearing compression socks or stockings with shin guards to help keep them snugly in place during game time.
No one device can completely eliminate the risk of injury for your active children, but wearing protective gear can greatly reduce their risk and help them play their best game possible.
Be sure that whatever gear you choose for your child fits properly to get the most benefits from it.
Remember, sports are a great way to keep your child safe and healthy, and the right gear can keep them safe while they have fun on the field.