Soup is the perfect dinner for a cold winter's night!  It can also be very easy to throw together.  Soup can be made from a lot of the items that you already have on hand in your kitchen.  You could start from a dry soup mix and then add your favorite ingredients, or you could start from a pre-made chicken stock and go from there.  Both of these methods would be easy ways to make soup for your family.  Any of the following items sitting in your pantry or fridge could work well in soup: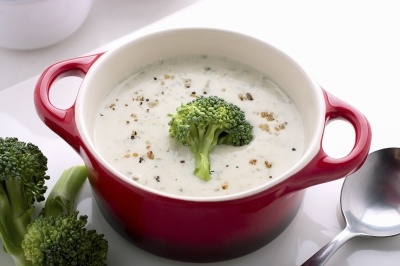 Spinach
Broccoli
Kale
Potatoes
Carrots
Chicken (pre-made would be the easiest option)
Sausage
Cheese
Ham bone
Rice
Noodles
Pre-cooked meats are the easiest option for making soup so you don't have to worry about anything being undercooked.  Frozen or fresh vegetables are both good options, depending on what texture you are interested in having for the soup.  Make sure to add some kind of starch, too–rice, noodles, or potatoes could all work well.  Enjoy!
If you need a more structured recipe, we love these recipes:
Author Bio: This is a guest post by Katie F. on behalf of Hefty®. Visit www.hefty.com to find products like trash bags and more to help you out over the holidays.
Image courtesy of joephotostudio at FreeDigitalPhotos.net