Snikiddy
Snacks are making snack time and lunch additions fun and healthier. Back-To-School is just around the corner, and we're thinking of school supplies, clothing and easy-to-pack
school lunches
or after-school snacks.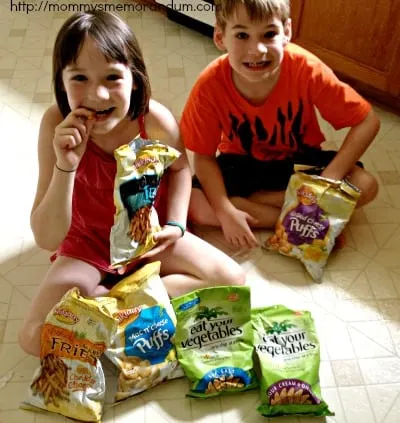 Snikiddy is Made from real-food ingredients
This mom suggests all-natural snacks like Snikiddy that are made from simple, wholesome, real-food ingredients. They are the perfect crunch and an excellent alternative to traditional flavored snacks or chips.
We're talking non-GMO ingredients. Snacks that are certified gluten-free and wheat-free. They contain NO artificial colors, preservatives, high-fructose corn syrup, trans fats, hydrogenated oils or MSG.
Snikiddy is available in Snack Size
I love that the flavors are available in a convenient 1.5-ounce bag. It's the perfect size for a packed lunch or anytime snack!
My kiddos LOVE the variety!
All-Natural Cheese Puffs – 50 percent less fat than regular potato chips and 35 percent less fat than regular veggie sticks and straws, All-Natural Cheese Puffs are a better-for-you snack that the whole family can enjoy!
Two flavors: Grilled Cheese and Mac n' Cheese.
All-Natural Baked Fries – Also with half the fat of potato chips and 35 percent less fat than veggies sticks and straws, All-Natural Baked Fries are a bold and flavorful alternative to greasy chips.
Seven delicious flavors: Cheddar Cheese, Sea Salt, Barbeque, Original Seasoning, Classic Ketchup, Bold Buffalo, and Hot & Spicy.
Eat Your Vegetables – Made with a unique blend of vegetables, including sweet potatoes, carrots, navy beans, broccoli, spinach, tomatoes and shitake mushrooms to offer a

full serving of vegetables

in every ounce. Also an excellent source of vitamin A and a good source of fiber with 3 grams of protein per serving.
o Five savory flavors: Sea Salt, Sour Cream & Onion, Jalapeno Ranch, Italian Herb & Olive Oil, and Sea Salt & Lime.
Snikiddy Snacks are Great Tasting
Snikiddy
is a brand of great tasting snacks made from simple, wholesome and real ingredients. They are a healthy snacking alternative for toddlers, kids, and adults.
When our Snikiddy arrived, Miss M immediately called dibs on the Bold Buffalo Fries exclaiming, "I love these. The. End." Then she took the bag and left!
Li'l Man says the
Mac N' Cheese
flavor is addictive; "right down to your fingers!""
I also love baking with Snikiddy. I put the Snikiddy in the food processor to make "bread crumbs" and wow! What the flavor adds to
Chicken Parmesan
is amazing!
Get Snikiddy for all the snacking on your list! Find Snikiddy near you with their
locator
to check for the nearest store or purchase any of the products online. Enjoy the coupon on their
website
ready for print.
You'll love Snikiddy and find it is not only delicious but versatile. My kiddos love Snikiddy Snacks!