In celebration of the release of The Smurfs: Season 1, Volume 2, we're excited to share this fun craft for a Smurf-inspired Halloween Treat Bag!
HALLOWEEN TREAT BAG INSPIRED BY THE SMURFS SEASON 1, VOLUME 2!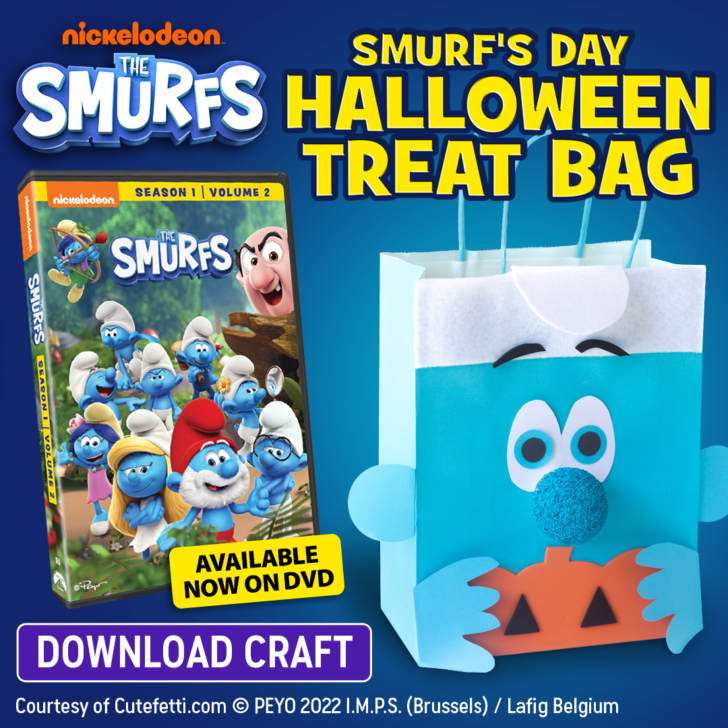 Check out the full instructions for Halloween Treat Bag inspired by THE SMURFS SEASON 1, VOLUME 2
Smurfs_HalloweenBag_craft

Synopsis:
Smurf village gets more exciting in the all-new DVD The Smurfs: Season 1, Volume 2, featuring new girl Smurfs; Willow, Blossom, Storm, and Lily! Join the Smurfs as they keep their village safe from the wizard Gargamel, accidentally turn themselves into babies, and more!

The Smurfs: Season 1, Volume 2 episodes:
The Pluffs!
The Majestic 5/Kitchen Klutz
Chef Soup/Adventures in Smurfsitting
The Round Up/Waffle Wednesday
Funny Mommy/Smurfy Day Care
Smurfy Secrets
Crashing Gargamel's Party/The Curse of the Smurfs' Treasure
Storm Loses her Mojo/Pop Out
Knight Smurfalot/Forget Me What?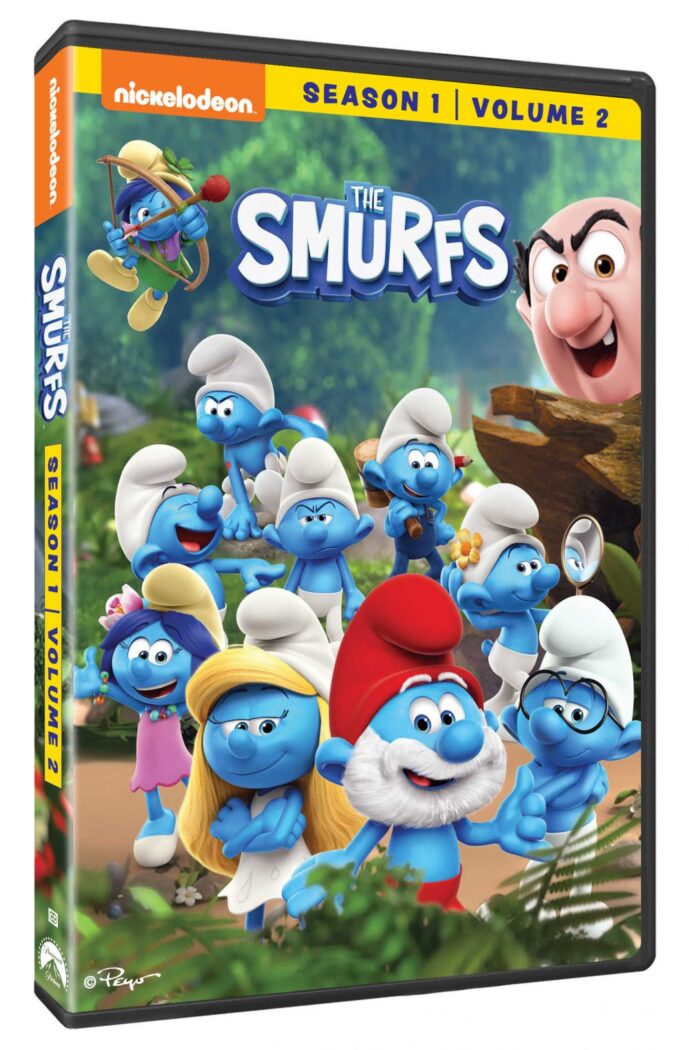 The Smurfs: Season 1, Volume 2 synopsis:
The Smurfs have a new home on Nickelodeon! Join these beloved blue characters as they go on ALL-NEW adventures that push the original series's charm, absurdity, and humor to even greater heights. Smurf we go! This volume contains the second 9 episodes of season one in a 1-disc set.

The Smurfs: Season 1, Volume 2 fast facts:
Street Date: October 4, 2022
Catalog: 191329229668 (US)
Audio: Dolby Digital English 5.1, French Stereo, Spanish Stereo
US Rating: Not Rated
US M.S.R.P.: $10.99
Check out this smurf-tastic Halloween Treat Bag inspired by The Smurfs: Season 1, Volume 2, available now on DVD!
Make it a family movie night with Cauldron Punch.
A Peyo Productions and Dupuis Audiovisuel production, in collaboration with KIKA, TF1, KETNET, and RTBF, with the participation of Wallimage (La Wallonie), of Screen Flanders, of BNPPFFF and with the support of the Tax Shelter of the Belgian Government and the participation of the CNC.

© Peyo Productions – Dupuis Édition & Audiovisuel – Dargaud Media – KiKA – KETNET – RTBF.be – 2021
About Peyo, LAFIG Belgium/IMPS (International Merchandising Promotions & Services)
IMPS and LAFIG Belgium are the official licensors of the little, blue-skinned characters 'The Smurfs.' Over the years, IMPS has worked closely with its agents worldwide to develop successful licensed merchandising, retail and co-branded promotions, publishing activities, broadcasting deals, theme parks, live shows and family entertainment centers that have secured the everlasting success of the Smurfs. IMPS is run by Véronique Culliford, the daughter of Pierre Culliford, the creator of the Smurfs, who is better known under his pseudonym Peyo. Véronique has run IMPS since 1984 and controls with LAFIG Belgium the rights to the Smurfs characters and the Smurfs licensing worldwide.
About Nickelodeon
Nickelodeon, now in its 42nd year, is the number-one entertainment brand for kids. It has built a diverse, global business by putting kids first in everything it does. The brand includes television programming and production in the United States and around the world, plus consumer products, digital, location based experiences, publishing and feature films. For more information or artwork, visit http://www.nickpress.com. Nickelodeon and all related titles, characters, and logos are trademarks of ViacomCBS Inc. (Nasdaq: VIACA, VIAC).

About Paramount Home Entertainment
Paramount Home Entertainment (PHE) is part of Paramount Pictures Corporation (PPC), a global producer and distributor of filmed entertainment. PPC is a unit of Paramount (NASDAQ: PARA, PARAA), a leading global media and entertainment company that creates premium content and experiences for audiences worldwide. The PHE division oversees PPC's worldwide home entertainment and transactional digital distribution activities. The division is responsible for the sales, marketing, and distribution of home entertainment content on behalf of Paramount Pictures, Paramount Animation, Paramount Television Studios, Paramount Players, MTV, Nickelodeon, Comedy Central, and CBS and applicable licensing and servicing of certain DreamWorks Animation titles. PHE additionally manages global licensing of studio content and transactional distribution across worldwide digital distribution platforms including online, mobile, and portable devices and emerging technologies.