Our dog is a furry family member. She is spoiled. When we picked her out as a puppy, I asked the woman who had her what she was feeding the puppy. She told me, Meow Mix. Yeah, that was so not acceptable for our new little princess. So we went directly to the store and brought home our new puppy and a bag of Cesar dog food.
We take food seriously at our house, and our pooch deserves no less. We try to keep the human food to a minimum, so her food has to be premium to keep her healthy and happy.
My kiddos enjoy feeding it to her. The easy open, single serve packages make it a hassle free task. I love that Cesar makes it look delicious!
This is Charlie.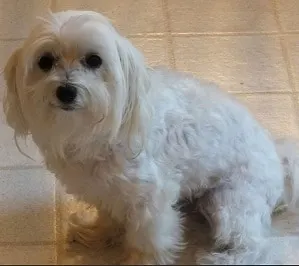 Charlie is my sister's dog. Charlie has been in the family for awhile.
Charlie is unique. Allow me to share his story.
My brother got a dog for his baby daughter as a birthday or Christmas gift. They named the white puppy something none of us can remember. My niece adored the puppy and together the puppy and the girl spent day after day together.
One day, a few years later, my brother was accepted to Mercer University, and the family's housing situation changed, making it impossible for the white dog to live with my brother.
My sister's family had hearts wide open for the white dog, but they didn't feel the name "fit" the white pooch, so they named him Charlie.
A year or so had passed when my brother's family was at my mom's when my sister and her family arrived with "Charlie."  When Charlie got out of the car my brother's daughter, the white dog's first owner, said to her aunt (Charlie's new owner), "Hey! I use to have a white dog!"
My sister tried to explain to our niece that Charlie was her dog. She didn't believe it, but Charlie remembered her and followed his pint-sized, original owner everywhere that weekend.
It is truly a love story told from an animal's point of view.
To honor the love between owners and their dogs, Cesar makes meal time more enjoyable with its new line of Savory Delights. We shared Cesar Savory Delights with Charlie. He is already a fan, but sharing is caring.
Charlie loves this stuff and savors it.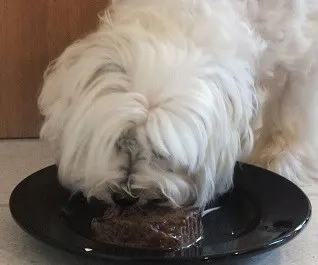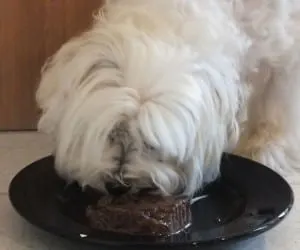 Charlie loves the fresh flavor of Cesar Savory delights. It's his choice in dining. Sometimes, he even likes to share with his arch-nemesis, Penny, the cat!
Regardless of which furry family member is feasting on Cesar Savory Delights, with flavors like Rotisserie Chicken, Rosemary Chicken, Porterhouse Steak, Filet Mignon and Ham and Egg the plate is always left clean.
Cesar wants to celebrate the shared relationship between people and dogs through hosting a week-long Twitter event, the #sharethejoy 10,000 Savory Delights™ Twitter Giveaway. From September 5th until September 12th, dog lovers are invited to join @CesarCuisine in sharing the joy of a dog's companionship in return for free Savory Delights™ meals.
Here's an opportunity to try Savory Delights with your own dog.
Create a tweet sharing why your dog means so much to you and tag and follow @CesarCuisine
Include the hashtag #sharethejoy in your tweet
Encourage your friends and Twitter followers to #sharethejoy with others to receive their own complimentary meals from CESAR® Canine Cuisine
@CesarCuisine will follow-up to gather shipping details and reward 5,000 dog lovers with two complimentary Savory Delights™ meals.
Get social with Cesar through their  Facebook Page.
Disclosure:  I wrote this review while participating in an ambassador program by Mom Central Consulting on behalf of Cesar and received product samples and a promotional item to thank me for taking the time to participate.