Growing up my parents had an herb business. It was a great learning process as we learned the healing abilities of herbs and experienced their true intended taste. I always call Mom when something goes awry to see if there's something natural we can use rather than bombard our system with a lot of additives. Recently, Dr. Oz spoke about a "miracle berry" called sea buckthorn. Mom knew a little about it. It's a tiny berry that evidently packs a lot of benefits.
The intent was to help prepare the kiddos for the new school year and how to better protect them from the variety of illnesses that arise while in the classroom. I wanted something to compliment practicing good hygiene, nutrition, rest and exercise. Sea Buckthorn is nutrient rich and a great supplement to a healthy diet.
But when it arrived, I claimed it as my own. It's an Asian beauty secret, well-known for its impressive nutritional profile which includes the rare Omega 7, as well as Omega 3, 6 and 9. In addition to essential fatty acids, sea buckthorn contains a host of vitamins and minerals, super-charged anti-oxidants, and more than 190 phytonutrients to support the immune system during cold and flu season.
What I didn't realize was just how versatile sea buckthorn would be at our house.
The day it arrived, I happened to lift a casserole dish out of the oven. I burned my wrist on the oven's element. I put a couple of drops of the sea buckthorn berry oil on it and never thought about the burn again.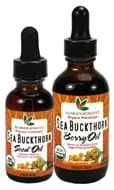 I was so impressed with the results that I wrote to the company and shared my experience.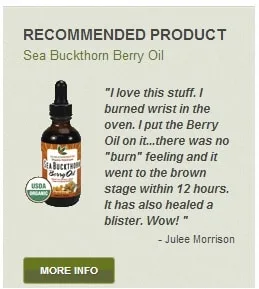 I've been taking the capsules, and my hair and nails are healthier. My skin doesn't experience breakouts like it once did. Then, last night, in the commotion of the kiddos and dog being wild, I pulled my Spinach Frittata out of the oven. I set the table, gathered plates to serve and in a moment of epic mind failure, grabbed the skillet on the stove top with my bare hands. Seven fingers burned and intense pain!
After running my fingers under cold water for seven minutes, the pain was still excruciating! I went to the bathroom, opened the vanity and with shaking hands got out the sea buckthorn oil and put a few drops on my worst burns and then gently rubbed my fingers together, covering all burns. The heat was lessened, and within 30 minutes I could use my fingers.
This morning my fingers are still blistered. However, they are more like calluses. This is the worst burn–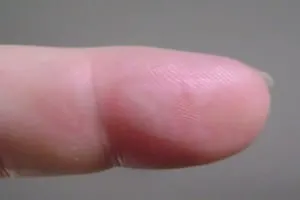 This stuff is amazing!
I have also used it to heel a blister from a pair of shoes I was trying to break in…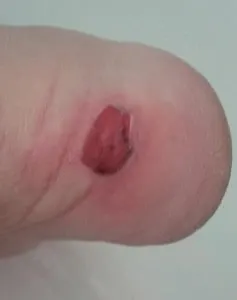 Unlike the burn blisters, this one was raw. The sea buckthorn didn't heal it immediately. What it did was put a protective "cover" over the raw part. It still took two weeks for the blister to heal. However, it didn't stick to my socks or get infected. It just slowly shrunk.
My thoughts are if sea buckthorn has this visible healing power on burns and blisters, it has to be doing great things as I put a dab in my shampoo, my facial moisturizer, lotion and take the capsules.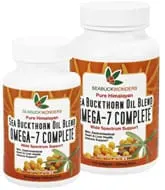 SeabuckWonders' offers a full line of USDA certified-organic sea buckthorn berry products to help keep kids (AND moms!) healthy all year long. Sea Buckthorn Seed Oil and Sea Buckthorn Oil Blend Omega-7 Complete® capsules can be ingested as part of a daily vitamin regimen, while sea buckthorn seed and berry oils can be added to salad dressing, yogurt, juice or your child's favorite recipe for an extra burst of healthy nutrients!
This line of nutrient-rich sea buckthorn products is packed full with the entire family of Omegas (3, 6, 7 and 9) along with a host of vitamins, minerals, and super-charged anti-oxidants. They are USDA certified organic and available in gel tabs or oils so they can easily be added to your family's juices, salads, cereal or anything.
Dr. Oz may have coined the term "miracle berry," and after using this line of products, I'm a believer! I think every First Aid Kit and beauty regiment should include sea buckthorn. It has amazing healing properties, and I'm learning new uses every day for this amazing product!
ABOUT SEABUCKWONDERS
SeabuckWonders, a division of Balanceuticals Group, Inc., is a company with over 15 years of experience producing the highest quality Sea Buckthorn Oils known in the world. Since introducing their products to the United States back in 1994, the company, under the direction of Xingwu Liu, renowned Cultural Anthropology Professor, has maintained its excellence by using only pure Himalayan, wild-grown, handpicked Sea Buckthorn. Please visit seabuckwonders.com for more information and a list of locations where the products can be purchased.
Disclosure of Material Connection: I received one or more of the products or services mentioned above for free in the hope that I would mention it on my blog. Regardless, I only recommend products or services I use personally and believe will be good for my readers. I am disclosing this in accordance with the Federal Trade Commission's 16 CFR, Part 255: "Guides Concerning the Use of Endorsements and Testimonials in Advertising.".