Homemade Pudding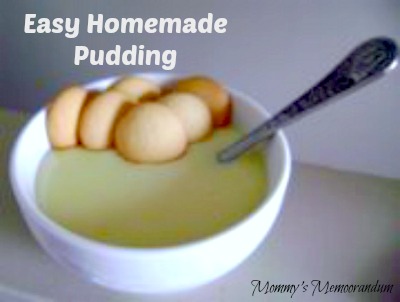 Here is an old-fashioned pudding recipe that is made from scratch with almost as much ease as the packaged boxes. It yields a rich and creamy taste and texture that will have you declaring it's spoonfuls of heaven!
Recipe: Grandma Grace's Pudding
Author:
Ingredients
4 Tablespoons Corn Starch
1 1/2 Cups Sugar
4 Cups Milk – (You may use regular Milk or Canned Evaporated Milk 2Cups Evaporated + 2 Cups Water
3 Egg Yolks
1 Teaspoon Vanilla
3 Teaspoons Butter
For Chocolate Pudding: Add 4 Tablespoons Cocoa
For Banana Pudding: Add 1 tsp. banana flavoring
Instructions
Mix Corn Starch, & Sugar to get any lumps out. Add milk. Cook over Medium heat – add egg yolks before mixture gets to hot. Cook until mixture thickens. Be sure to stir constantly. When pudding has thickened remove from heat. Add vanilla and butter. Pour pudding into pudding containers and cool on counter then refrigerate. Pudding will thicken more when cooled.
Wonderful served with home made whipping cream. You may use your choice of toppings.
Sometimes I also stick a few vanilla wafers around the sides of pudding dish.
Betcha this is a big hit. Doesn't take long to prepare.
*Special thanks to Bea and her Grandmother, Grace, for this delicious recipe!