The older I get the more I realize taking care of myself goes beyond trusting what is available to me. It's about making choices. My mother and I have had many conversations about my growing up and the foods we ate, and as a parent, I'm leaning towards the basics. I'm not over the top organic, but I do believe a diet filled with raw foods maintains health.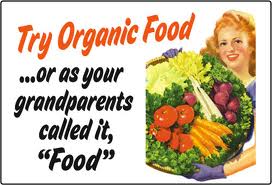 This organic food meme really gave me pause to think about what was on our table growing up. Not just at our house but at my maternal and paternal grandparents' table as well.
RawEssence is a raw food cookbook that advocates a cuisine that's eco-friendly, meets nutritional needs and offers satisfying and delicious recipes.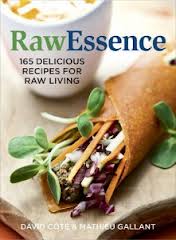 This cookbook offers dietary choices based on an overall respect for living things and global well-being, which promotes a healthy and responsible lifestyle. I don't even think you have to be any of those things to benefit from this book. For me it's about respecting my body and wanting my children to learn about choices. The recipes in RawEssence are rich in nutrients and enzymes and recognized for their ability to revitalize the alkalinize in the body.
These recipes are flexible and easy to implement even if you are just looking to explore the raw food lifestyle. There is also emphasis on attractive food presentation making it a well rounded book regardless of your commitment to the raw lifestyle.
I found the color photographs to be inspiring as they scatter through the book, highlighting the recipes.
This book also offers a great deal of information about the benefits of living foods and ingredient properties as well as advice on maintaining a natural and healthy lifestyle.
Recipes inside include:
Ricotta Roulade, page 50
Pesto Tagiliatelle, page 55
Tabbouleh Flour Salad, page 85
Madras Salad, page 96
Meatless Meatballs, page 138
Sun-Dried Tomato Crackers, page 150
Spinach Ricotta Portabello Mushrooms, page 165
Island Lime Pie, page 193
Carrot Cake, Page 201
Dark Nougat, page 210
This is a great book that can inspire anyone to try new foods, prepare healthier options, or just get a glimpse of the Raw Living lifestyle.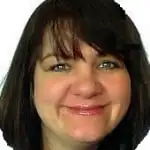 Julee is a quirky, dorky, North Carolina Transplant with an appetite to taste the world, meets its desserts and blog about them. When she's not behind the computer you can find her playing with her family, reading a good book, being a Bon Jovi fangirl and celebrating the little things.
Disclosure of Material Connection: I received one or more of the products or services mentioned above for free in the hope that I would mention it on my blog. Regardless, I only recommend products or services I use personally and believe will be good for my readers. I am disclosing this in accordance with the Federal Trade Commission's 16 CFR, Part 255: "Guides Concerning the Use of Endorsements and Testimonials in Advertising.".Julee Morrison