We received Precious Moments Graduation Gifts in exchange for this post. All opinions and our pride in our graduate remains our own.
Precious Moments Graduation Gifts are the perfect gift for the person who dared to dream. Sometimes you have a dream, and you pursue it with passion. You miss sleep. You buckle down for the finals, and in the end, you reach your goal of graduation.
Precious Moments is ready to celebrate commencement day and has plenty of keepsake graduation gifts to help remember the day. We love the graduation themed figurines, frames, and keepsake boxes that help display graduation. The best part is they are perfect for the graduation of any stage from Preschool to college and all the graduations in between.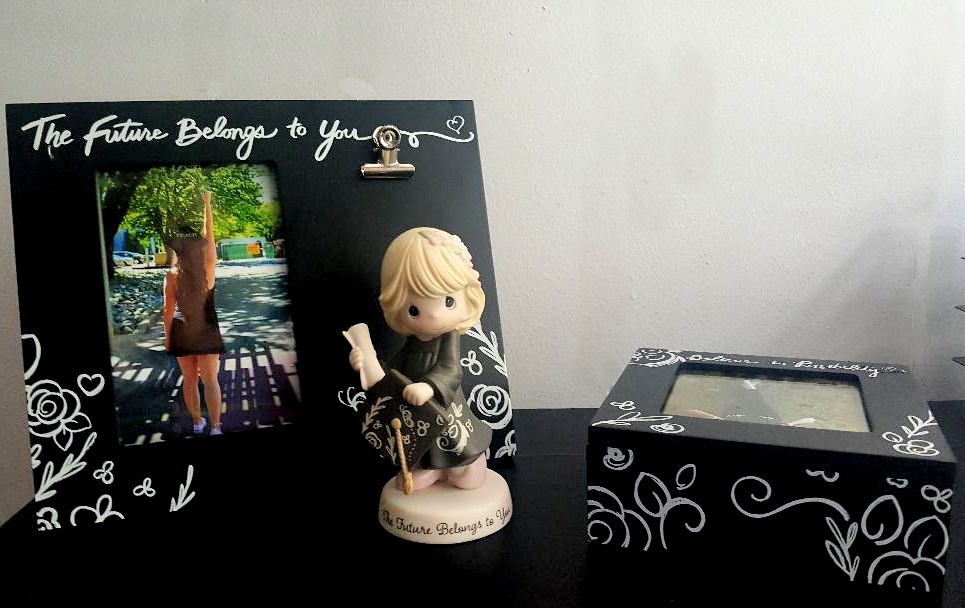 I have loved The Precious Moments Collection since as far back as I can remember. They are adorable and offer nostalgia with each keepsake and figurine. They are treasured reminders of sentimental moments and perfect for gifting as a keepsake graduate gift.
Precious Moments Graduation Gifts
Precious Moments "The Future Belongs To You" Photo Frame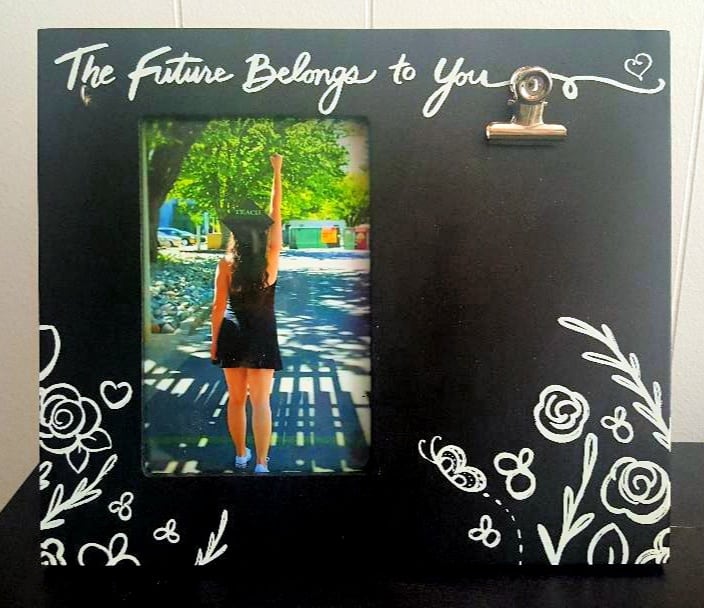 Kyra graduated from Sacramento State University. This Precious Moments Graduation Keepsake frame is the perfect display for her favorite graduation photo. The frame is crafted of wood, metal, and glass. It has a black finish that reminds me of a chalkboard. It features the inspirational message, "The Future Belongs to You." In addition to showcasing your favorite 4×6 photos, it offers a tassel hook, and a clip for tickets or keepsakes. The frame measures 8.5-inches in height. Shop this keepsake photo frame.
Precious Moments "Believe In Possibility" Keepsake Box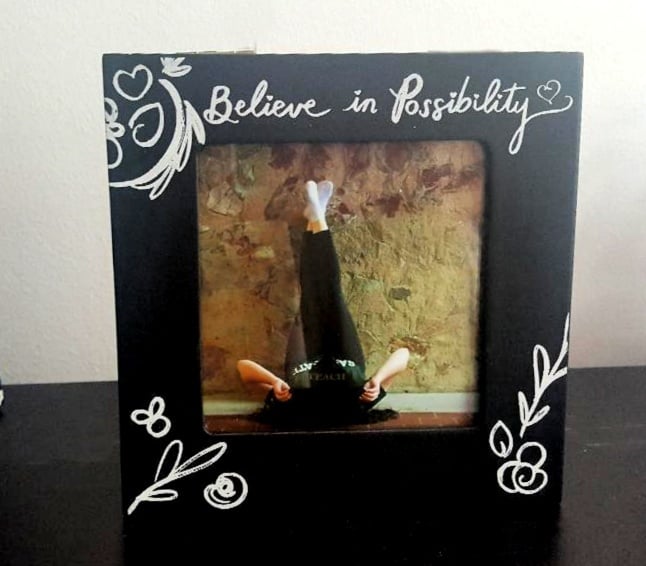 I love the Precious Moments Graduation Keepsake box. It has a black finish, like the photo frame, reminiscent of a classroom chalkboard. It's a modern style box that holds a 4×4 photograph and looks great on a desk, dresser or nightstand. The box is crafted of wood and glass and measures approximately 5.75H x 5.75W x 2.25D inches. It opens up to store small treasures and keepsakes from the day of celebration.
Precious Moments "The Future Belongs To You" Bisque Porcelain Figurine, Girl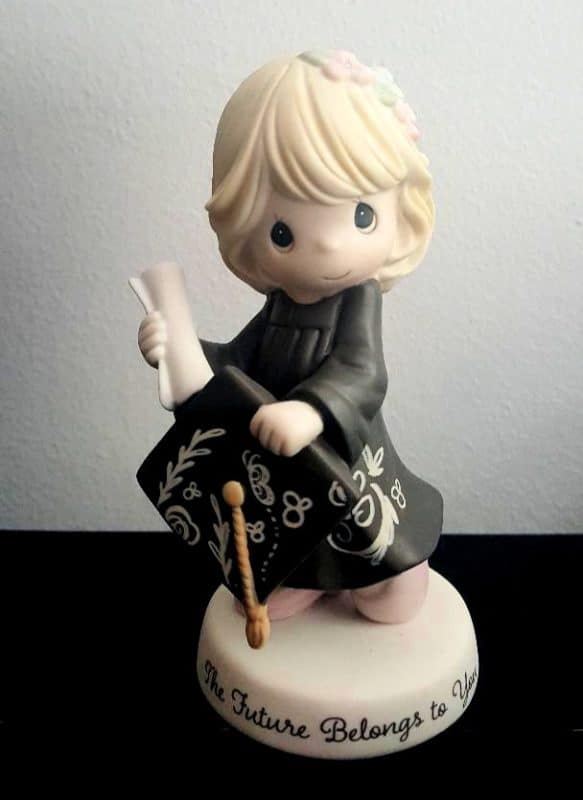 Perhaps the icon of The Precious Moments collection is the figurine. This Precious Moments porcelain girl does not disappoint. She proudly holds a diploma and her decorated graduation cap. The base reads, "The Future Belongs to You". It's the timeless gift of Precious Moments whether it is starting a collection or as an addition to one. This figurine is hand-sculpted in bisque porcelain and expertly hand-painted. She stands approximately 5.75-inches tall. Shop this keepsake Graduate Figurine.
About Precious Moments
Our mission is to make the world a better place by helping people Share the Gift of Love Precious Moments- The World's Most Recognized Inspirational Brand. Precious Moments figurines were introduced to the gift and collectible industry in 1978 when the "Original 21" figurines first launched. Since then, Precious Moments, which remains to be one of the most recognized collectibles in the industry, has expanded business ventures to continue producing products and co-branded merchandise with carefully selected, exceptional brands that align with and complement the goals of the company. Precious Moments continues to be a leader in the gift and collectible industry.
Shop keepsake graduate gifts from Precious Moments.