We received Popcornopolis Nearly Naked Popcorn in exchange for this post. All opinions and our love for popcorn remain our own.
Introducing Popcornopolis Nearly Naked Popcorn – The Perfect Snack for Health-conscious Popcorn Lovers!
Are you tired of sacrificing taste for healthier options? Look no further! Popcornopolis has crafted a snack that combines deliciousness and purity like never before. Introducing Nearly Naked Popcorn – the ultimate guilt-free indulgence that's free from anything artificial.
Picture this: you're cozying up on the couch, ready for a movie night, and suddenly a tantalizing aroma fills the room. It's the mouthwatering scent of freshly popped popcorn, but this time, it's something extraordinary. Nearly Naked Popcorn from Popcornopolis delivers an exceptional snacking experience that is pure, natural, and simply irresistible.
What sets Nearly Naked Popcorn apart?
They've stripped away all the unnecessary extras and focused on the essentials. Each fluffy kernel is air-popped to perfection, capturing that classic popcorn crunch you know and love. But what truly sets it apart is what's missing – no artificial colors, flavors, preservatives, or gluten. It's a snack you can trust, made with nothing but the finest ingredients.
At Popcornopolis, they believe that nature knows best. That's why they've partnered with local farmers to source premium, non-GMO corn kernels that are carefully popped and seasoned with just the right amount of sea salt. This simple yet delicious flavor combination enhances the natural sweetness of the corn, creating an exquisite taste that will leave your taste buds dancing with joy.
Nearly Naked Popcorn isn't just a treat for your taste buds; it's also a smart choice for your health. With no artificial ingredients to worry about, you can enjoy every guilt-free bite, knowing that you're nourishing your body with a snack that's as wholesome as it is delectable. It's the perfect companion for those seeking a healthier lifestyle without sacrificing flavor.
Whether you're snacking solo, hosting a gathering, or looking for a better-for-you option for your kids, Nearly Naked Popcorn from Popcornopolis is the answer. Its simplicity and purity make it a snack that brings everyone together, leaving smiles on every face.
So, why settle for anything less? Treat yourself to the ultimate popcorn experience with Popcornopolis Nearly Naked Popcorn – the snack that's nothing but pure, natural deliciousness. Grab your bag today and embark on a flavor-filled journey that will delight your senses, one kernel at a time!
Disclaimer: Despite their best efforts, some kernel imperfections may occur as a result of natural ingredients. But hey, that's nature's way of reminding us that perfection lies in embracing our unique qualities!
Our Popcornoplis Nearly Naked Popcorn
Before receiving my Popcornopolis Nearly Naked Popcorn bag, I dreamed of a tutorial blog post. Something a little more impressive than my Easy Popcorn Balls, maybe not as fancy as my Sweet and Salty Popcorn Bark. Maybe something with lots of texture like my Easy Almond Popcorn Crunch or fun like my Popcorn Cupcakes. Afterall, they all involve a base of popcorn.
I got sidetracked when I saw the bag of Popcornopolis. It is like Shaquille O'Neal BIG! 14 ounces of hugeness.
We love popcorn at our house. I'm not really a label reader, but you might be, so I'm sharing the facts straight from the bag:
38 Calories Per Cup
0 g Trans Fat
Pure Coconut Oil
Certified Gluten-Free
Non-GMO Project Verified
Certified kosher by the Orthodox Union
Each bag has a 9-month shelf life!
And if you want to know the ingredients in Popcornopolis Nearly Naked Popcorn:
Popcorn
Coconut Oil (tree nut)
Salt
I love a snack that has simple ingredients.
Then, I opened the bag. It's white. Perfectly white.
It's fluffy, white deliciousness!
The popcorn has a light taste from the coconut oil. It has a hint of salt. Not too much. Not too little. Just perfect.
I had to have more.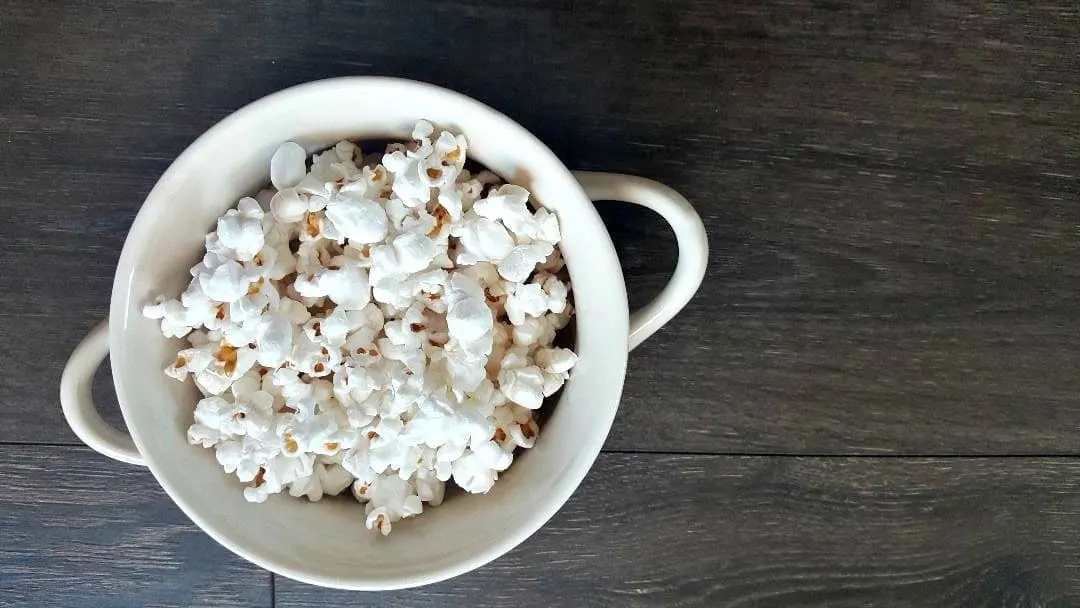 The kernels are small, and none of the shells get stuck in your teeth.
It's worth the drive to Costco.
Maybe you've heard of Popcornoplis before; they ranked SIX times on Coffee Strong's top 25 rated Gourmet Popcorn on the market today list.
In addition to their Nearly Naked popcorn, Popcornopolis makes flavored popcorn too. Delicious flavors of Pecan Chocolate, Peanut Butter Cup, Red Velvet, Strawberries n' Cream, Cupcake, Cinnamon Toast, Caramel, Lemon Haven, Zebra and for those who like their flavors more savory, they offer flavors like Jalapeno Cheddar and Chipotle Jack. They even offer gourmet popcorn gift baskets.
Easter's coming, and Popcornopolis would make a great addition to the Easter basket. Heck! You could even use it in place of all that messy plastic grass!
Grab your Popcornopolis bag at Costco, where pricing is just $5.39 a bag. Take advantage of pricing from April 19th through May 13th, which is only $3.49 per bag.
Popcornopolis is delicious popcorn!