Popcornopolis, the family-owned and operated gourmet popcorn company, has developed two new, limited-edition, popcorn flavors celebrating the fresh and fruity essence of summer.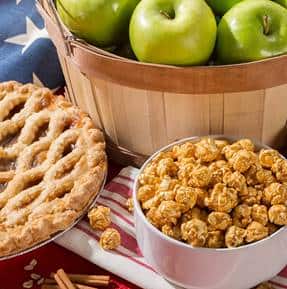 Available now is delicious Apple Pie popcorn—perfect for seasonal festivities. The chefs in the Popcornopolis kitchen have faithfully recreated that wonderful culinary experience of a delicious apple pie and includes chunks of real apple, rolled oats, cinnamon and the company's famous caramel, all in one very tasty, all-American treat!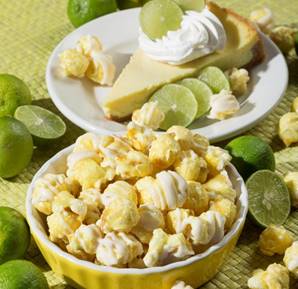 Available July 16 is Key Lime Pie Popcorn. This classic summertime treat can be enjoyed any time and features real key lime and natural graham cracker flavors. Vanilla icing gives it an irresistibly creamy sweet finish.
The Apple Pie and Key Lime Pie popcorn snacks are available only through www.Popcornopolis.com while supplies last and are sold in the company's regular 10.5 oz size cones, and as part of their popular Create-Your-Own Flavor Assortments.
In addition to the Popcornopolis website, these two new flavors will be offered during their Costco Roadshows. Dates and locations of this Roadshow can be found here: https://www.popcornopolis.com/storelocator/location/roadshows
"Apple Pie is as classic as it gets, so we wanted to make sure to capture all the delicious flavors of the real deal….sweet & tangy Washington State apples, rich buttery home-made caramel, toasted oats, and lots of cinnamon & spice…really something to entice those who love the classics!" says Phil Fox, Executive Chef at Popcornopolis and VP of Product Development. "Key Lime Pie is truly an explosion of flavor… Real Key Lime is where it all starts, making for a tart but a sweet blend of citrus & graham cracker flavors finished with a creamy vanilla frosting… A perfect refreshing, tangy treat for your summer picnic!"
Popcornopolis gourmet popcorn is "made the way it oughta be," from 100% American-grown, non-GMO popcorn. Their gourmet popcorns are also certified Gluten-Free with no high fructose corn syrup, or added preservatives, and made with only the finest ingredients and cooking practices.
ABOUT POPCORNOPOLIS
Popcornopolis was founded by Wally and Kathy Arnold. In 2003, the Arnolds opened their first Popcornopolis retail store at Universal City Walk in Los Angeles, California. Today, the family-owned company's iconic cone-shaped and bagged popcorn packages can be found in grocery and club stores, professional sports stadiums, movie theatres and at www.popcornopolis.com. Committed to giving back to the community, Popcornopolis Fundraising has helped raise more than $15 million for non-profit groups by partnering with organizations that support youth, families, and education across America.