Introducing Palmolive Fresh Sponge Dishwashing Liquid – The Ultimate Cleaning Companion!
Are you tired of spending hours scrubbing away at stubborn grease and grime? Look no further! Palmolive Fresh Sponge Dishwashing Liquid is here to revolutionize your dishwashing experience.
Say goodbye to the hassle of soaking and scrubbing with our advanced formula that effortlessly cuts through grease and stuck-on food. Our specially designed liquid is infused with the power of natural ingredients that not only remove tough stains but also leave your dishes sparkling clean and fresh.
Here's why Palmolive Fresh Sponge Dishwashing Liquid is a game-changer:
Unbeatable Grease-Fighting Power: Our powerful formula tackles even the toughest grease, making it easier than ever to get your dishes looking their best.
Time-Saving Efficiency: With Palmolive Fresh Sponge Dishwashing Liquid, you can say goodbye to endless scrubbing. Just a small amount goes a long way, allowing you to get the job done quickly and effortlessly.
Gentle on Your Hands: We understand that your hands deserve care too. Our gentle formula is dermatologist-tested, ensuring that your skin stays soft and nourished even after prolonged use.
Delightful Fresh Fragrance: Enjoy the refreshing scent of our Palmolive Fresh Sponge Dishwashing Liquid. It leaves your kitchen smelling clean and inviting, creating a pleasant atmosphere for you and your family.
Multipurpose Cleaning: Not only is Palmolive Fresh Sponge Dishwashing Liquid perfect for your dishes, but it also works wonders on other surfaces like countertops, stove tops, and even greasy utensils.
Long-Lasting Performance: A little goes a long way with Palmolive Fresh Sponge Dishwashing Liquid. You'll be amazed at how long one bottle lasts, saving you money and trips to the store.
Make your dishwashing routine a breeze with Palmolive Fresh Sponge Dishwashing Liquid. Join the countless satisfied customers who have made it their go-to choice for spotless, fresh dishes every time.
Try Palmolive Fresh Sponge Dishwashing Liquid today and experience the true joy of effortless cleaning. Your dishes will thank you!
Note: For best results, use with a Palmolive sponge for an unparalleled cleaning experience.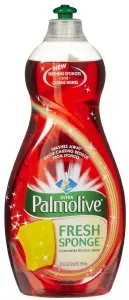 Our Palmolive Fresh Sponge Dishwashing Liquid Review:
I love sponges, however, I get so grossed out by the germs. I put our sponge on the top rack of the dishwasher everytime I run the dishes, but by the end of the week, we're moving on to a new sponge.
Palmolive has launched a FRESH SPONGE DISHWASHING LIQUID and after using it now for three days it might just be love. My kiddos tell me it smells great.
I've stopped putting our sponge in the dishwasher. Just using the Palmolive Fresh Sponge Dishwashing Liquid has made a huge impression. It's designed with dual-action formula that washes away odor causing residue from sponges AND cleans dishes to a sparkle! I've noticed my sponge is no longer slimy.
It's a win-win at my house and I'm loving my sponge a little longer.
Disclosure of Material Connection: I received one or more of the products or services mentioned above by Colgate-Palmolive via Influenster. for free in the hope that I would mention it on my blog. Regardless, I only recommend products or services I use personally and believe will be good for my readers. I am disclosing this in accordance with the Federal Trade Commission's 16 CFR, Part 255: "Guides Concerning the Use of Endorsements and Testimonials in Advertising.".