Today's Best Recipe is Overnight Refrigerator Oats.
Sometimes we are zooming in the morning trying to get everyone where they need to be at the same time, and these overnight refrigerator oats are the perfect breakfast solution.
I'm also lazy and not a morning person, so make-ahead breakfast for days seems the best option for me.
Plus, it's healthy.
It goes by many names, refrigerator oatmeal, fridge oats, overnight oats, and no-cook oatmeal, but whatever you call it, this recipe is a great foundation for ending hungry mornings.
We're talking soft, creamy, chewy oats, a smidge of sweet, fresh fruit, and endlessly customizable.
I love the convenience of a mason jar for these overnight oats.
For this recipe, you want at least 12-ounce individual jars.
If you can find ones with the measurement lines, this easy recipe is even more ridiculously easy.
The mason jar allows you to prep, chill, carry, heat, and eat with one container.
That saves labor and the fight over whose turn it is for dishes.
You don't need a recipe, memorize this simple ratio for how to make overnight oats:
I make 4 jars per person in my family at the same time.
The overnight oats last 4 days in the refrigerator, so when we grab the last one, it's time for meal prep time again–which is incredibly easy.
I love that it becomes an airtight container and is the perfect single serving.
You may also want to check out my Pinterest Breakfast Board for other great breakfast foods like these fridge oats.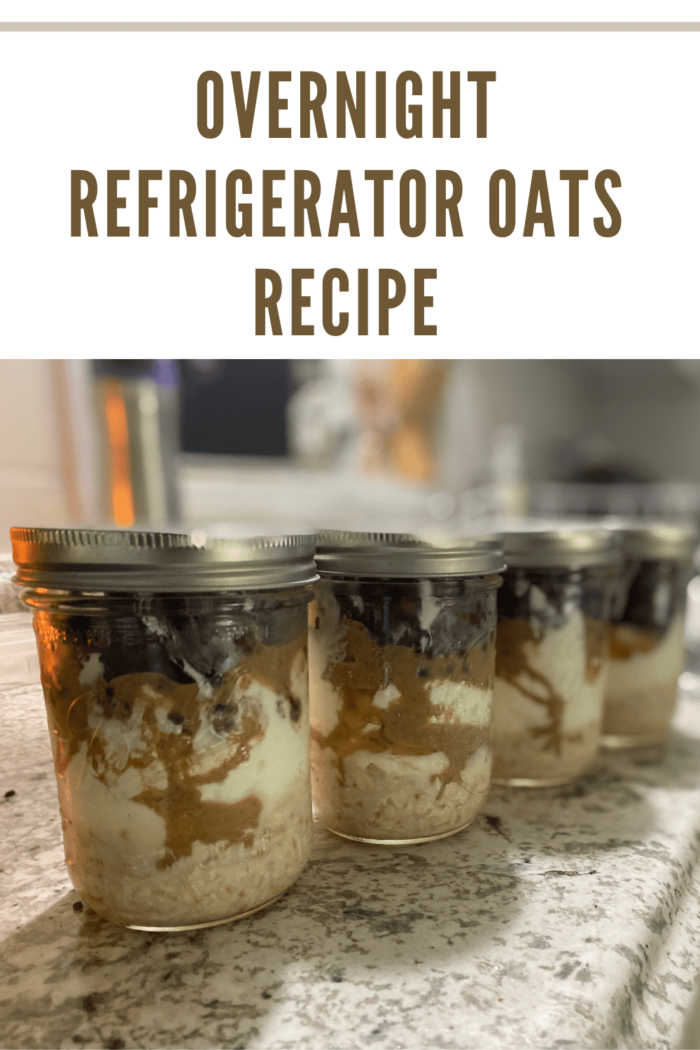 Let's talk about the ingredients here:
Oats:
It's the star of this make-ahead meal.
Choose steel-cut oats, quick-cooking oats, or old-fashioned rolled oats.
My experience is that quick oats don't work nearly as well.
You have options.
Seeds:
If you like a thicker texture or the benefits of seeds, add chia seeds.
They give you additional protein.
Again, you have options: Chia Seeds, flax seeds, pumpkin seeds, and hemp seeds.
Heck, you can even move on to chopped nuts, shredded or shaved coconut.
Do what tempts your tastebuds!
Milk:
Milk of choice options is yours here too….whole dairy milk, rice milk, soy milk, oat milk, nut milk (including coconut milk, almond milk, and cashew milk), hemp milk, buttermilk, and Keifer.
Yogurt:
I recommend Greek Yogurt because it is thicker and will add to the texture of the end results.
You can use plain yogurt, but it will be much thinner oats.
My favorite is 2% whole milk.
Nut Butter:
I love the addition of almond butter.
My favorite is NSNG® FOODS NUT BUTTERS
They are made with almond butter, coconut oil, and electrolytes for instant energy fuel, healthy fats and balanced electrolytes.
They are not only delicious but:
Keto and Paleo Friendly
Gluten Free
No Sugar Added
No GMO
Vegan
Dairy Free
Peanut Free
Everything Nice:
I add a smidge of honey.
Sometimes I add one or two of these favorite toppings: cinnamon, nutmeg, pumpkin pie spice, apple pie spice, pure maple syrup, matcha powder, cocoa powder, brown sugar, chocolate chips.
I've even added protein powder.
It's really up to you here.
Fruit:
Frozen fruit works great, but I've also added fresh and enjoyed the results.
So many options to create your own overnight oatmeal recipe.
Here is one of my favorite overnight oats recipes to give you a foundation for creating your own overnight refrigerator oatmeal.
Recipe Check List
1/3 cup old fashioned oats or rolled oats
1/3 cup milk choice
1/2 cup Greek yogurt
1 Tablespoon seeds (optional)
1/2 Tablespoon Nut butter (optional)
1 teaspoon honey
1/2 cup chopped frozen or fresh fruit
How to make delicious breakfast oats:
To the mason jar, or container, layer in this order:
Uncooked oats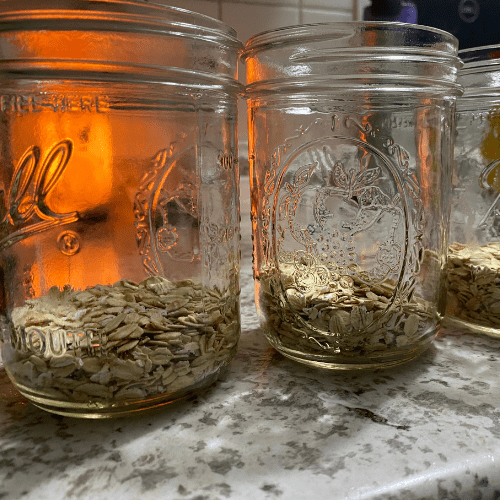 milk.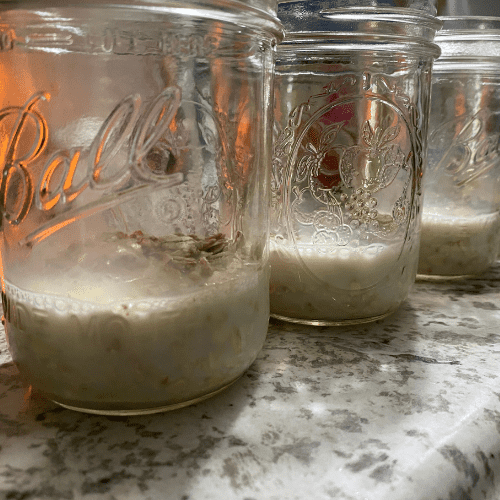 seeds
Honey
Greek Yogurt.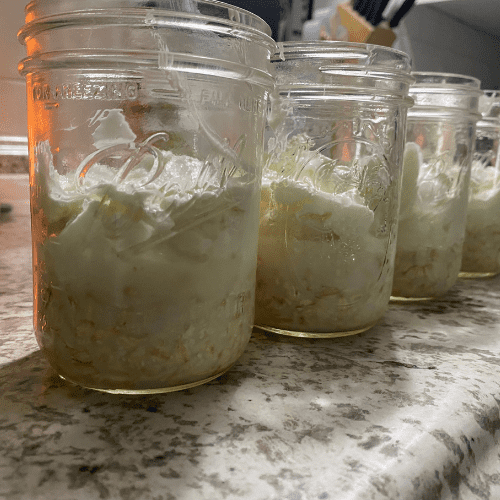 Nut Butter.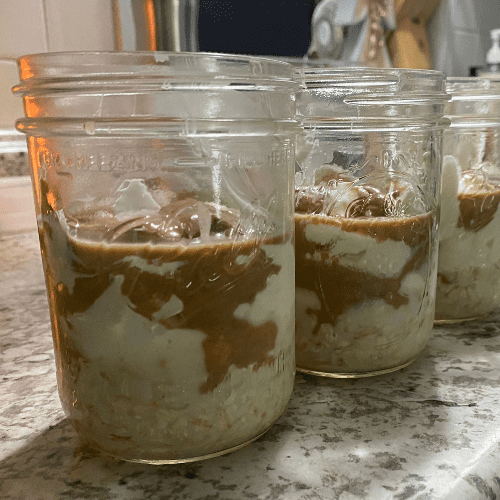 Top with frozen fruit.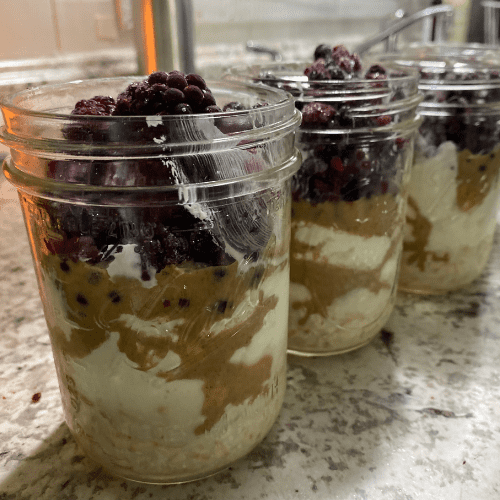 Give the ingredients a good stir to combine.
Cover the container.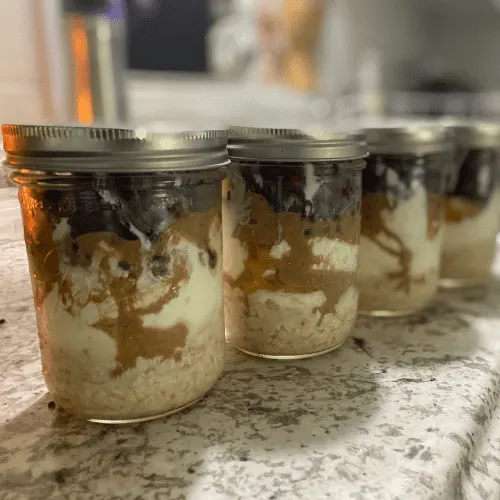 Place it in the refrigerator for 8 hours (an overnight soak) or longer.
Remove the jar when you're ready to eat a nutritious breakfast.
You can eat in the microwave in 30-second increments, stirring after each one, repeating until you have hot oatmeal, or dig in and eat it cold or at room temperature.
Tips:
Try and keep your ingredients healthy.
I mean, we all love refined sugar and sweets, but everything in moderation.
So add a little brown sugar if you want, but try and keep things like chocolate chips to a Tablespoon.
Oats to the amount of liquid ratio is 1 to 1.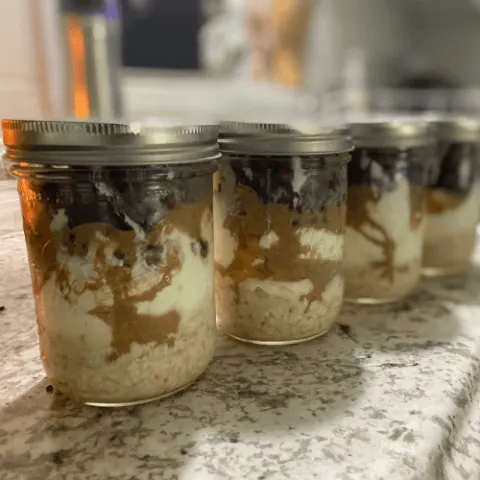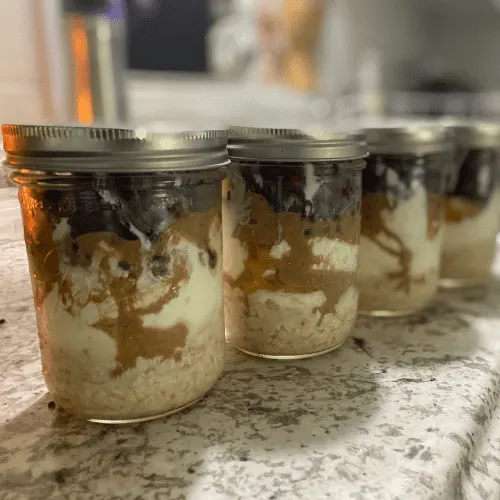 Overnight Refrigerator Oats Recipe
Total Time:
8 hours
5 minutes
Enjoy this Overnight Refrigerator Oat recipe. Known also as refrigerator oatmeal, fridge oats, overnight oats, no-cook oatmeal-this recipe is easy and easy to customize.
Ingredients
1/3 cup old fashioned oats or rolled oats
1/3 cup milk choice
1/2 cup Greek yogurt
1 Tablespoon seeds (optional)
1/2 Tablespoon Nut butter (optional)
1 teaspoon honey
1/2 cup chopped frozen or fresh fruit
Instructions
To the mason jar, or container, layer in this order:
uncooked oats.
milk.
seeds
Honey
Nut Butter.
Greek Yogurt.
Top with frozen fruit.
Give the ingredients a good stir to combine.
Cover the container and place it in the refrigerator for 8 hours (an overnight soak) or longer.
Remove jar when you're ready to eat a nutritious breakfast