We received Ouchies! bandages in exchange for this review. All opinions and my kiddos love for bandaids remain our own.
Ouchies Review
With six kiddos I've seen a lot of Ouchies! Some have unfortunately required medical attention outside of Mom's abilities, but for the most part, a band-aid heals and lessens the pain!


My youngest, Li'l Man, is rough and tough. He sports a new bruise or abrasion every day. As he has grown, so has his imagination! He once fought an apricot tree and lost, but more recently, he came inside and had a scratch ALL the way down his back. When I asked him "What happened?" Here is what he told me…
"I was outside playing when over the wall came Saber Tooth. I had to transform into Wolverine. We had a battle and he got me right here (points to his back). But don't worry, Mom. I saved the day!"
Ouchies was created by a dad who was tired of boring beige bandaids. He really outdid himself!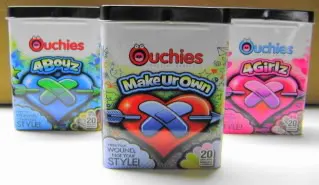 For this review we were sent three tins of Ouchies–A Boyz, A Girlz and Make UR Own.
When we opened the tins my kiddos immediately started calling "dibs" on bandaids. I told them I thought perhaps we should wait and let the "boo-boos" determine the pecking order of selection.
My son was drawn to the A Boyz…after all he's a boy.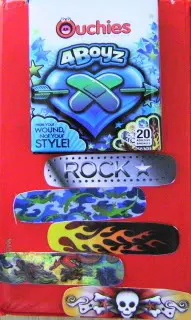 He had to "think" about which one he would use first, but after a few minutes declared the blue camouflage with green geckos to be his bandaid of choice!
Other's in this group included "Rock Star"…where the Star is a picture. It looks like it's metal. Pretty cool.
There are flames and a Japanese inspired bandaid that features dragons and skeletons!
Each bandaid comes wrapped individually so they're sanitary and convenient for that travel first aid kit–or purse!
My girls were, of course, all about the A Girlz tin.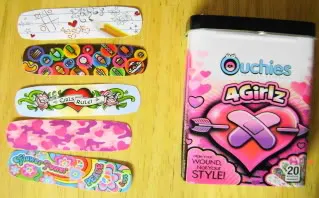 They loved all of the designs, however, they BOTH fell in love at first sight with the "Girls Rule" Tatoo bandaid.
Other designs in the A Girlz Tin are Flower Power, Pink Camouflage with Hearts, and Desserts & Doodle.
Each Ouchies tin comes with four of each design.
Tins start at $5.00 for 20 bandaids.
By far the tin that topped the list of "must get an ouchie and try" was the Make UR Own!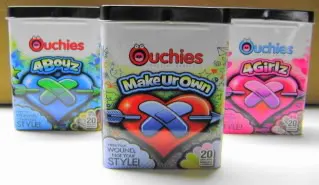 This tin is for those kids who want to design their own bandages. Complete with 3 markers (Blue, Red, Purple), this tin box comes with 20 adhesive bandages in 5 colors (Blue, Pink, Purple, Green, Yellow).
This was so popular in fact that later that day when the kiddos threw Mom's rules about running inside to the wolves and took up racing through the house, this was the tin that got used. An Ouchie to the knee brought hysterical sobs…until I said, "Let's get a bandaid"!
My six year old enjoyed decorating her own bandaid and making the siblings jealous!
Other styles of bandaids offered by Ouchies include:
There's only one series of characters that directly connects to the personalities and emotions kids feel every single day, and that's Mr. Men & Little Miss.
Ouchies are available across the country at retail stores. Here is a link to help you find a location near you.
You can also purchase Ouchies online through their website.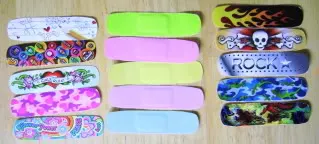 Disclosure: No monetary compensation was offered or accepted for this post. I was sent the three Ouchie tins mentioned in this post for review purposes. The opinions above are my own and were not in any way influenced by the sponsor. Other's experience may vary.