This online divorce in Florida definitive guide helps understand the Divorce laws in Florida which are slightly different compared to the rest of the United States. Both parties getting a divorce are treated equally in Florida, as it is a no-fault divorce state. In Florida, the courts stay unbiased, irrespective of whether one or both spouses are guilty of any wrongdoing.
In Florida, one of the spouses may procure a divorce decree unilaterally, even if the other party has no intention of ending the marriage.
However, to keep the divorce simplified, the divorcing couple should be in agreement with the decision. It makes the processes quick and inexpensive in the Florida court system. For spouses that agree to an uncontested divorce, Florida allows for a simplified dissolution of marriage where the spouses apply as co-petitioners and avoid the procedure of serving divorce papers.
If a couple chooses to go for a contested divorce to dissolve their marriage, each will hire a lawyer. Conversely, in the case of an uncontested divorce, each spouse has the option of hiring a divorce attorney but doesn't have to. They can choose to file for an online divorce, without an attorney, and reduce divorce costs.
In an uncontested divorce, the attorney's role is frequently limited to educating the client about family law. So it is not a necessary expense.
In Florida, the spouse who initiates the proceedings is known as the petitioner, while the other is known as the respondent. Neither role, however, derives any benefits or advantages in the court of law in Florida. The main difference comes in filing for divorce. The petitioner files the petition, and the respondent files the response. After that, both parties are treated equally by the court.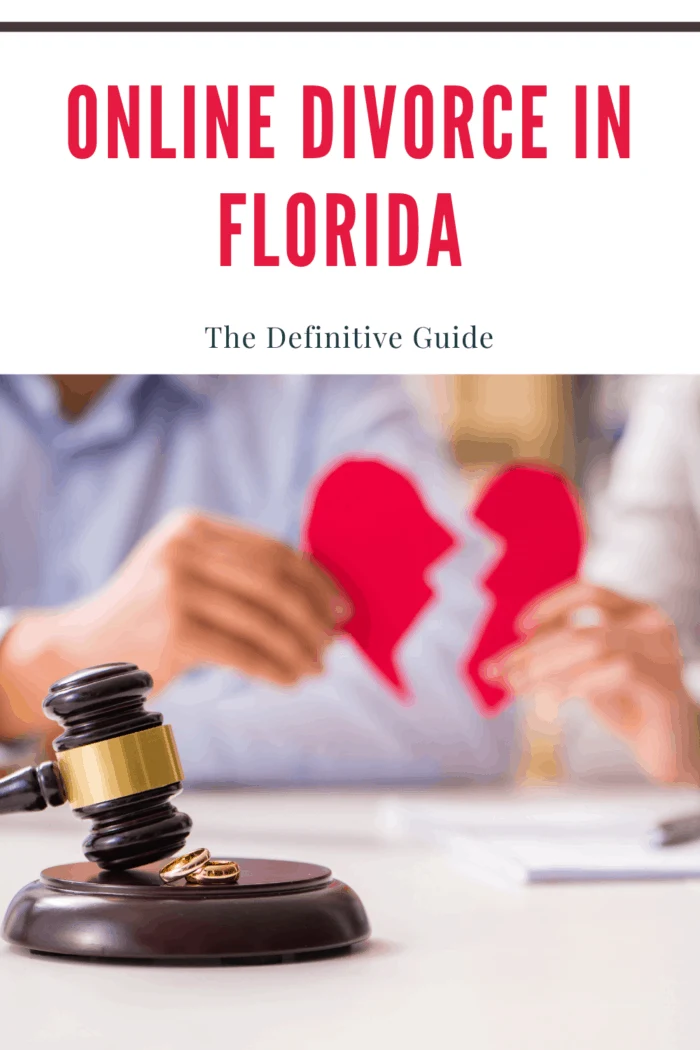 Florida: an equitable distribution state
In Florida, family law works upon an equitable distribution model for splitting up assets and marital debt. As so, the court presumes a 50/50 split. After that, it makes a decision based on fairness.
The court considers factors such as which spouse was the primary earner in the marriage, both parties' health and education, and which parent has primary custodianship of the children when splitting the assets and marital debt.
In most cases, as a part of the divorce process, either spouse must fill out a Family Law Financial Affidavit. Generally, only the marital property is split, and each party keeps the assets they owned before the marriage.
A divorcing couple can also come up with their own divorce settlement agreement. In it, they can define how they choose to divide their marital assets. Florida Law will serve as the guide in this case. If the settlement agreement shows signs of being fairly negotiated, it will be accepted by the court.
Florida residency requirements
As per Florida law, the state law may dissolve a marriage only if one of the spouses has resided in Florida for at least six months.
To prove they meet this requirement, a Florida resident must produce an identification issued by the state of Florida. Alternatively, the petitioner may produce a witness to testify the fact. The witness should be willing to sign an affidavit that states that the petitioner or the petitioner's spouse has resided in Florida for the specified time.
Cooling off period in Florida
As per Florida divorce laws, 20 days must pass after the divorce petition is filed before a final judgment can be issued. Despite this minimum cooling-off period, uncontested divorce proceedings in Florida typically take longer than 20 days. Usually, an uncontested divorce takes a few weeks.
A contested divorce, in comparison, takes much longer.
Child custody in Florida
Child custody is divided into two types, physical and legal custody. Physical custody is associated with where the child resides and the parent that makes daily care available.
Legal custody is concerned with who makes important decisions for the child over healthcare, religion, and education.
Physical and legal custody does not need to be split equally. Parents may instead choose to devise an arrangement that works for the family.
Initially, Florida law will presume that the custody of the children should be divided 50/50. The court then devises additional arrangements as and when required.
Co-parenting in Florida
Devising a parenting plan is among the most important aspects of reaching a divorce settlement agreement when the couple has children. A parenting plan will specify if custody and parenting time will be split or if one parent will be the child's primary caregiver.
Fee for filing for a divorce in Florida
For a basic divorce filing, the Florida court system charges a filing fee of $408.
Additional fees may be associated with divorce modification, child custody, child support, and alimony.
If the petitioner cannot afford the fee, they can apply for a fee waiver.
Is filing for a divorce online a good idea for me?
The internet has brought about a significant transformation in our lives in several ways. Applying for a divorce online is one of the ways the internet works in our favor.
Filing for a divorce over the internet is an option for couples that have agreed to an uncontested divorce and want assistance with the paperwork preparation to lower the stress, time, and costs associated with the dissolution of marriage. They also have the convenience of having it all done in the comfort of their homes.
If a couple resides in Florida, an internet divorce is an affordable alternative as a middle ground between a do-it-yourself divorce or using an expensive attorney.
Many online divorce companies offer comprehensive assistance with selecting and filling out all the appropriate forms. Top online divorce sites also provide instructions on how to file the completed documents with the court.
Necessary filing requirements for getting an online divorce in Florida:
The marriage should be irretrievably broken (the no-fault ground for divorce in Florida). When both spouses agree the marriage is irretrievably broken, they can file for a divorce without proving any fault in court.
One of the spouses must have lived in Florida for the last six months to file for a divorce.
Couples with children must undertake a 4-hour parenting course before being issued a divorce decree. The courts should inform the parents of their responsibilities toward their children while the divorce occurs.
Filing a divorce online in Florida
According to Divorce Mag, an online divorce in Florida starts by finding the best online divorce service. There are many good online divorce services, and the best choice for you may depend on price or experience. Review the fee schedule and benefits, and check out reviews from past customers to help you decide.
After choosing a service, you'll need to make sure you qualify by answering a few quick questions about your divorce, like if you have agreed with your spouse to have an uncontested divorce, your state of residence, and if you know where your spouse is located.
If you qualify, you'll be asked to complete a questionnaire about the details of your divorce. The platform will use the information you provide to select and complete the required forms for your case. You'll be asked to pay a fee to complete the service, ranging from $139 – $500, which is much cheaper than paying an attorney for the same services. You're completed documents are typically made available in a matter of days, ready to sign and file with the courts. The best online divorce services also provide you with easy-to-follow filing instructions.
It is safe to conclude that filing for an online divorce in Florida is easy. But going through a divorce is always a complicated process and affects one's psyche. Hence, professional assistance, such as online divorce services or a divorce attorney, will simplify your matters. When you are proactive about understanding the process, you are better situated to counter any pitfalls or complications that may arise.