We read every night at our house. Sometimes, getting The Divine Miss M to pick up a book and read on her own is challenging. Then I went to Mexico. I didn't leave specific instructions about the evening ritual, just what time they were to be in bed. When I returned home from my trip, The Divine Miss M was sharing with me this "awesome book I discovered while you were gone" book. It is Night Buddies, Adventures After Lights-Out!
I smiled. I had received it to review before I left and had elected to wait until I returned to read it with the kiddos. The Divine Miss M found it on the book shelf and was curious. She was five chapters in when I returned.
Night Buddies is about a nighttime adventure of a young boy named John, who is not ready to go to sleep, and a bright red crocodile named Crosley, who turns up under John's bed. As the stories in each book open, this unlikely pair sneaks out of John's house using Crosley's I-ain't-here doodad, which makes them both invisible to John's parents. They embark on the Program, the Night Buddies word of Adventure, and make their way around the Borough chasing down enemies and cleaning up the mishaps at hand.
Better still is the fact that Miss M was reading to Li'l Man, who was just as smitten with the book.
What I really love about this book goes beyond getting my nine year old to read on her own. It is the fact that night after night my children spend quiet time making up their own adventures as "Night Buddies"…we have dinner conversations where I catch glimpe of their imaginations as they create elaborate stories about their adventures together.
Then there is the author, Sands Hetherington. He and his son, John, created the Crowsley crocodile character during months of bedtime story give-and-take. I like to think it was similar to my own children's project, since reading Night Buddies. Hetherington was born in New York City, but now lives in Greensboro, NC, not far from where we are now.
I'm celebrating Night Buddies at our house. It has been the book that my children have picked up on their own and discovered just how magical reading can be. Isn't that what we all hope for as parents?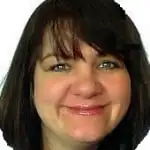 Julee is a quirky, dorky, North Carolina Transplant with an appetite to taste the world, meets its desserts and blog about them. When she's not behind the computer you can find her playing with her family, reading a good book, being a Bon Jovi fangirl and celebrating the little things.
Disclosure of Material Connection: I received one or more of the products or services mentioned above for free in the hope that I would mention it on my blog. Regardless, I only recommend products or services I use personally and believe will be good for my readers. I am disclosing this in accordance with the Federal Trade Commission's 16 CFR, Part 255: "Guides Concerning the Use of Endorsements and Testimonials in Advertising.".Julee Morrison