There is nothing sweeter than baby products, which get parents excited to buy more and more before their baby arrives. The preparation for the newborn's arrival can include setting up the nursery to collect sleeping gear, eating essentials, diapers, and the list goes on. Parents can make this process more efficient and fun by creating a list of products that they need and want.
Here, we have compiled some important products to consider when choosing and buying baby products. This guide will help you learn about what products soon-to-be mommies usually add onto their baby registries which they can shop and share with their friends and family.
First, you should create an account with MyRegistry.com, known as the largest Universal gift registry platform. MyRegistry allows parents to add baby products from any store in the world onto their baby registry and combine registries that they may have at different stores into one list.
Already created an account? That's great! Once you have an account with MyRegistry, it is then time to start your baby registry, a list of products you want and need for your baby. Coming up with a list of baby products may be intimidating for first-time moms, but don't worry. We will break it down for you.
Keep reading to see the complete list of products that we think you should never forget about when creating your registry.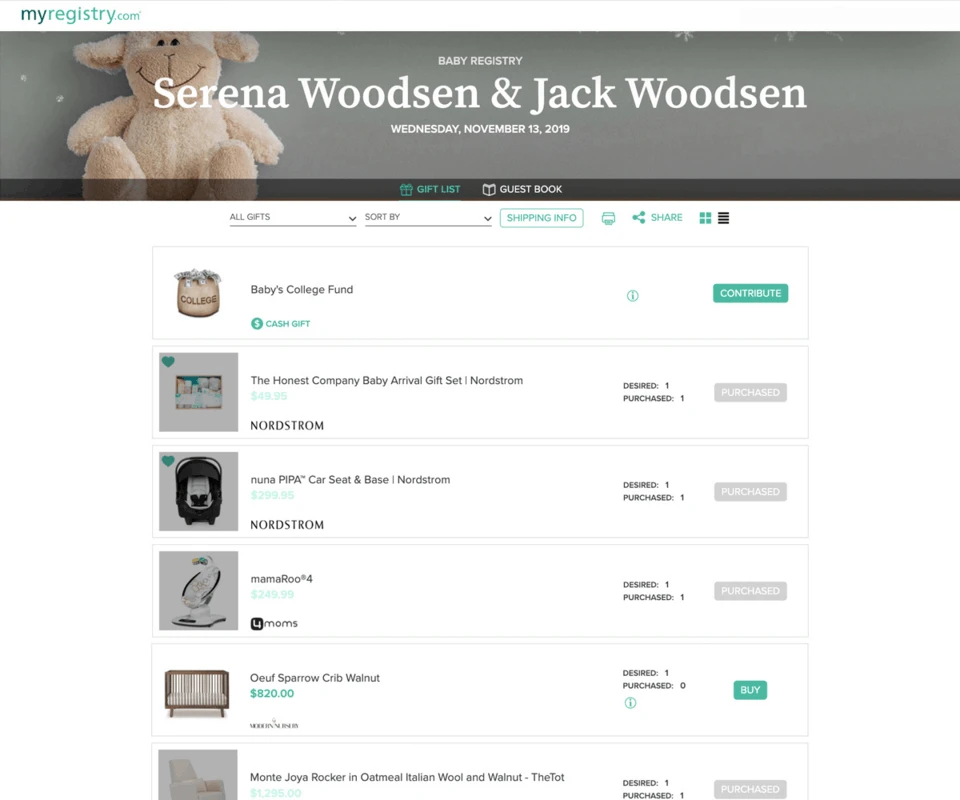 Baby's Wardrobe
For new parents, it can be hard to hold off from shopping every cute, little thing for their baby, but you have to be more practical and buy clothing that will be comfy and cozy for the infant. It is also important to remember that babies grow fast, so you may want to consider various sizes and a limited amount of pieces. Here are a few clothing pieces that you should include:
Shirts
Pants
Onesies
Pajamas
Swaddle
Sweaters
Quilted Bunting
Socks
Stroller blanket
Nursery Essentials
For decorating a baby's room, you need furniture and bedding to make it complete. MyRegistry makes it pretty easy for parents to buy baby furniture by providing inspiration boards. Some of these nursery essentials include:
Crib
Fine mattress
Mattress sheet
Changing table
Toy basket
Rocking chair
Baby's Diaper Fundamentals
For some people changing a diaper is a daunting task, but believe it or not, once you see your baby, you will get the hang of it. Diapers are a great and affordable gift to ask for when planning for a baby shower. On MyRegistry, parents can add specific quantities for the different products on their registry. Stack up on some of the following items:
Disposable diapers
Scent-free baby wipes
Diaper lotion
Diaper bag
Feeding Items
Whether you will feed the baby yourself or pick bottle feeding instead, you need to have many products for mealtime. Some of the important supplies include:
Bottles and bottle nipples
Bottlebrush
Milk storage container
Bibs
Burp napkins
Bottle and nipple sterilizer
Final Thoughts
Besides all these traditional products, there are a lot more to search for in your baby registry. You can also add the Cash Gift Fund option; This will allow you to ask friends and family to contribute money to buy more expensive items without feeling ashamed or embarrassed since it is usually not traditional to do.
So don't forget to start your baby registry with MyRegistry.com to get all of these benefits! Keep shopping and having fun!
---
Resources:
https://www.4moms.com/collections/seats-swings
https://www.myregistry.com/baby-registry.aspx