I received Nerium products in exchange for this post. All opinions are my own.
My love affair with Nerium started with Nerium Day and Night Cream for Smoother Skin and now has grown to include Firming Body Contour Cream and EHT Age-Defying Supplement. The entire product line is giving me hope that as I age, beauty can still be mine.
I was a teenager in the 1980s when tanning beds were popping up everywhere. I partook in generous sessions. My skin, back then, was a gorgeous golden brown. Fast forward 20 years, the villain skin cancer became real as my dad arrived with a six-inch incision down the side of his cheek from removing a mole no bigger than a pencil lead. Ten years later, I was in the dermatologist's office, having needles pushed into my skin and the removal of moles, one of which was skin cancer. Now, I am far more cautious. I'm taking better care of my skin, and while I can't totally reverse the damage I did in my youth, I can make better choices in skin care.
I spent far too much time in the morning and evening with my skin regimen. Washing, applying Vitamin C serum, followed by hyaluronic acid, retinol, and then a moisturizer. Now, I simply wash my face, apply Age-Defying Day Cream NeriumAD® Formula or Age-Defying Night Cream Nerium AD® Formula and head out in the world, face forward. Out of the shower, I use Firming Body Contour Cream NeriumAD® Formula, and I swallow an EHT Age-Defying Supplement with breakfast. It's a family of multi-functional products designed to target multiple signs of aging through a simplified approach. They are the one-stop shop of my beauty care–no need to apply the spot reducer, the brightener, or the moisturizer. It's saving not only money but my time.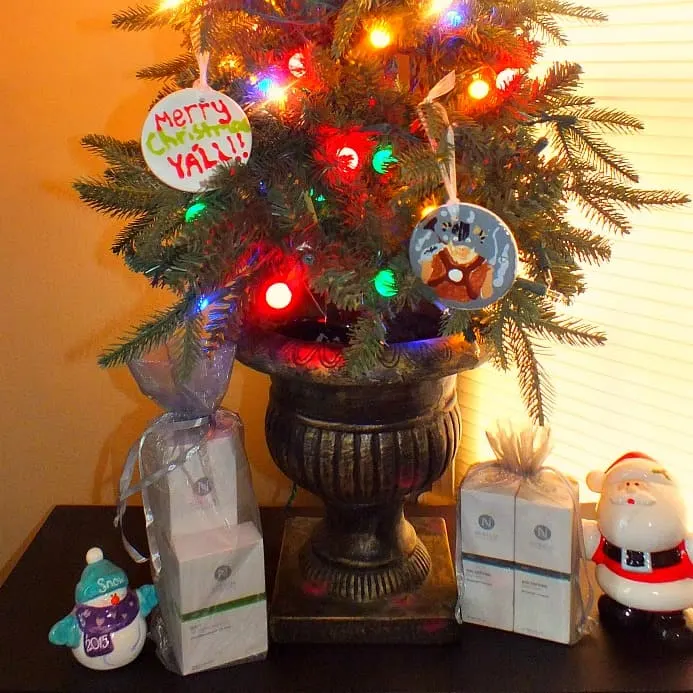 With the holidays here, Nerium is the perfect gift to find under the tree!
Each product is amazing on its own or propels the power by adding the other Nerium products.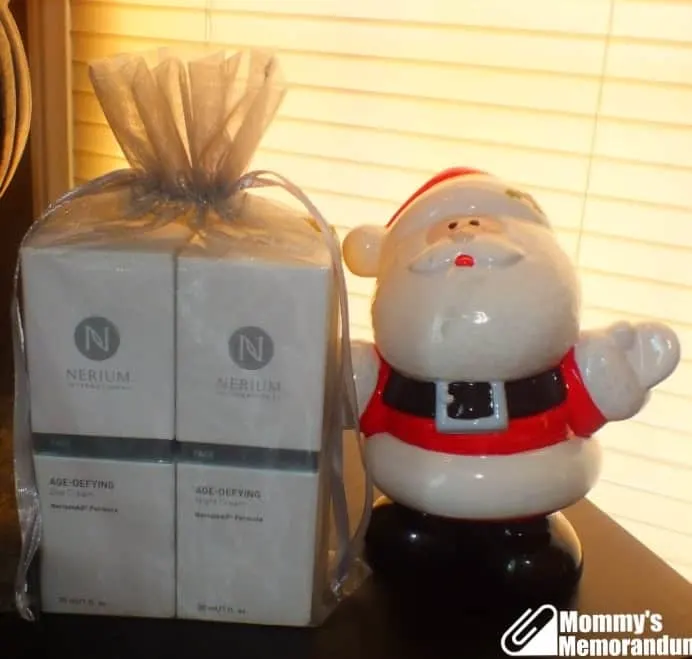 As I previously mentioned, it was two products that won me over.
Nerium Age-Defying Day Cream NeriumAD® Formula or Age-Defying Night Cream Nerium AD® Formula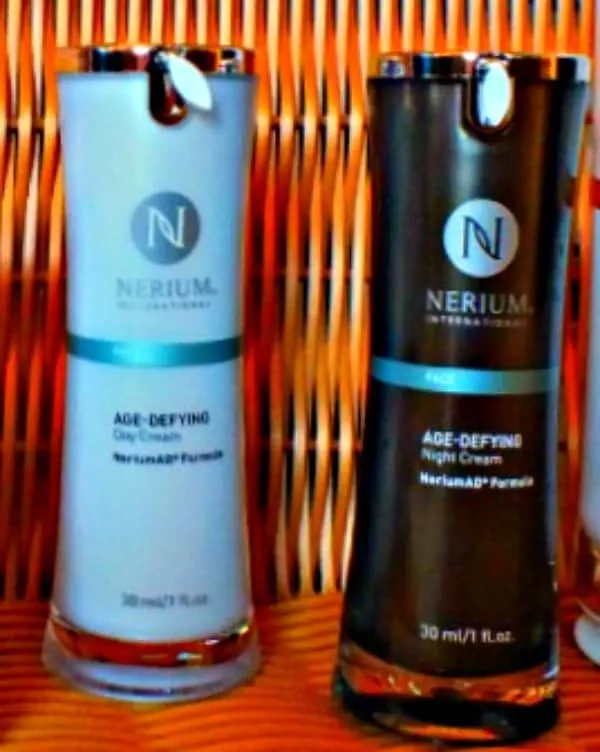 The packaging is not only beautiful but practical. I love the pump bottles. They fit in my hand nicely, pump easily and fit on a shelf very compactly. I appreciate that the bottles are easily colored for which I am going to be using (day or night)..this made it easy for me to grab and go in my routine. Each bottle has a small plastic "leaf" piece that is in the dispenser. Do NOT throw this away or your bottle will clog. I kept mine, but it was sometimes a challenge to get back into the dispensing hole. I also wish there was a view where you could see how much lotion remains in the bottle.
The product itself is creamy and non-greasy. There is a subtle smell but nothing outrageously fragrant. It is easiest to apply on a slightly damp face or with damp fingers–otherwise, it is difficult to spread evenly.
To apply the recommended use is 3-4 pumps per application. I started with this, but after a week, my skin had smoothed out to the point that 2-3 pumps covered my face, neck, and part of my chest.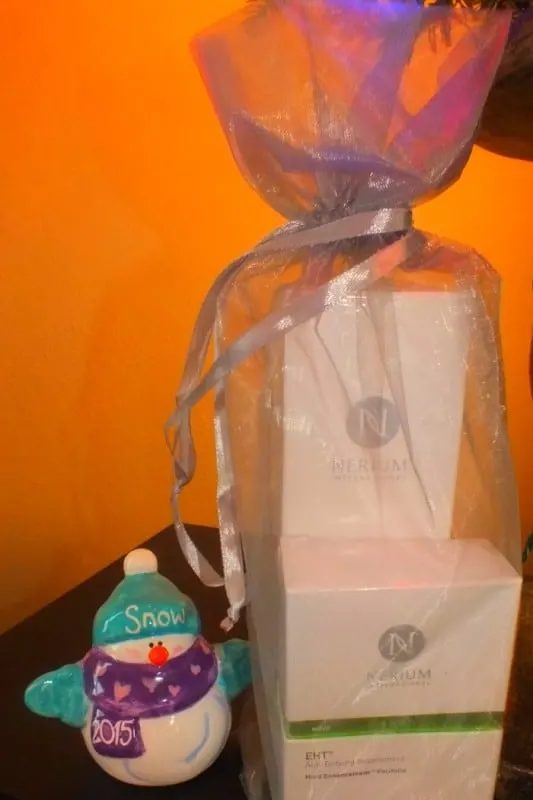 Also, part of the Nerium family is the Firming Body Contour Cream NeriumAD® Formula and EHT Age-Defying Supplement.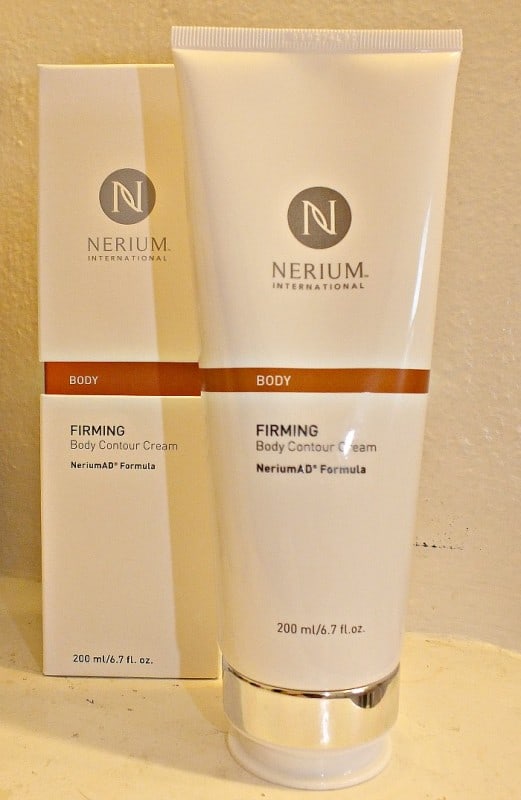 Nerium Firming Body Contour Cream
This body contour cream is great. It is a clinically tested firming treatment, fortified with forskolins root and caffeine and powered by NAE-8. It smoothes, tones, and tightens problem areas and helps improve the appearance of cellulite and dimpled skin. It also has Green tea leaf extract, and white willow bark provides soothing benefits. Add shea and cocoa butter, and you have hydrated skin.
Nerium EHT® Age-Defying Supplement
There are many supplements, but Nerium's EHT Age-Defying Supplement was created to protect against mental decline. This groundbreaking formula includes an exclusive and patented EHT® extract, a natural mixture of bioactive molecules isolated from coffee. Fortified with other rejuvenating ingredients, this supplement:
Promotes better cognitive function and overall brain health
Fortifies and strengthens natural brain functions
Boosts the body's immune system
I'm not going to tout that Nerium works overnight. It took about two weeks for me to really see and feel a difference.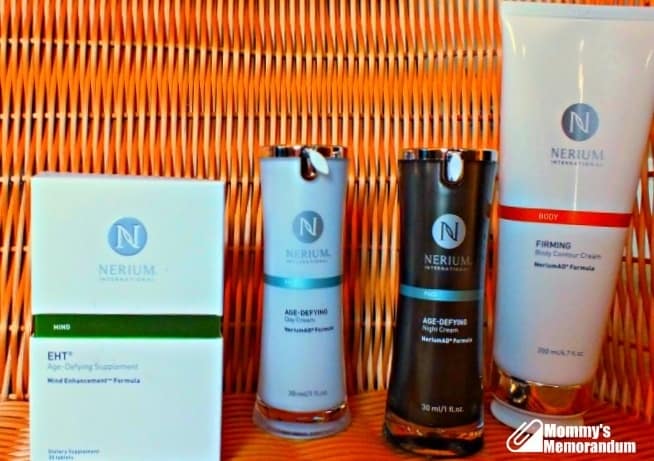 Nerium Age-Defying products are a great addition to any beauty regimen! Add them to your list, or give them to someone on yours. The entire product line is available directly from the Nerium website.