I received product from Xlear in order to provide an honest assessment of the Xlear Nasal Spray
Xlear, pronounced Clear, offers a soothing, moisturizing, all-natural nasal spray. Allergies seem to have become part of me this year. My eyes water. My throat itches. I've been dedicated to using Xlear Nasal spray as it promotes upper respiratory healthy. When used as part of daily hygiene, the xylitol nasal spray not only hydrates the sinuses, but also washes away airborne contaminates and pollutants.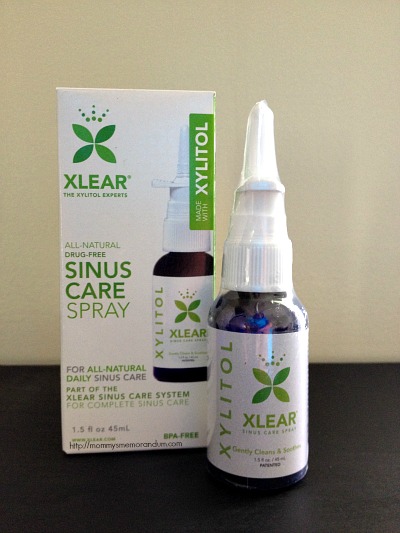 Xlear Nasal Spray is a combination of Xylitol and saline that soothes and moisturizes the sinus and nasal passages.
We all understand the nose and sinuses are designed to act as filters and form the first line of defense against airborne contaminates like dust and other irritants. Xlear didn't invent nasal and sinus cleansing, but have certainly perfected it bringing the past with modern research and combining the benefits of all-natural xylitol. It's easy to use and tailored to meet any need.
If you aren't yet familiar with Xylitol, it's a natural sweetener derived from tehh fibrous parts of plants with a sweet taste identical to sugar with absolutely NO aftertaste. It has a low glycemic index of 7 (compared to sugar's 83) and is low in calories. In addition to be a sugar substitute, xylitol offers a great deal in health benefits.
Since the 1940's xylitol has been used in Scandinavia and to date, as been the subject of more than 1500 clinical and laboratory studies that have clearly revealed xylitol's health benefits. Dental associations around the world are touting xylitol's praises because it promotes better oral health and may reduce the risk of tooth decal. Other studies have shown that when certain bacteria are exposed to xylitol, they lose their ability to stick to the tissue in the mouth, nose and upper respiratory tract. Furthermore, xylitol has a cooling and soothing effect, making it ideal for both taste and good health.
The Xlear Nasal Spray is all natural and contains xylitol, purified water, salt, and grapefruit seed extract. Xlear's Xylitol and saline solution is hyper-osmotic, which draws moisture and keeps the nasal passages and sinuses more moist and clean than saline alone. Xylitol is the ingredient that sets Xlear nasal spray apart from all of the other nasal sprays!
The Xlear Nasal Spray line consists of several all-natural products. None of them contain chemical antihistamines or decongestants, which can leave your airways and sinuses dry. Dry airways are easily irritated and extremely vulnerable to attack from external contaminants.
Xlear Nasal Spray Benefits
The Hyper-osmotic solution pulls moisture toward sinuses to keep them moist and clean
No antihistamines or decongestants to dry you out
No side effects – Xylitol Nasal Spray is an all natural product
Washes away airborne contaminants and pollutants
Protects and moisturizes sinuses and nasal passages
Soothing to irritate or inflamed tissues.
Xlear® Nasal Spray – Pump-Mist
Retail Price: $13.49
Get the classic Xlear® Nasal Spray formula, with optimal amounts of Xylitol, in a gentle, easy-to-inhale mist dispenser.

Xlear Nasal Spray is:
All-natural

Drug Free
Available Over the Counter
Safe and effective for all ages
Will not react with any medications or drug
Has NO side effects
Discover the difference Xlear Nasal Spray can make in your life, eliminating allergies, dry nasal passages and improving over-all upper respiratory health.