Our Mother Knows Best Book Review
Disney Book Group is partnering with me for a Mother Knows Best Book Review!
MOTHER KNOWS BEST, is the newest book in the Disney Villains series!
It is the fifth in series.

Rapunzel is adventurous, though naive.
She is passionate about art.
MacKenzie loves that she will stand up for herself when the situation requires her.
And then there is Mother Gothel.
To me, Mother Gothel is a villain that Disney didn't really define.
When Mother Knows Best: A Tale of the Old Witch arrived, I left it out in the open.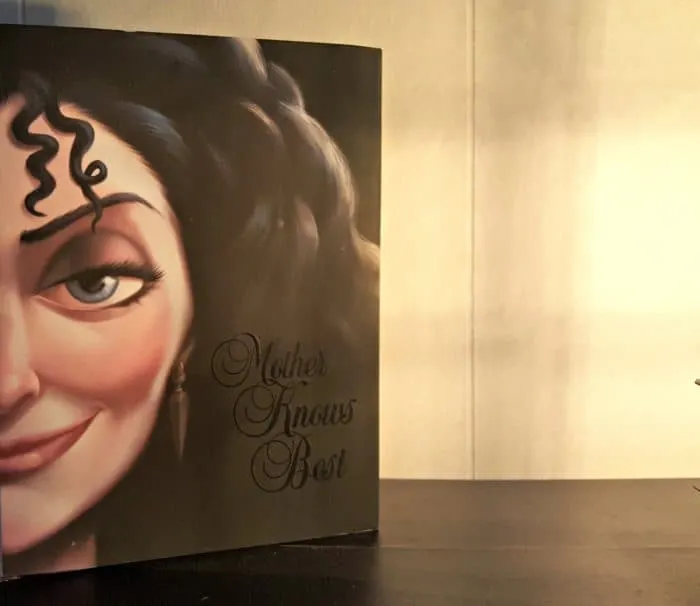 The more it sat there, the more curious I became.
I picked it up and the more I read, the more I learned about Mother Gothel.
There were three sisters, who live in a dark place, one of them, Mother Gothel, wants only to care for them.
I learned how her heart of pure black came to be and the thoughts the consumed her when she captured the baby Rapunzel.
If you've heard the story of Rapunzel, you know it begins with a golden flower.
A golden flower that has the power to keeps someone young and beautiful.
A golden flower coveted by an old witch but used to save a dying queen who gives birth to a Princess.
A princess whose hair is magical.
The old witch steals the princess and locks her away in a high tower, raising her as her own.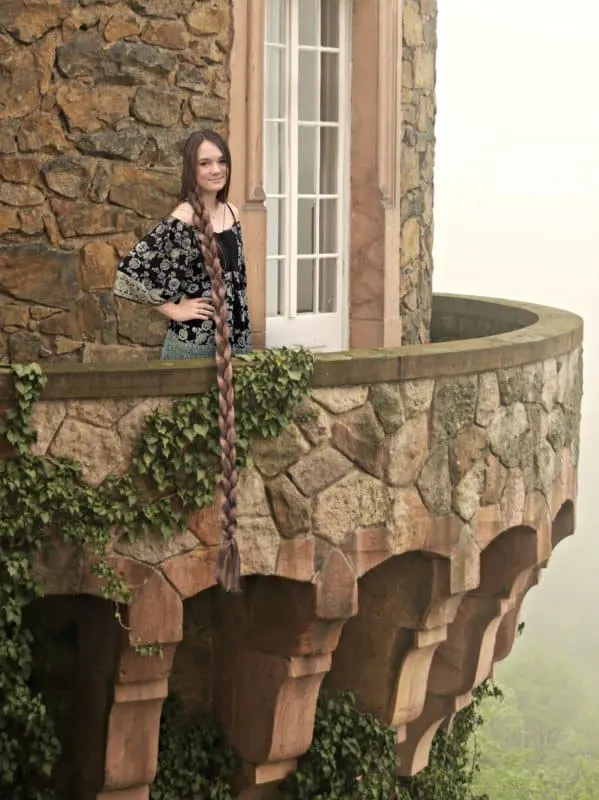 It's only half the story.
The other half?
It is a tale of the old witch. Her name is Mother Gothel.
It occurred to me one evening as I sat the book down, that perhaps Disney intended not to define Mother Gothel.
She is, in a sense, the character of the stepmother, but she doesn't have the theatrics.
She seems to nurture with offers of warm hazelnut soup, an abundance of hugs, and endless promises.
Then the backhanded compliments begin and our senses go to alert.
We learn she stole a baby.
The plan seems genius–had it not been for the daring Flynn Rider, she would have gotten away with it.
MacKenzie will remind me, Mother Gothel and I offer similar advice:
"Ok, Rapunzel, stop with the mumbling. You know how I feel about the mumbling, blah, blah, blah it's very annoying. I'm just teasing; you're adorable! I love you so much."
I mean, seriously?
What mother understands the mumbling?
Or how about when your child is being feisty and breaks the house rules.
Don't you throw down:
"You want me to be the bad guy? Fine. Now, I'm the bad guy."
Which is usually followed by:
"Rapunzel, don't ever ask to leave this tower again."
And, honestly, how can you not love someone who could teach a class on sarcastic banter?
She is also a master schemer. It does tend to be for her own selfish reasons, rather than for, say, planning a surprise party.
There's also that sinister moment she ruined the lantern lighting.
I think the realization that Mother Gothel might be Disney's greatest Villain rests in the fact, that she could be any of us.
She has characteristics that so easily walk among us.
I think of Mother Gothel and find eery similarities to Susan Smith, Amber Pasztor, or Diane Downs.
Not so much the murder part, because Mother Gothel needed Rapunzel to keep her beautiful, youthful appearance, but more in her personality.
A mother's selfish greed for what they want overrides the best for their children.
Mother Gothel with her secrets and scheming is one of the most realistic villains, she is the abusive mother.
She allowed the worst in life to get to her and made poor choices that would be her demise.
One of the most heartbreaking moments for me in the book is when Mother Gothel begins to age.
I'm on the backside of 50 and can relate to how much a body changes and how our appearance is sometimes unrecognizable to ourselves.
Mother Knows Best: A Tale of an Old Witch is part of the Disney Villians Series by Serena Valentino.
It is recommended as a young adult book (ages 12-18).
ABOUT THE AUTHOR
Serena Valentino has been weaving tales that combine mythos and guile for the past decade.
She has earned critical acclaim in both the comic and horror domains, where she is known for her unique style of storytelling, bringing her readers into exquisitely frightening worlds filled with terror, beauty, and extraordinary protagonists.
The books in the best-selling VILLAINS series are recommended for best reading when reading in the following order: Fairest of All, The Beast Within, Poor Unfortunate Soul, Mistress of All Evil, Mother Knows Best.
Pick up your copy of Mother Knows Best through these retailers:
Amazon
Barnes & Noble
Books-A-Million
Indie Bound
About Villians Books:
Evil is made not born.
Book 5 in the wildly popular Villains series.
The tale of the legendary golden flower is widely known. The story has been told many times and in many ways. But always the flower is coveted by an old witch to keep herself young and beautiful. And always the flower is used to save a dying queen, who then gives birth to a princess with magical hair. Not willing to lose the flower, the old witch steals the princess and locks her away in a high tower, raising her as her own. But the princess always finds out who she truly is and manages to defeat the old witch.
And yet this is only half the story. So what of the old witch, Mother Gothel? Where does she come from? And how does she come across the magical golden flower? Here is one account that recounts a version of the story that has remained untold for centuries . . . until now. It is a tale of mothers and daughters, of youth and dark magic. It is a tale of the old witch.
Enjoy Serena Valentino's entire Villain's series.
Fairest of All: A Tale of the Wicked Queen (Book 1)

The Beast Within: A Tale of Beauty's Prince (Book 2)

Poor Unfortunate Soul: A Tale of the Sea Witch (Book 3)

Mistress of All Evil: A Tale of the Dark Fairy (Book 4)

Mother Knows Best: A Tale of the Old Witch (Book 5)

The Odd Sisters: A Villains Novel (Book 6)

Evil Thing (Book 7)
Prizing and samples provided by Disney Book Group.