This Fishful Thinking Mood Music Activity ROCKS!
What a perfect day for a new activity.
It is snowing outside and the children have been inside claiming to be fighting off boredom.
I announced that we were going to be FISHFUL THINKING and enthusiasm TKO'd our "boring day".
I made a sign for our activity…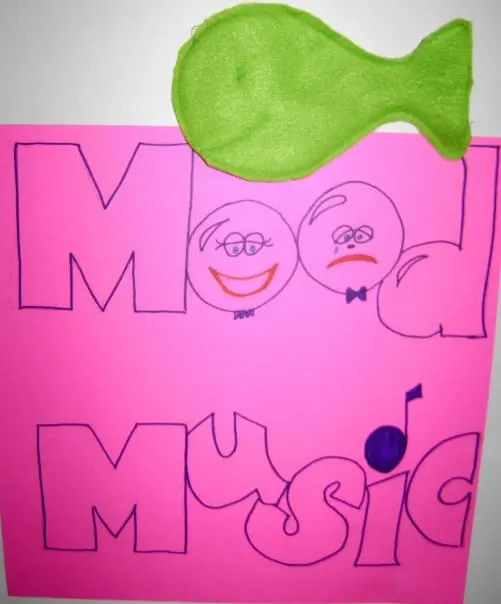 Then we talked about music. WE love music at our house! I used the radio and CD Player to play several songs and we talked about how they made us feel…
1.) Polly Put the Kettle On–made them feel like they should do something.
2.) Johnny Android, "Ball Jar", made them feel happy and miss their brother.
3.) Michael Buble, "Crazy Little Thing Called Love" made them feel happy and like they wanted to get up and dance.
4.) Bon Jovi, "Wanted Dead or Alive" brought sadness.
5.) Elvis Presley, "Jailhouse Rock" made them feel "energy"
6.) George Winston's Thunderstorm brought yawns of tiredness.
I suggested we start a band and write our own music! They were ALL about this so we dug out pots and pans, spoons, lids, a washboard, a comb, a jug, keys and a wok with marbles. Can you believe they are natural musicians and knew how to play ALL the instruments! Whew!
We named our band the "Mood Musicians" and set out to create our number one hits.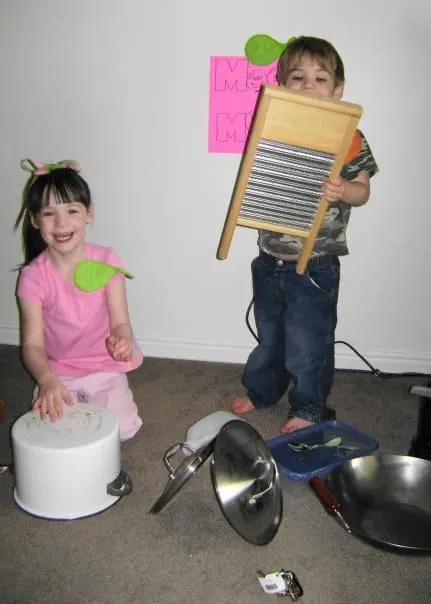 Here we play a "Happy Tune". This song features some upbeat, knee slappin', boogie accompanied by washboard and kettles and LOTS of giggles.
The second track we called "Anger Collides". It's LOUD. It is symbols crashing and some SERIOUS tears!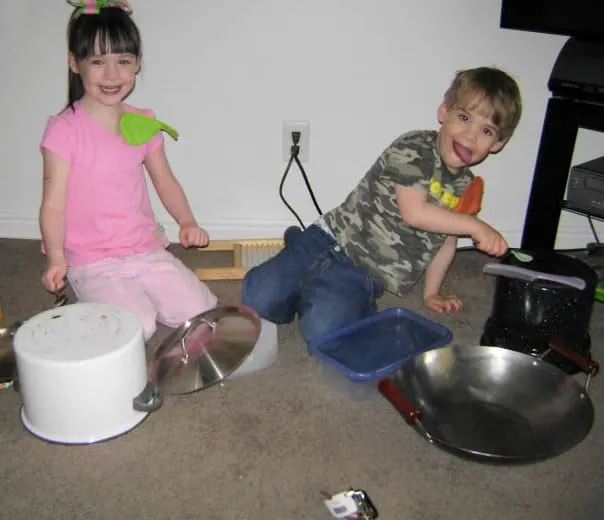 For our encore performance, the only male member of our band shouted out, "I feel like Rockin' and Rollin'" It has SEVERAL pot and pan solos, and a great impersonation of Gene Simmons' tongue!
Then we left our stage and entered the Symphony.
We listed to Pachabel's Canon in D and took turns being the conductor.
We moved our arms to the music. "It feels relaxing" they announced.
We love our new band.
We're looking forward to performing in our "HOME" stadium throughout the week.
While the show is gratis, it's definitely a performance that will have you pulling faces and feeling the beat!