Manitoba Harvest CBD Products
Manitoba Harvest is a reputable company known for its high-quality CBD products, offering a wide range of options to suit various preferences and needs. Here's the lowdown:
History of Manitoba Harvest
Manitoba Harvest started as a hemp foods company in 1998, long before the CBD craze began. Founded in Winnipeg, Canada, they were pioneers in introducing hemp-based nutrition to North America. Over the years, they expanded their offerings to include CBD products as well.
Product Range
CBD Oil Drops

Description: Manitoba Harvest offers CBD oil drops in various concentrations, allowing users to choose the strength that suits them best. They use high-quality hemp extract.
Expert Tip: Start with a lower concentration if you're new to CBD and gradually increase as needed.
Metric Conversion: 1 dropperful (1 mL)

CBD Softgels

Description: For those who prefer a convenient and precise way to consume CBD, the softgel capsules are an excellent option. They come in different strengths.
Storage: Keep them in a cool, dark place to maintain potency.
Metric Conversion: 1 softgel (25 mg)

CBD Protein Powder

Description: A unique offering, their CBD protein powder combines the benefits of CBD with plant-based protein. Ideal for post-workout recovery.
FAQs: Can be used in smoothies or mixed with your favorite beverage.
Servings: Varies by product and concentration.
Manitoba Harvest CBD Products Review
Manitoba Harvest CBD Oil Drops are derived from organic, high-quality, US sourced ingredients and created from a brand with 20 years of experience in the hemp industry.
Manitoba Harvest was founded in 1998, following the legalization of hemp in Canada.
Today, the Manitoba Harvest operates with the belief that the hemp plant can bring a positive change to everyone.
Two decades of expertise oversees each batch to ensure:
Potency options for the beginner to the tenured, ranging from 10 to 50 mg per dose hemp extract combined with organic MCT oil. Y
ou won't find additives, gluten or sweeteners, or animal ingredients. It's just CBD and MCT oil.
The Minnesota Based brand prides itself in delivering fully traceability CBD products from seed to sale.
Batches are made with premium non-GMO hemp, from US hemp farms. The hemp is sent to the brand's manufacturing facility, where extraction is done using a Supercritical CO2 process. The oil is then refined to remove THC (each bottle has less than 0.01 percent THC).
The batch is finalized with independent lab testing that evaluates microbial, chemical contaminants, and other chemical residuals and looks at the potency. Every product comes with Certificates of Analysis (COAs)–don't know how to read a COA? It's all easy to find on their website.
In addition to its high-quality ingredients, Manitoba Harvest uses sustainable practices, including the recyclable, compostable package.
The quality is extraordinary for the cost.
CBD Oil Drops:
Manitoba Harvest Premium CBD Oil Drops start at $24.99 per bottle.
The tincture is well-packaged in an amber glass bottle with a graduated dropper lid. One dropper full equals 50mg.
The tincture is clear, with no hempy or earthy taste.
I usually take ½ dropper when I wake up, and then a full dropper before bed. I find it works within about 30 minutes (time and effect varies per person) to keep me calm and focused.
I have been walking, and it has agitated an old knee injury. When it starts to flare, I add a dropper of Manitoba Harvest tincture after my walk, and within the hour, I find the pain is much less.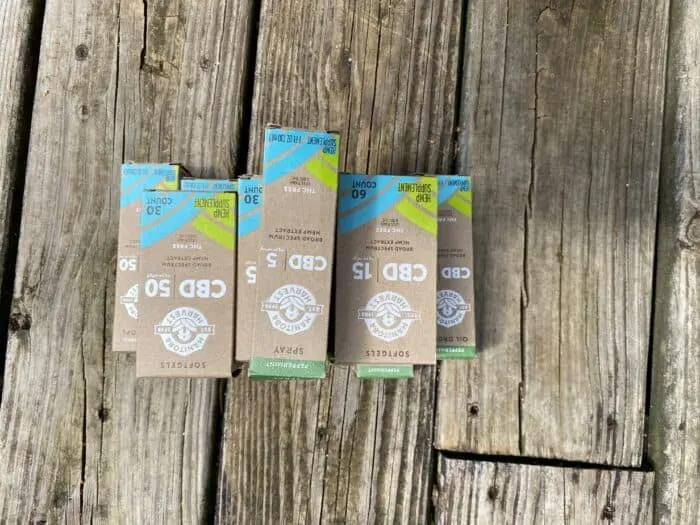 Manitoba Harvest hemp foods products are sold in nearly every health food store, as well as Walmart, Costco, and Whole Foods globally across 22 countries.
Founder Mike Fata inspired Manitoba Harvest. He lost more than 100 pounds and wanted to share the health benefits of hemp with others after he "overhauled his health with the help of hemp."
Manitoba Harvest has introduced a curated line of CBD products.
They carry two CBD Oil Drop options, CBD Softgels, a CBD Oil Spray, and a plant-based CBD Protein Powder.
CBD Peppermint Spray:
Manitoba Harvest's CBD Oil Peppermint Spray offers a convenient way to incorporate CBD oil wherever the day might take you.
Containing 5mg CBD in just four pumps, this spray is great on-the-go.
Designed to be held sublingually under the tongue for 30 seconds before swallowing, or added to your favorite beverage, snack, or salad, this CBD oil spray is a super convenient way to meet your wellness needs.
CBD Softgels:
Manitoba Harvest CBD Softgels each contain 15mg CBD and offer an efficient and easy way to get your daily dose of CBD.
I love the softgels as they are convenient to take with my supplements as part of my wellness routine.
Each soft gel is easy-to-swallow and contains 15 mg of CBD (Manitoba Harvest CBD softgels are also available in 50mg).
Each capsule contains less than .01% THC, meaning there's no chance it'll make you high. Made with organic hemp seed oil, this product is third-party tested for purity and effectiveness.
These gel caps aren't made with gelatin, so it's safe for vegans and vegetarians. Manitoba Harvest Softgels are $29.99 for 450 mg of CBD.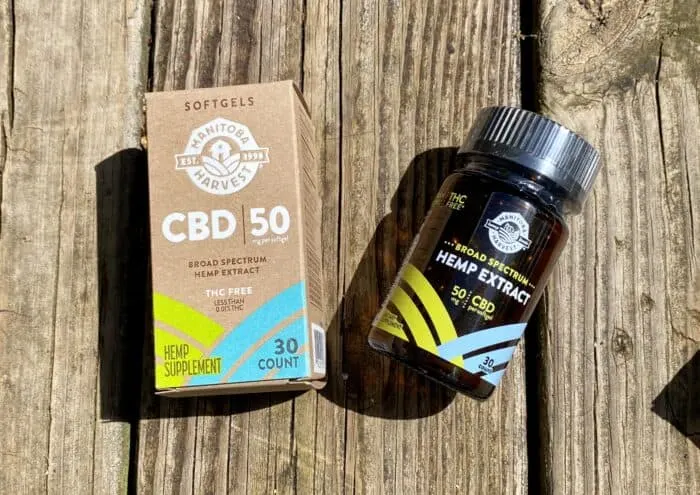 The passing of the 2018 Farm Bill is putting hemp in the spotlight. This bill allows studying hemp-derived products and also allows the transfer of hemp-derived products across state lines. It makes no restrictions on the sale, possession, or transport of hemp-derived products provided they are produced consistent with the law.
Any purchase from Manitoba Harvest is pure, potent, and free from toxins.
They offer free shipping on all orders over $49 and offer a 30-day money-back guarantee.
Whether you are new to CBD products or have been using them, Manitoba Harvest CBD products offer high-quality CBD products that are some of the best on the market.
Expert Tips
Consult a healthcare professional before starting any CBD regimen, especially if you're on medication.
Follow the recommended dosage on the product label.
Give it time; CBD effects can be gradual.
Storage
Store CBD products in a cool, dry place away from direct sunlight.
Softgels and oil drops should be tightly sealed when not in use.
FAQs for Manitoba Harvest CBD Products
Is CBD legal?

In many regions, yes. However, laws vary, so check your local regulations.

Will CBD get me high?

No, CBD is non-psychoactive and does not produce a "high" like THC.

How long does it take to feel the effects?

This varies by individual and the product used. Some people may feel effects within minutes, while others may take a few weeks of consistent use.

Can I use CBD for specific conditions?

Many people use CBD for various purposes, but consult a healthcare professional for specific medical advice.
Known Alternate Names
CBD products are often referred to simply by their type (e.g., CBD oil, CBD softgels) or by the brand name, Manitoba Harvest.