A beautiful watch is one of the best gifts a person can reward himself. It's a timeless accessory that is not only functional but also stylish. Apart from that, it also gives a particular character or personality to every person who wears it, especially if you are wearing a luxury watch.
Luxury watches are like a symbol of success. If you are a watch aficionado or you love to collect different accessories, luxury watches are sure to be part of your bucket list. This article will discuss everything you need to know before buying your first luxury watch. It's important for you to understand everything about it to make sure that you will really get your money's worth. After all, luxury watches are a bit more expensive than regular watches.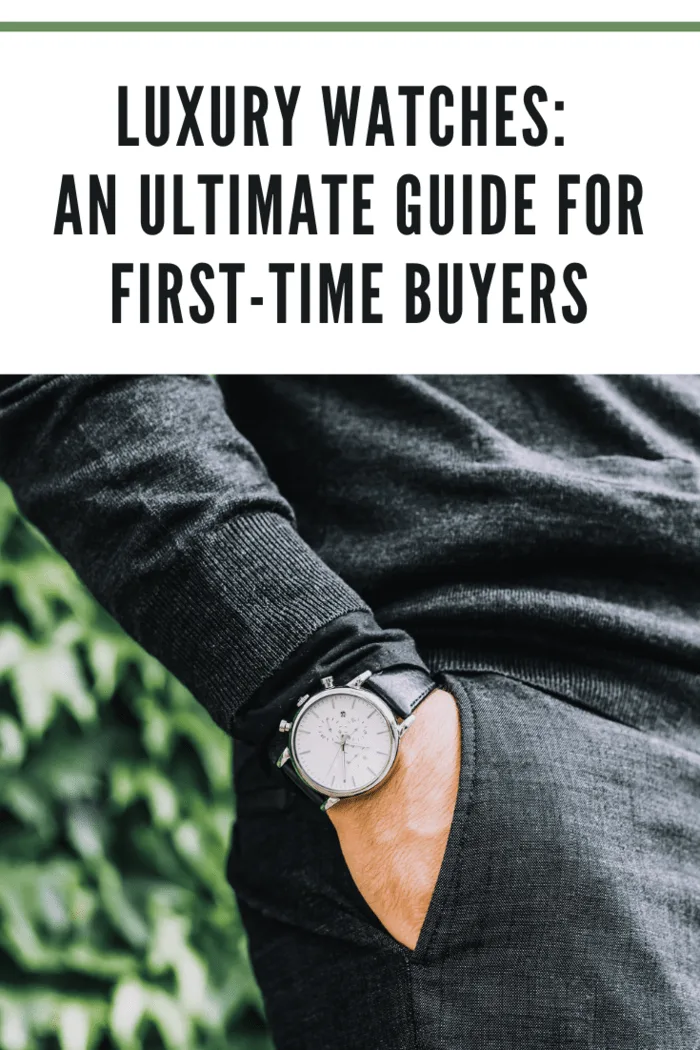 What Are Luxury Watches?
Besides the fact that luxury watches are made by well-known brands in the jewelry and accessory industries, they are more popular because of their quality. Different watches fit different demographics.
For example, the classic Rolex and Bvlgari watches have been in the market for a long time. Also, there's the Michael Kors Watch, which has a collection of trendy and creative luxury watches. There's also Seiko and Cartier, which are popular for their elegant and high-quality products. Regardless of its brand, a luxury watch is an accessory that goes beyond telling the time. It comes with a history and humble beginning that made each watch royalty.
Why Should You Buy Luxury Watches?
There are many reasons you should consider buying a luxury watch. Aside from the fact that it's a perfect gift for yourself, here are some reasons you should consider getting a piece.
1. Its quality and longevity
It comes with a price. The reason why these watches cost more than the usual watch is that it is made with high-quality materials that guarantee their quality. More than that, it is manufactured and designed to last much longer than other watches.
2. It's a status symbol
If a person sees you wearing a luxury watch, they think of you differently. In the earlier days of Bvlgari, every woman who wore the Serpenti watch was classified as an elegant and posh woman. It's like a status symbol that puts you on the map along with celebrities and well-known people.
3. It's an investment
Luxury watches have values that appreciate through time. It is a great investment and can be a great family heirloom. The more vintage a luxury watch becomes the higher its value through the years.
4. Its elegant designs
Depending on the brand that you will purchase, every luxury watch has its own identity and signature design. For instance, Michael Kors released a collection of watches that is a fusion of the classic analog watch mixed with the design fit for the current generations. Luxury watches have a variety of choices compared to regular watches.
What You Need to Know Before You Start Shopping
It is exhilarating to buy your first luxury watch once you have your budget and plans ready. However, it's essential that you review the following factors first to make sure that you will not encounter any issues in the future.
1. Consider Your Budget
Even if you have a lot of money in the bank, it's still important to set a budget for your luxury watch. Remember this, once you see a piece you think you like, you will always see something that you like more — and that can cost more. So, before all your choices and preferences change, be firm in keeping within your budget.
2. Know the Watch's Purpose
Even luxury watches have different types, functions, and designs. If you want to invest in your first luxury watch to wear on formal occasions, choose the designs that will complement it. What you're trying to avoid is purchasing a really good and really expensive sports watch and don't use it at all. Make sure that these watches will not just be another piece in your closet; they're too expensive for that.
3. Understand the Different Types of Luxury Watch
As mentioned above, for you to better make a choice, it's important to understand the different types and functions of luxury watches. First, there are analog and digital. Next, there are watches for outdoor and indoor use. Familiarizing yourself with these types will make it easier for you to choose.
4. Research and Compare Brands
Once you have enough knowledge about watches, you can start comparing and researching the different luxury watch collections. Buying your first luxury watch is like buying a wedding dress: you don't buy the first one you fit. Look at other designs from different brands and compare them based on their pros and cons.
Where to Buy Luxury Watches?
Once you have selected the brand and watch design of your choice, it's now a matter of knowing where to buy it. Here are three ways to buy your first luxury watch.
1. Brand Boutiques
Of course, it's still the best option in the store's leading boutique. If you're looking to buy a Rolex watch, then you can drop by a Rolex store near you. It's also the same for other brands. The advantage of buying it in-store is that you can easily check out their latest collections and they will surely have something in stock.
2. Jewelry Shops
If you don't have a boutique near you, there's always the option of buying a luxury watch at any jewelry shop. One advantage of buying here is that they have different brands in their collection, making it easier for you to compare them. The only downside is that they may only have limited stocks.
3. Accredited Online Stores
Since many stores and malls have limited access nowadays, you can always buy online. There are different authorized and accredited online stores, such as The Watch Company, where you can buy various types of luxury watches. It's a store-like experience, but with the convenience of doing it anywhere.
Are You Ready to Buy Your First Luxury Watch?
Choose wisely when buying your first luxury watch. You will get a good deal by knowing which brand you prefer, understanding why it's an excellent choice, and learning more about luxury watches.
Check out The Watch Company to learn more about the luxury watches you can buy online.