Your landscape is one of the most important parts of your home, as it improves your property's value while enhancing your mental and physical health. According to recent studies compiled by the National Aeronautics and Space Administration's Earth Observatory, being exposed to green spaces, like forests, parks, and a garden, can reduce a child's risk of developing psychiatric disorders as they grow older.
Although researchers are still trying to determine the specific reason behind these positive effects, they stated that green spaces provide places for social interaction with minimal noise and air pollution (NASA). It also exposes the body to beneficial bacteria, which enhances its immune system function. And there's no doubt that seeing trees and feeling the breeze in an area filled with plants is a welcome respite from the stressful and overwhelming nature of the city.
Depending on the improvements and maintenance you do to your yard, you could get back more than double what you paid for landscaping services when you sell your home (Washington Post). Taking care of your landscape brings nothing but benefits for your well-being. However, not everyone has the time to maintain and enhance their gardens. Not everyone has the money to hire landscaping professionals either regularly.
If you're looking to enjoy the benefits of a beautiful and well-kept landscape without much upkeep, here's how to make your yard low maintenance.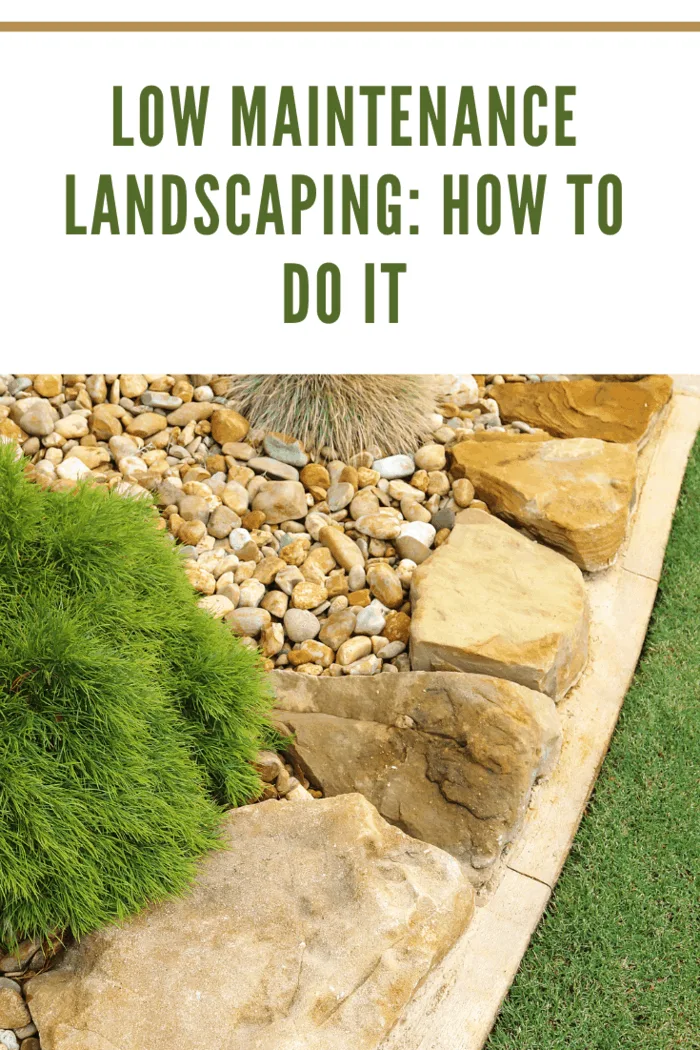 Pick and Plant Native Species
While it's definitely exciting to plant and observe plants that aren't common in your area, they may pose problems when it comes to maintenance. You'll find that you need to water and fertilize them more than your native plants. Native plants are labeled like that for a reason. They've evolved for hundreds and thousands of years to thrive and grow in the conditions of your area (PSU). Their seeds are made to soak in the specific nutrients in your soil, and when they grow, they're hardwired to withstand your area's climate, even during extreme weather conditions. As such, they're easier and much more affordable to take care of.
What's great about native plants is that they're not invasive, meaning they don't spread quickly and hog resources from your other greens. This way, you can minimize your worries about your plants not getting enough nutrients. You can find native plants from your local nursery.
Make the Most Out of Less
One might think that a beautiful landscape involves it being filled with lavish plants and grass. However, you can definitely make do with just a few eye-catching plants. A tree or two, a few colorful shrubs, an outdoor fire pit, and a hammock or lounge chair can help you unwind and relax after a long day. You don't have to use natural grass for every square foot of your garden. If you want to save on upfront and maintenance costs, use the faux lawn for the parts of your landscape that you don't frequently visit. They'll look good all year round, and you don't have to water or fertilize them.
Ride the Succulent Trend
Succulents are more than just a trend for home gardeners everywhere. They're here to stay because of their wide variety of beautiful species and resilience. Succulents, like cactuses and aloe vera, don't need frequent watering. Some of them don't even require direct sunlight. They're the low-maintenance landscape owner's dream. Just make sure you're putting them in well-aerated soil to ensure that they grow correctly all year round.
Use Weed Barriers
The best way to deal with weeds and pests is to prevent them. You can do this by putting up weed barriers. These are pieces of cloth that are made up of polyester. They're placed around your plants and on your grass. They cover weed seeds from the sun to prevent them from sprouting. They also help retain soil moisture and keep your existing plants watered for longer. You don't have to come out with the hose every few days.
Automate Your Watering Routine
Speaking of watering, you should also consider automating your watering routine. This involves installing and using sprinklers to irrigate your plants. These can be manually scheduled to go off during a set time. Smart sprinklers also allow you to program your equipment from your smart device. If you forgot to schedule watering while you're away from home, you could activate them instantly.
A well-kept landscape can do wonders for your mental and physical health and your bank account when you sell your property. If you're too busy to maintain your yard, consider these suggestions. You'll always come home to an effortlessly beautiful garden with native plants and hardy succulents planted on your landscape.